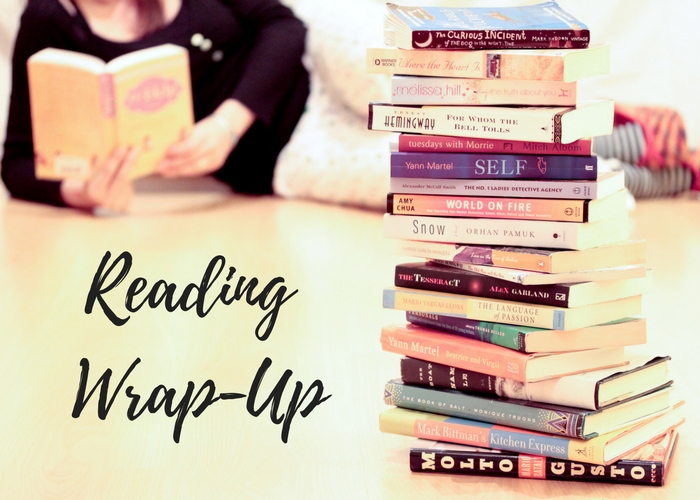 April was a great month of reading for me, and I'm reading at an insane pace once again. I finished my 50th book within the first few days of May, which means I could maybe hit 150 books read this year. However, before you get too excited about that number, please remember that I read a lot of romance novels. Probably 60% of what I read is romance, so that's important to bear in mind. Thanks to the Bookly app, I'll be able to deduce how long it takes me to read a romance versus a non-romance, and I'm interested in how the numbers compare! As one friend put it, even if I am reading a lot of romance, reading time is reading time and it all counts.
Anywho, here's my reading wrap-up for the month of April:
April Reading List
In April, I read 10 books and abandoned one. Here were my favorites from this month:
Overall favorite: Dreamland Burning by Jennifer Latham (review)
Favorite romance: An Extraordinary Union by Alyssa Cole
Other 4 and 5 star reads:
Book I was lukewarm about: The Wife by Alafair Burke
Book I didn't like: Everybody's Son by Thrity Umrigar (review)
Book I abandoned: Astrophysics for People in a Hurry by Neil deGrasse Tyson
Other Book Stats
Number of pages read: 2,992
Breakdown of formats: e-books (6), physical copies (2), audiobooks (2)
Book that took me the longest time to read: Everybody's Son (12 days)
Book that took me the shortest time to read: Remedial Rocket Science (1 day)
Breakdown of genres: romance (5), nonfiction (2), fiction (1), YA (1), thriller (1)
Number of diverse reads: 6 (60%)
Where I sourced my books: library/Overdrive (7), Audible (1), Thriftbooks (1), Amazon (1)
How much I spent this month: $3.86
Favorite Book Quotes
"We spend so much time being afraid of failure, afraid of rejection. But regret is the thing we should fear most. Failure is an answer. Rejection is an answer. Regret is an eternal question you will never have the answer to." – Born a Crime

"What I did not understand then was that the same pressures were weighing on us all. My entire community suffered from a lack of trust: we didn't trust society to provide the basics of a good education, safety, access to good jobs, fairness in the justice system. And even as we distrusted the society around us, the culture that cornered us and told us were perpetually less, we distrusted each other. We did not trust our fathers to raise us, to provide for us. Because we trusted nothing, we endeavored to protect ourselves, boys becoming misogynistic and violent, girls turning duplicitous, all of us hopeless." – Men We Reaped

"I understand now that history only moves forward in a straight line when we learn from it. Otherwise it loops past the same mistakes over and over again." – Dreamland Burning
What was the best book you read in April?