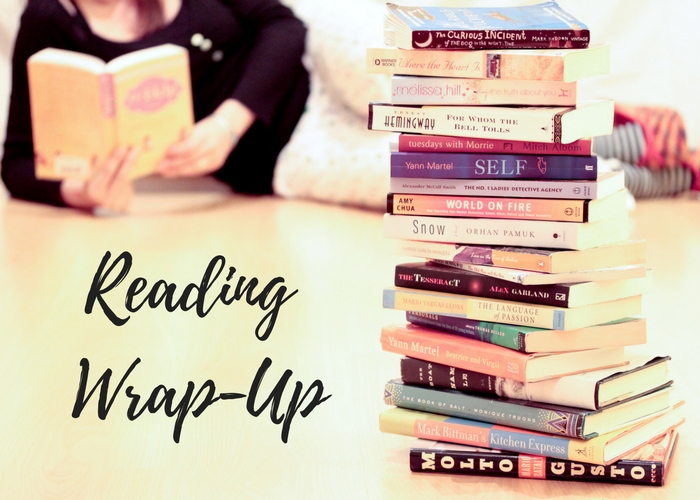 Happy Friday! July has kicked off with a bang with a head cold that had me laying in bed all day on the Fourth of July, watching episode after episode of Friends. I couldn't focus on reading, so my books brought me no comfort. I'm hoping I'm on the mend, but this is the third time I've been sick in two months and I'm really not sure what I'm doing to cause it! I'm typically a head-cold-once-a-year type of person. Maybe I'm allergic to not having a dog? Hmm…
In any event, I'm doing my monthly reading wrap-up today, talking about all the books I read over the month. I read 10 books and abandoned one. My average rating was a 3.9, so that means I read a lot of good books this month! Woop!
Books Read
1) I Am Not Your Perfect Mexican Daughter by Erika L. Sanchez (★★★★☆) – A sweet YA story that covered a ton of pressing social issues. The main character could be frustrating, but I also couldn't help but love her.
2) Boy Erased: A Memoir by Garrard Conley (★★★★☆) – A book about what it's like to go through conversion therapy as a nineteen year old. Heartbreaking, vulnerable, and ultimately hopeful.
3) Dance with Me by Alexis Daria (★★★☆☆) – I had high expectations for with dance-related romance, but it didn't fully meet them. It was fun, but the main characters could be annoying.
4) Beauty and the Mustache by Penny Reid (★★★★☆) – Content warning for cancer and death, but if those topics aren't triggering for you, I totally recommend giving this book a read. Such a fun romance with really great characters.
5) Educated: A Memoir by Tara Westover (★★★★☆) – I both loved and loathed this memoir, mostly because of Tara. If she had been a character in a book, I would have hated her. But she's not, and that's what makes this memoir so much more gut-wrenching.
6) A Storied Life by Leigh Kramer (★★★☆☆) – While I found the writing in this novel beautiful and the plot interesting, it seemed to fall apart for me a little over halfway through the book and never could get back on track.
7) Running Blind by Cindy Gerard (★★★★☆) – I usually fly through Cindy Gerard books, barely able to put them down, but this one didn't have the same effect. (The main characters were very unrelatable.) However, once the story hit its turning point, I couldn't put it down for anything.
8) Final Girls by Riley Sager (★★★★★) – If you're looking for a thriller that keeps you on the edge of your seat, this is it. Read it now.
9) 1984 by George Orwell (★★★☆☆) – If you're as horrified about the current administration as I am, read this book. It's fascinating and really makes you think deeply about the state of politics and what it could mean for the world at large.
10) The Kiss Quotient by Helen Hoang (★★★★★) – Need something lighthearted and fun? This book is the ticket. It's sexy and sweet and lovely. It's definitely steamy (much steamier than The Wedding Date; I hear so many people talk about how steamy that book is and… it's not. Y'all. It's not.), so bear that in mind.
If I'm going to recommend three books from the 10 I read this month, it would be:
Boy Erased, for a vulnerable story about a topic that needs to be broadcasted widely. Conversion therapy is an awful and inhumane practice.
Final Girls for a thriller that will keep you guessing all the way to the end.
The Kiss Quotient for a story that will make you smile and have all of the happy feels.
BOOK STATS
Number of pages read: 3,262
Breakdown of formats: e-books (5), physical copies (3), audiobooks (2)
Book that took me the longest time to read: Educated (12 days)
Book that took me the shortest time to read: I Am Not Your Perfect Mexican Daughter (3 days)
Breakdown of genres: romance (3), nonfiction (2), fiction (3), YA (1), thriller (1)
Number of diverse reads: 4 (40%)
Where I sourced my books: library/Overdrive (6), Amazon (2), from the author (1), Book of the Month (1)
How much I spent this month: $18.97
What was the best book you read in June?