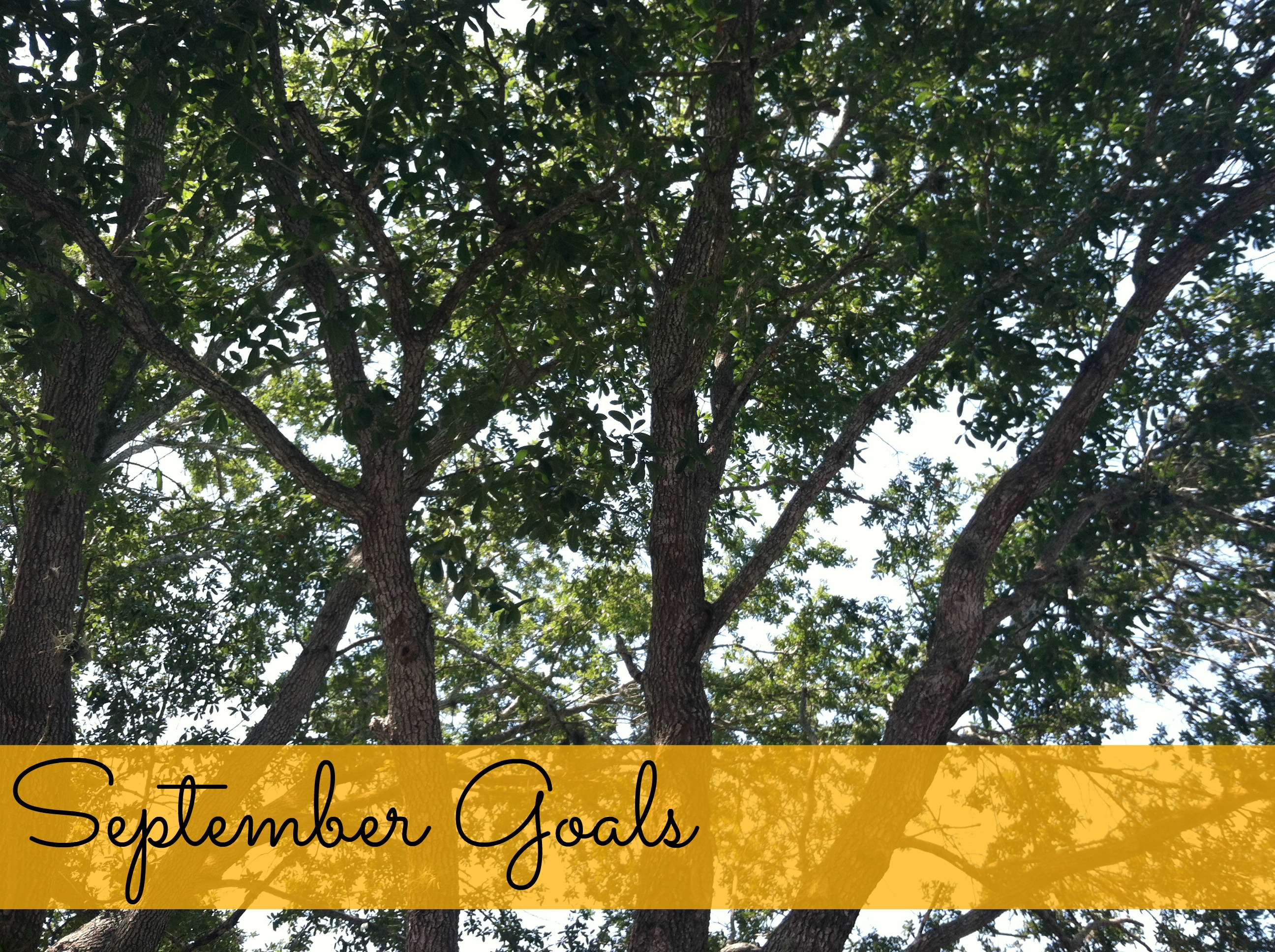 Oh, goal-setting, how I love thee. I am really excited about September. Not because I have anything fantastically awesome planned, but it is the beginning of my favorite time of year. We're back to football, Halloween decorations are out, and it's really not too soon to be thinking about Christmas and singing holiday tunes now, is it? (Don't answer that.) Plus, I have a really, really, really exciting fall planned. September is also a huge birthday month – my brother turns 27 (WHAT!), my nephew turns 5 (I don't even want to talk about it), and it's also my mom's boyfriend's birthday. Celebrations all around!
Let's dive right into goals!
August Goals Recap
1. Be more social, by going out at least twice during the month (excluding book club). Yes! I actually ended up having three nights out this month: dinner and a movie with a friend, a night out at a yummy restaurant downtown with my book club girls where I also had my first taste of gelato (!), and then book club was basically canceled because nobody read the book (except for me!) so four of us met at a Mexican restaurant after work one Thursday. I made way more of an effort this month to be social, and I realize going out three times in one month isn't crazy for most but for me it's a solid social month.
2. Take Dutch to the dog beach. Yes! Well, actually, we took him on the first day of September but whatever, I'm counting it. Ha. He had a blast, we had a blast, and we're already talking about going again. Yay!
3. Ask five bloggers if I can post on their blog and pitch topic ideas. Ugh, still no on this one. It's something that's SO easy to let fall to the wayside, because I feel a little uncomfortable about asking people if I can post on their blog. (What if they say no?!) I still need about 20 blogs to reach my goal so I just have to get over myself and just ASK.
September Goals
1. Try out a trampoline fitness class! A while back, my mom bought a Groupon deal for both of us for an "Airobics" class at a local indoor trampoline arena. The Groupon expires in mid-September and we have three classes to use, so I'm really excited to try this out! It just seems like a ridiculously fun way to get some exercise, you know? I'll be sure to report back on how the classes go!
2. Go back to church. So, big confession: I haven't been regularly attending church for well over a year now. And I know you don't need church to maintain your faith, but I actually think you do. You need to be around other believers, need to worship, need to hear the Word. I always feel more centered after a church service, because I know it's where I'm meant to be. I want to regain control of my faith and I think a big step is to just get back to attending church every Sunday.
3. Sit down and create a new budget. Along with my new job came a significant pay raise, so I will need to sit down and rework my budget. My immediate goals are to bring my credit card balances back up, start helping out with household bills more (I'm in charge of our grocery budget, but want to get to a point where we're going halfsies on all bills), and get back to a cash budget system for all unnecessary purchases (i.e., eating out, shopping, etc.).
What's your favorite thing about fall?