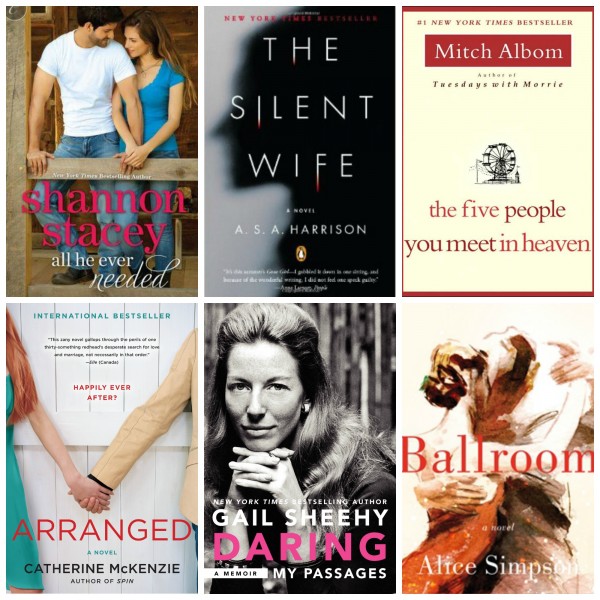 It's time to review the books I read in September! This was a lower-than-average reading month for me, as I only finished six books. This is mainly due to one book I read (Daring: My Passages), which was close to 500 pages and very verbose, so it took me a while to get through it. But I'm still way ahead of my reading goal, with 66 books read this year so far. This month, my favorite book was The Five People You Meet in Heaven and my least favorite book was Ballroom.
1. All He Ever Needed by Shannon Stacey – 2.5 stars
I usually enjoy Shannon Stacey's books, but this one didn't do it for me. The writing felt contrived and cheesy, and I didn't fully believe in the romance between the two characters. It was a bit of a letdown, and I'm on the fence if I want to continue reading more of this series.
2. The Silent Wife by A.S.A. Harrison – 3 stars
This was the pick for September's book club. It was touted as the "next Gone Girl," but it didn't come close to matching that book for me (as one of the few that loved the book). I found this novel very predictable and the ending was anticlimactic. I was expecting an edge-of-my-seat thrill ride, but it was the opposite for me. It was one of those books that's easy to forget once you finish it.
3. The Five People You Meet in Heaven by Mitch Albom – 5 stars
So, this is a book on my Rory Gilmore Reading Challenge list and I was really excited to read it because it just seems like one of those iconic books that every book lover should read. My verdict? I adored this book. It was just so poignant and special and well-written. I had chills when I finished reading it. It's definitely one of those books everyone should read.
4. Arranged by Catherine McKenzie – 3.5 stars
This was a really cute read! It was a unique idea – a woman who signs up for an arranged marriage service – and I loved how it all played out. Was it predictable? Yep. Did I care? Nope. I will say that I thought the writing was a bit cheesy (cheesier than I expect from chick-lit) and I wished for a little more chemistry between the two main characters. But! Still a very engaging read.
5. Daring: My Passages by Gail Sheehy – 4 stars
I wrote a review for this book, which you can read here. It's a really long read, and took me about two weeks to get through it. But it was well worth it because it was such an interesting read. Gail Sheehy has lived an incredible life, and she takes you through the ups and downs of her life, from beginning her career in journalism and taking big risks to losing the love of her life. I felt so privileged to read this book.
6. Ballroom by Alice Simpson – 2 stars
And I wrote my review for this book already, too, which you can read here. This one I didn't love as much, mainly due to a lack of plot and unlikable characters.