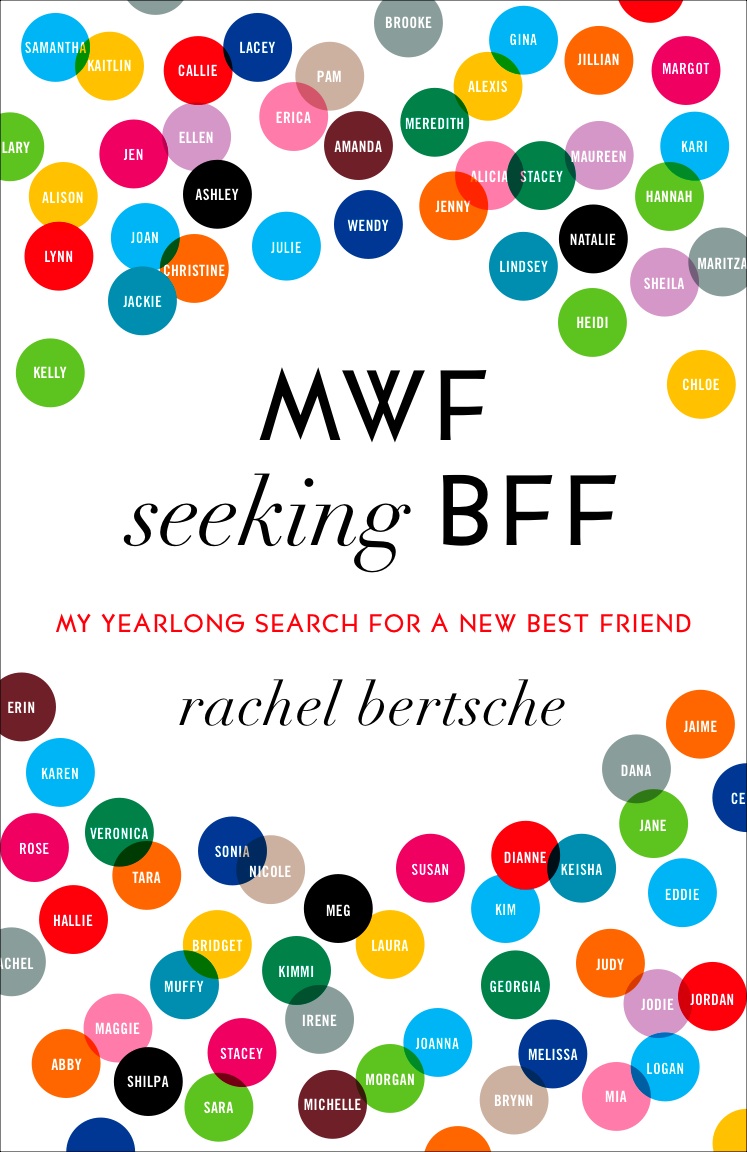 "Popular culture has made it okay to yell "I want a man!" from the rooftops, so why are we still embarrassed to say, "I want a best friend"? (p. 94 – MWF Seeking BFF by Rachel Bertsche)
I started the memoir, MWF Seeking BFF, with a bit of trepidation. It's been getting a lot of buzz lately which always makes me a little wary. I'm prone to not want to read what everyone else is reading.
Case in point: I just downloaded The Hunger Games to my Kindle last week.
Yeah.
But I picked up this book because the premise sounded enticing for a girl who is seriously lacking in the friendship department. Making friends when I was in elementary school and middle school and high school was easy. You find your group, you hang out with your group, the end. And then college came and I had a vastly different experience than most people where I didn't find that core group of friends to hang out with. Living on campus was difficult for me, so I moved home and became a commuter.
I consider my mom my best friend and the most special relationship I have in my life. And I have my brother, another super close friend to me. I have casual friends I met from college, from work, from blogging. But I don't have that core group of friends that is touted in almost every TV show or book I read. I don't have a Rachel or a Phoebe or a Monica. And sometimes, as much as I love hanging out with and talking to my mom, a girl just wants some girlfriends to gab with.
I don't make friends easily and I'll even go as far to say as I can come off as unfriendly to some people. It's the social anxiety/introversion/shyness in me. I don't want to be unfriendly… I just get freaked out by social interaction with strangers sometimes. And I get worn out when I have to be social for very long. I'm the quiet one. The homebody. The girl who hates small talk and being friendly to strangers.
And I'm okay with being this way. I understand this is part of me. This is who I am. I am the shy introvert. There's nothing wrong with being shy, with being a homebody, with treasuring alone time. I know my limits for social interaction. I know when I need a quiet night in, with nothing but a warm dachshund curled by my side and a favorite book in my hands. I also know it's not good to remain inside your cocoon. It's comfortable and safe there, but humans also need people and interaction and community. And while blogging has helped me to see I'm not alone – and brought a few girlfriends into my life that are some of my closest confidants – I know I need to put myself out there more.
I don't want a busy social calendar. I don't want to be able to have a birthday party and have dozens upon dozens of friends to invite. I want some girlfriends. I want one or two or three girls that will meet me for a drink on a Friday night, or invite me to a low-key shindig at their apartment. I want friends. Friends who understand me, who push me to be better, who have my back.
When I began reading MWF Seeking BFF, I was immediately drawn to the author, Rachel. She has one of those easy-to-read writing styles with sprinkles of humor and wit. She was someone I got. I understood her mission. I don't really read memoirs or non-fiction books with the hunger I attack fiction, but this was a book I couldn't put down. This book wasn't just about Rachel's decision to go on 52 girl dates in one year. It was a study on friendship. It was about how Rachel's definition of friendship changed as this journey changed her.
Rachel didn't hold back with anything. She was vulnerable about her worries and honest about those girl dates that didn't go well. She was completely invested in her search for a BFF.
This book taught me so much. I honestly didn't expect to actually learn a ton of lessons. I didn't expect to finish the book feeling so much for one author or having to scribble down thoughts so I wouldn't forget how much I learned from this book.
Like…
Initiate conversation with girls you think you might be friends with. I am shy. I am an introvert. We have already been over this. I do not initiate conversation with people. Also, I am terrible at small talk so I tend to freeze up when I have to talk to strangers. But I also want to have more friends and I know that by initiating conversations with girls I think could be potential BFFs, it opens the door to "asking them out".
It really is as simple as a "hey, let's meet for coffee sometime!" I tend to complicate things and to be honest, it never crossed my mind to email that old friend I had a few college classes with and ask her to have coffee with me sometime. I think there's always a hesitancy that they have enough friends and aren't looking to start up relationships with new ones. I think, though, as I begin my search, I will find people more receptive to meeting for a girl date than not.
That said, be aggressive about follow-up. If I tell a potential BFF that I want to meet her for coffee, I have to be aggressive about a time and place. I can't just say that lightly and then get on my high horse with a, "Well, if she isn't going to message me about it, then I don't want to have coffee with her." I do this so often. So, so often. It's embarrassing, really. I turn into a five-year-old. When beginning a potential BFF relationship, it's important to be the one following up – especially if a girl date goes well and I want to see them again.
By beginning my own search for local BFFs, it will teach me to be friendlier in social settings and more open to try new things. Well, I hope this happens. While I don't feel the need to go on 52 girl dates next year, I do plan on placing priority on putting myself out there in the friendship world and initiating some girl dates. I don't want this book to be another one that I've read, felt changed by, and then did nothing with. I want to set an action plan for finding local BFFs and being more social. I want to try Meetup groups in search of friends and learn to be less hesitant about social situations. Now, as an introvert, this is not my most favorite thing to do and I wholly embrace my need for solitude and silence. But I also want to challenge myself in this area to tackle one or two social events a month to hopefully teach me how to open myself up. I think social situations will always be hard for me, but the more I expose myself to them, the easier they will be. Or the better I will get at faking it, right?
There aren't quite words to adequately describe how much this book affected me. This book taught me so much about friendship and helped me realize I am not alone in my quest for friends. I may not have the lifelong BFFs that the author has, but even so, many of us are searching for those best friends that we can meet for happy hour or a Saturday afternoon pedicure or a short gab session on our commute home from work. We are seeking connection and community.
My plan after reading this book is this: two girl dates a month. I'm not brave enough to commit to one a week so two a month sounds doable for me right now. And while I have joined a book club, I want to commit to trying at least one new group a month to force myself out of my comfort zone. And who knows? Maybe in one of those groups I will find another girl as shy as me, and I'll find my new BFF.
Have you read MWF Seeking BFF? Your thoughts? And hey, I'll be brave and put a call out to any local girls reading my blog – let's meet for coffee sometime!