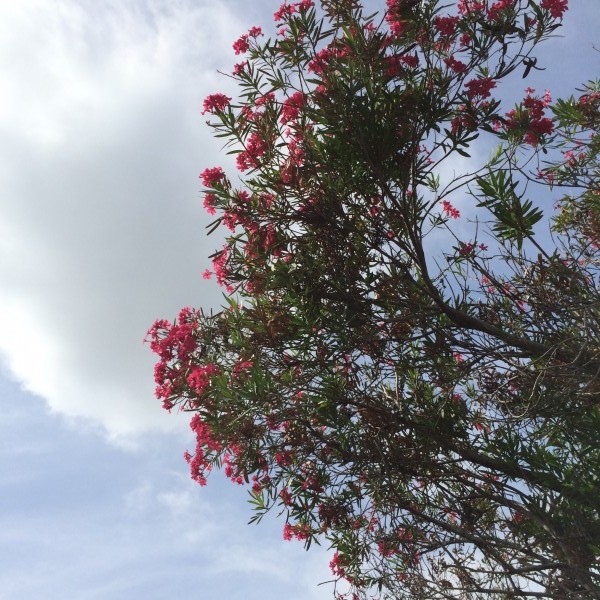 Feeling: A little melancholy. I really, really miss my dad. Father's Day is probably the hardest day of the year for me to get through, so I tried to take it easy yesterday. I started my day off with a long walk with Dutch, had a yummy lunch with my mom, took a delightful afternoon nap, and finished off the day grocery shopping, doing laundry, and watching episodes of Shark Tank.
Reading: Hot Pursuit by my all-time favorite author, Suzanne Brockmann. It's the 15th book in the series so, needless to say, I am totally invested in these characters – they feel like family to me!
Thinking: About trying my hand at Camp NaNoWriMo in July. It's basically like NaNoWriMo (which takes place in November), but you can choose the word count you want to shoot for (from 10,000 to 999,000!). It seems like it would be a fun challenge to take on!
Anticipating: A day trip to Miami with my brother in the fall! We're going to drive down to see a Dolphins game, and I'm just really excited to spend some solid one-on-one time with him. My brother is one of my most favorite people, and we rarely get time alone with one another anymore. It should be fun! (As long as the 'Phins win, of course!)
Watching: Last Comic Standing. Oh, my goodness, I love this show so much! It's one of the few shows I actually watch live because I can't handle waiting for the new shows. And if you're not convinced about how great this show is, here's my favorite comic doing his bit:

Wishing: That it was easier for me to open up to people in real life. It sounds funny because I have no problem opening up and being vulnerable on my blog, but it's so hard to do the same to the people in my life. I think this is why I had such a problem with therapy. It just doesn't feel normal for me to talk about my feelings out loud. In writing? Sure! But in real life? So hard. I'm working on it.
Learning: More about my highly sensitive nature. Being sensitive is a trait I've always understood about myself, but recent events have made me more interested in learning about what being a highly sensitive person means and how it has affected my life. Perhaps a blog post to come on this?
Hoping: To schedule more pool days this summer. People always ask me if I spend every weekend at the pool since I have two beautiful pools in my apartment community. And the truth is? Last summer, I probably spent less than five days at the pool! Isn't that sad? I need to change that this year!
Loving: Cereal. The fact that I've kept up with Project 365 (even if it is a pain in the neck some days!). Dutch sleeping on my chest. Writing dates. Accountability check-ins with Nora. Ben & Jerry's ice cream. Shark Tank. My new cube at work. Sleeping in on the weekend.
What are you currently reading, anticipating, and watching?