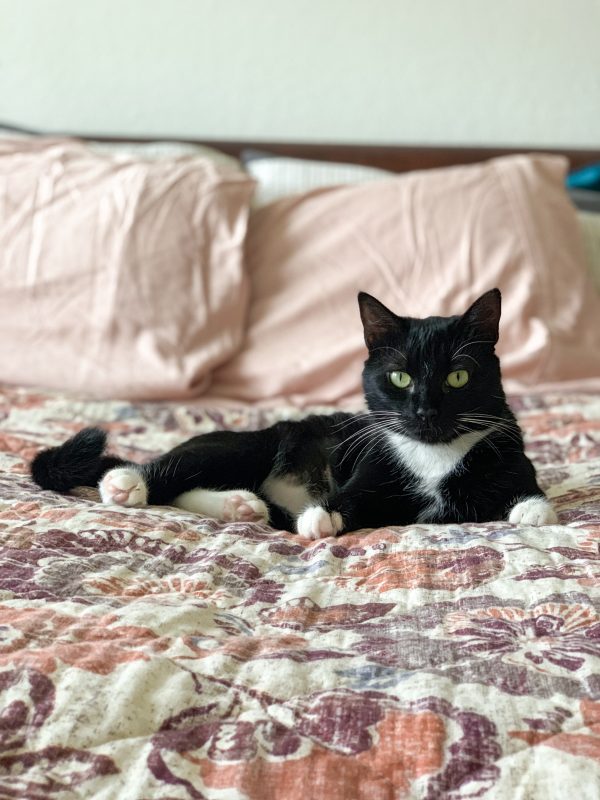 It's been one month and one day since I adopted Eloise, and I thought it would be a great time to do a check-in post on how new cat motherhood is going and how Eloise is adapting to life with me.
The short answer is: Eloise is thriving and we're totally obsessed with one another.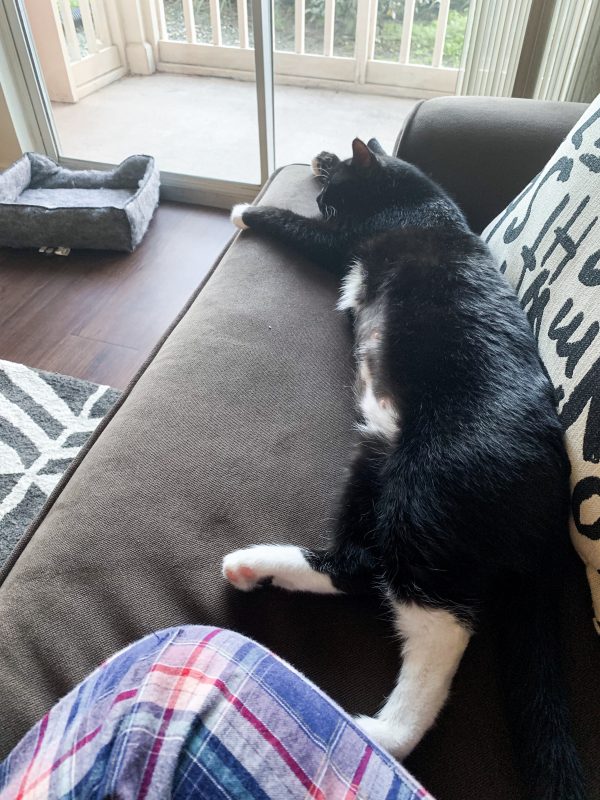 Her first few days were spent hiding under my bed, although she would venture out to eat (always running back under the bed if I walked by her) or when I was asleep (I could hear her playing and running around the room, ha). Gradually, though, she got braver as the days went on. Since I am a complete and utter sap, at times, it made me teary about how brave she was being at exploring her new home and opening her heart up to me. I don't know much about her life as a stray; I don't know how she ended up without a home or what caused her to be in such awful condition when K. rescued her. So it just fills me with such great joy that I get to be her human and make her feel happy and healthy and whole and loved.
It was probably less than two weeks that Ellie became comfortable with me. She started sleeping with me at night, sitting up with me on the couch while I watched TV, letting me pick her up and snuggle her close, and not running away whenever I walked by her. It has surprised me how quickly she has acclimated herself to me and her new home. But maybe that's because she knows as well as I do that this was always meant to be her home. We were always meant to find each other.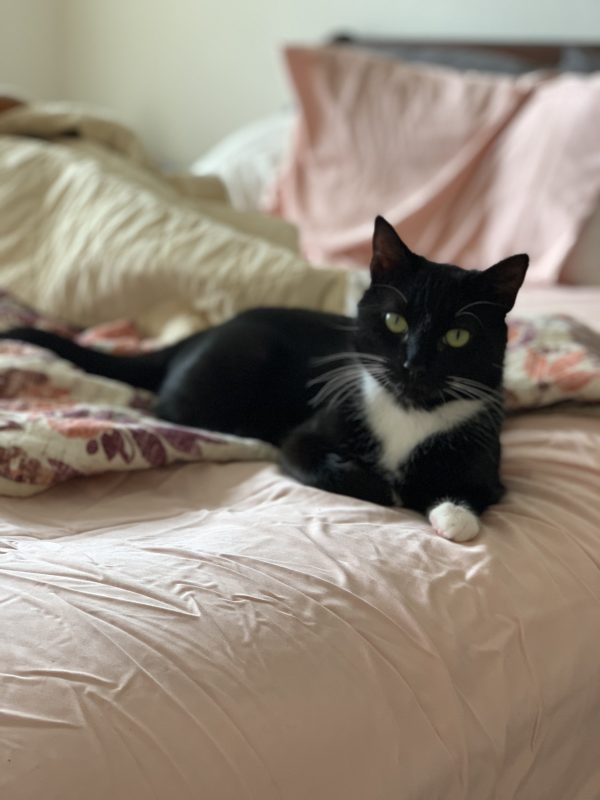 It's been a wild ride over the last month as I adjust to being a cat mom. I've only ever owned dogs so I wasn't sure what I was getting myself into, which is why it took me a full day to accept that Eloise was coming home with me. When I met her the day before I ended up bringing her home, I fell instantly in love but I was also nervous. Was I ready to really and truly have a cat in my apartment? It was a little overwhelming when I looked at it as bringing a cat home. But when I looked at it as bringing Eloise home, I knew I was really and truly ready.
I've been struck by how much easier it is to take care of Eloise than it would be if I had adopted a dog. A dog would require crate training, house training, and constant attention, walks, and playtime. Eloise came to me already litter box trained, which kind of blew my mind. (You mean I don't have to worry about urine stains all over my carpet?!) And she's an independent cat who has no problem keeping herself busy. She came to me with a few toys, and those toys tend to be her favorites to bat around the apartment. She's also happy just looking out the window or prowling around the apartment.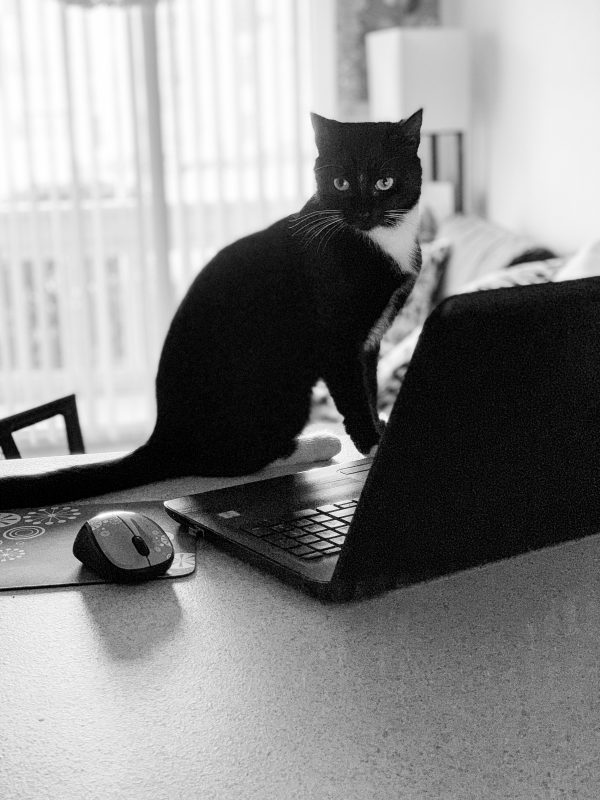 As I was thinking about what I wanted to say about Eloise's first month with me, I realized nothing has really been challenging about having a cat. Scooping out her litter box is a fairly easy task, especially now that I'm using flushable litter. She's not scratching on my furniture, and has four different types of scratching posts that she uses frequently. She does get a little handsy sometimes when I'm petting her at night, and she'll bring out her claws to clamp onto my hand so she give me a love bite. It's sweet, but damn those claws are sharp.
If I had to name a challenging part of being a cat mom, it's not really knowing how to play with her. She has a ton of toys – little toys that she can bat around the apartment, some feather teasers, a ball on a track, a tunnel. I also have a laser that I use with her sometimes, but there's something about watching her chase something that she'll never get that breaks my heart. (I tend to reward her with treats when we're finished playing with the laser, haha.) But a lot of the toys she uses on her own, and our time is usually spent petting and snuggling. Tell me: how do you play with your cat?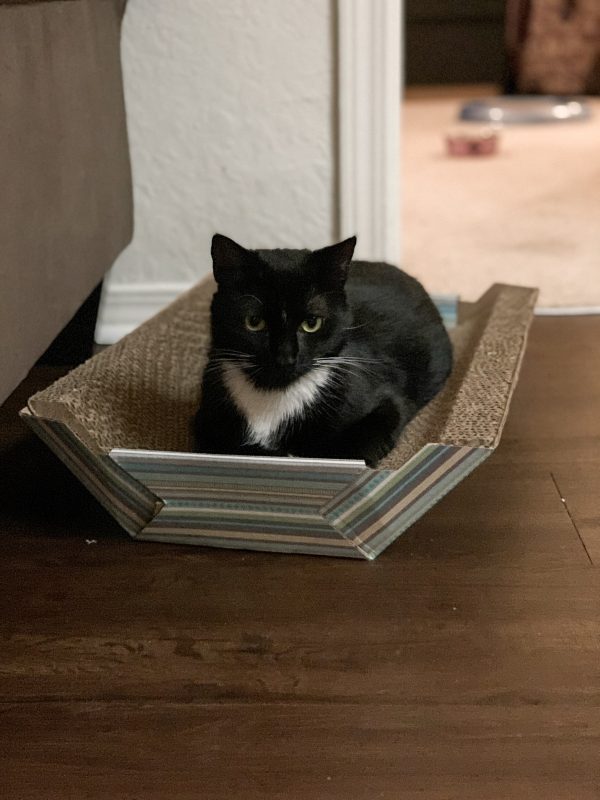 This past month with Eloise has been perfect in every way. I love coming home to her every day and I love waking up in the middle of the night to find her snuggled right next to me. I love when she just sits on my chest, demanding pets. I love her little meows and when she flops down next to me with her belly exposed. I love the way she plays and watches me and rubs against my legs when I'm washing the dishes. I just love having a little companion in my life again. I missed it so much.
I have zero regrets about bringing her into my life, and now I guess our next adventure will be giving her a brother or sister.