So far, I've talked about putting together a capsule wardrobe and what my ideal summer capsule would entail. I've also talked about purging my current wardrobe and where it stands today in regards to creating this capsule. I have some work to do with my wardrobe, mainly continuing to get rid of pieces and adding new items to it. Items that make me feel good and look good, items that more closely reflect my personal style.
So, in order to do that, I really need to hone in on my style and what types of items I love. I know I opt for comfort and casual more often that not. That I need pants that fit my short, stubby legs. That my style falls mostly to classic and modest.
I did some light perusing of different items at some of my favorite stores, so I could talk through my style in regards to the different areas of my wardrobe.
First, we'll talk about bottoms.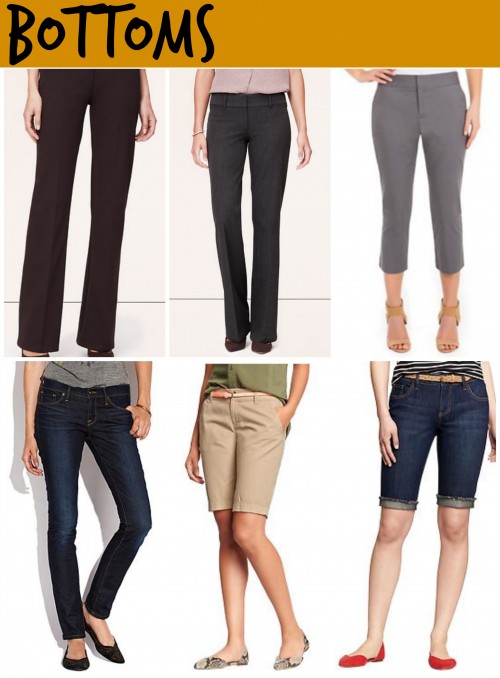 L-R: Loft, Loft, Daisy Fuentes, Lucky Brand, Old Navy, Old Navy 
In my ideal capsule, I would like to include two pairs of slacks and one pair of dressy capris for work, and two pairs of casual capris and one pair of skinny jeans for casual weekend wear.
One thing I know is that I really love dressy pants from Loft. They fit my body perfectly, which is really hard to do when you're five-two and chubby. I currently own only one pair of slacks from Loft, but I love them and feel really good when I wear them. And, they are super comfortable! I'm not used to slacks being comfortable, but Loft pants really are! I'd like to add another pair of slacks to my wardrobe, along with a cute pair of capris.
Secondly, I really want to treat myself to a nice pair of designer skinny jeans. Right now, I go to Old Navy for all my jean needs, but I really want to spend the money on a great pair that will last a long time and fit me well. I have my eye on a sweet pair of Lucky skinny jeans, but I'm not sure if they are the best option for short, curvy girls.
As for casual capris, I'd probably opt for Target or Old Navy. I'm not as picky with these, but I'd still want to find two pairs that make me feel good when I wear them. The capris/shorts I have now for my casual weekend wear make me feel rather frumpy and dull.
Next, we'll talk dresses and skirts. I am pretty happy with the dresses in my wardrobe currently (pictured above). In fact, I wore the flowery one to work last week and got six compliments on it. I think that's a record for me?! It was crazy! I really love those dresses because they're modest, hit at the knee, and are made of super, super comfy material. And they look cute on me! A win-win.
I only have one skirt in my wardrobe now and it's okay, but it's not my favorite. I love the options at Loft, so I can see myself buying one of their skirts for my wardrobe. When it comes to skirts, I want something a bit flowy and fun and hits close to the knee. I really like the options I found at Loft!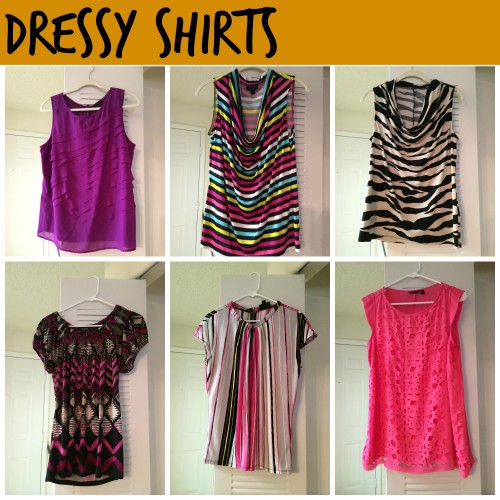 Next up, my dressy shirts for work. I didn't go searching around the Internet for options for these, so everything above is what's in my wardrobe currently. I really love JC Penney for finding really nice dressy shirts that don't break the bank. I like them to be silky, comfortable, and in fun colors. And I reallllly love cowl necklines. They're my favorite! (These probably don't fit into what a capsule wardrobe should contain, since your shirts should be more neutral and solid colors, so they can be mixed and matched in many different ways, so that's something I need to keep in mind!)
For cardigans, I really want to find better options than what I have in my wardrobe currently. I'm very picky about my cardigans, and I really didn't find options I loved on the Internet. Basically, I'd like to find a black cardigan, a white cardigan, and then one or two more in a fun color (like purple or orange!). I like my cardigans to be a little longer, falling to my hips, which is something I have a hard time finding! The cardigans I find either stop at my waist, or hit waaaay below my hips and makes me look frumpy. Where do you buy your cardigans?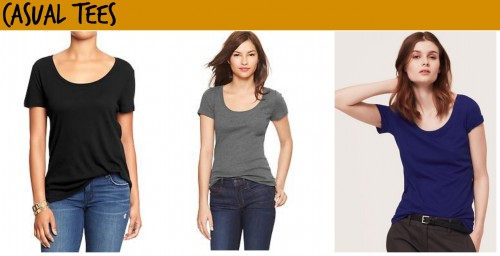 Next up, casual tees! I have a good selection right now, but I would like to replace some of the items with solid color casual tees. I like Old Navy for casual tops, but they either get too stretched out after only a few months of wear, or shrink if I accidentally put them in the dryer. (AH! So annoying!) I hear Gap is a good place for finding soft, comfortable casual tees. Where do you shop for casual tops?
The last category is shoes! I'm thinking of sticking to a neutral flat, a black flat, and a pretty sandal. I actually have all of these items in my wardrobe currently, and love them, so we can mark this section complete – woo!
So there you have it! I obviously have some work to do, and I think that not only will using capsule wardrobes help me better define my style and find clothes that feel good, but it will also help me to be more intentional when I shop. I know exactly what things I need and what I'm looking for, not simply shopping just to shop. If it's not something I need for my capsule, then I don't need to be buying it.
Where do I go from here, though? Well, I want to continue reducing my current wardrobe so I'm trying to wear everything that's in my closet at least once and be honest about the item and how it makes me feel. For example, last week, I wore a dressy blouse to work and realized that I just didn't feel good in it and the ruffly neckline irritated me so much. So, I washed it and placed it in my pile of clothes to donate. One less item to worry about!
I am also planning on shopping for a few new items for my capsule. Right now, I am mostly focused on new cardigans (I have four in my wardrobe currently, but don't love any of them) and finding a great pair of dressy capris (which is a lot harder than it may seem!).
I am feeling a lot more calmer about my wardrobe and cultivating a style I love because I feel like I have a plan of attack and a vision for what I want my style to be. I've never really felt good about the way I dressed, never had intention behind my style. I think by going through this process and creating capsule wardrobes, my closet will be filled with comfortable, fun to wear clothes that are 100% me.
What's the last piece of clothing you bought for yourself?