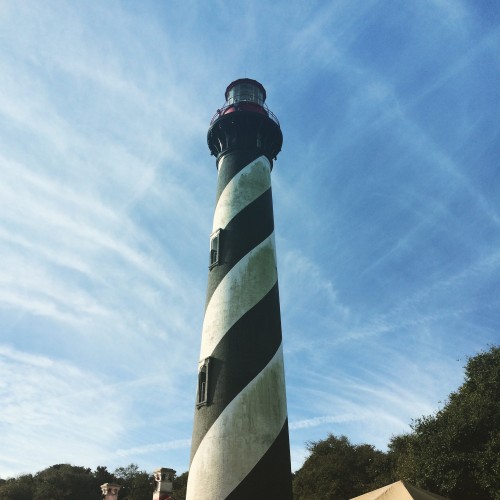 The high of my week was exploring St. Augustine with Alex. It was my first time in the city, and I thoroughly enjoyed my time there. I'm planning an entire post on our weekend, so I won't say much about what we did. Suffice it to say, we're already talking about going back very soon. It's such an easy weekend trip, and such a cute city to visit!
The low of my week was yesterday, with a bunch of little annoyances kept piling up. First, I went to Starbucks for breakfast and the line was way too long for me to wait in. Then, I realized I left my iPad at home and wouldn't be able to read my book during lunch (I was dyinggg to finish it!) And then, work was just a wee bit stressful. In the grand scheme of things, not a terrible day, and if this is the worst I can come up with for my week, I'd say I'm doing pretty alright.
A blog post I really enjoyed was What I Struggle With by my good friend Lisa. A bunch of bloggers have written similar posts, and it was so interesting to read her thoughts, too. Sometimes, being vulnerable about the difficult areas in our lives is incredibly hard, but it's also so therapeutic and humanizing. Every one of us is struggling with something. Nobody lives an easy, perfect life. We all are guilty of falling into the comparison trap, of believing others have it so much easier than us just because of what they portray online. My most favorite posts to write are the ones where I'm being open, honest, and vulnerable about something I'm struggling with, and Lisa's post really resonated with me.
Most of us tend to focus on the good and positive aspects of our life but it can sometimes paint an unrealistic picture of an effortless, issue-free life. Yes, I love my life and am very happy with where I am today, but that doesn't mean there aren't things I struggle with.
The best money I spent was $14 to tour the Castillo de San Marcos while in St. Augustine. This place was fascinating and I never wanted to leave. We took our time walking through the entire fort, and even got to witness them firing off a cannon, which was incredible. I want to go back!
For my workouts, I completed three runs and a ton of walking on Saturday in St. Augustine (20,500 steps, to be exact!) Right now, I'm solely focused on being ready to run my 5k at the end of March. I'm doing Couch to 5k and I started week one this week! It's difficult, but good things in life don't come easy, right? Right.
My plans this weekend include date night with Alex tonight. Saturday, I plan to spend some time decluttering, working on a freelance project, and watching the playoff games with my family (and Alex!) And on Sunday, it's all playoffs, all day. I can't believe after this weekend, we only have 3 more games left of the NFL season. Why does it go so fast? Wah.
What was the highlight of your week?