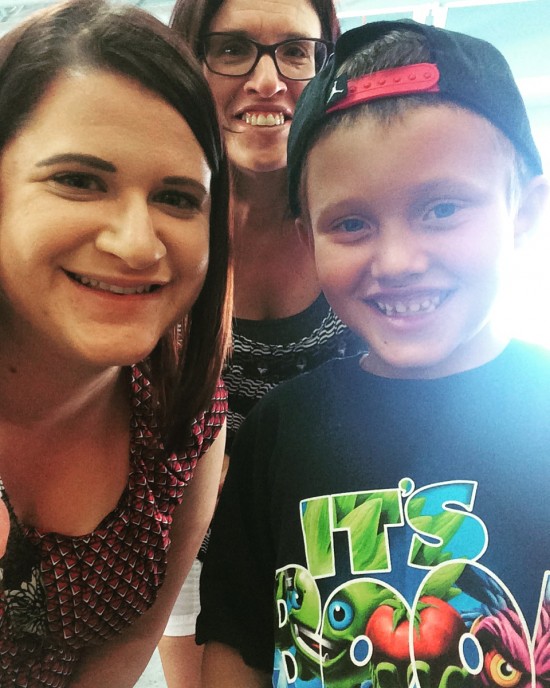 The high of my week was my grandma's successful surgery. A few weeks ago, my grandma had a PET scan and found out the chemotherapy she'd been on for the past months and months had not been working. (Her tumor had not shrunk at all.) Her options were surgery or a more aggressive form of chemo (which, with the way the less aggressive chemo she had been on had affected her wasn't really a viable option). So, she opted for surgery, which was yesterday. Her tumor was wrapped around her pulmonary artery, so it was very likely that the surgeon would go in and find out he couldn't remove the tumor. Thankfully, though, the surgeon was able to remove all of the tumor, but he had to do so by removing her entire left lung. So that's a little scary, but it was the best option and hopefully, once the recovery process is complete, my grandma is back to her old self!
The low of my week was dealing with a stuffy nose every morning! I don't know what's going on, but every single morning this week I have woken up with a completely stuffed-up nose. I even bought some nasal decongestant spray because it's been so bad. Just a few sprays completely clears me up… until the next morning. I don't know what's going on because I don't have a cold… I'm not sure if it's just the new place and getting used to new air? (Is that even a thing?!) I hope it clears up (ha) soon because it's very annoying to deal with.
I'm currently reading Brown Girl Dreaming by Jacqueline Woodson. I'm reading it for the poetry category for the Book Riot reading challenge, but I'm not really enjoying it. It's beautifully written, but I'm just not a poetry person, I guess.
An article I really enjoyed was this story about a man who has built a train for his rescue dogs. I mean, really. Could this story be any cuter? The video slayed me.
The best money I spent this week was $12 on a hook rail to hang up keys and Dutch's harness/leash. My roommate and I needed something to keep that stuff in one convenient location, so I'm very happy with the purchase. Bonus: it's super cute!
My plans this weekend include a pedicure and dinner date tonight with my roommate and her friend that is coming into town this afternoon. Tomorrow, I want to spend some time at the pool, finish decorating the apartment, visit my grandma, and have dinner with my mom and stepdad. And then Sunday, I'm meeting up with my friend to write and spending the rest of the day watching football with my brother. Happy Friday!
What was the highlight of your week?