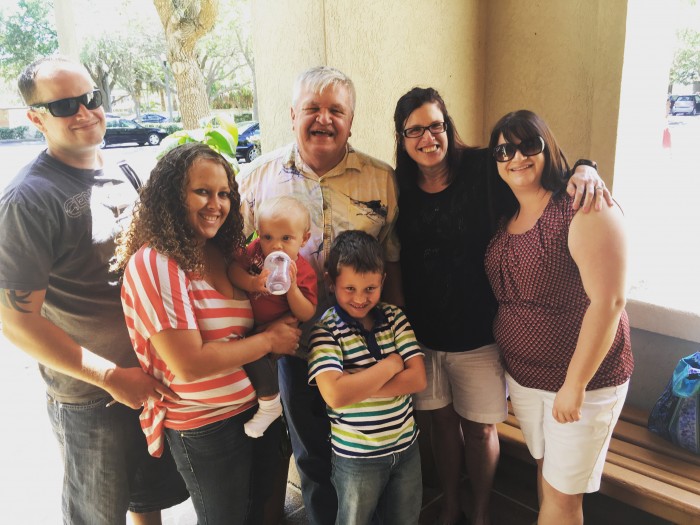 The high of my week was celebrating my grandpa's 75th birthday on Sunday. I was worried that the day would be melancholy for him, since it's the first birthday he's celebrating without grandma in nearly six decades, but he was in good spirits. We enjoyed lunch out at one of his favorite restaurants, and my nephews came, which was wonderful! I'm so glad I was able to spend time with Pops on his birthday!
The low of my week was some work stress and not having enough downtime this past weekend. But, honestly, if that's all I can name as "low points," then I think I'm doing A-OK! Life is pretty good right now, I must say.
A blog post I loved was Let Your Frustration Be Your Fuel by Dee on Stratejoy. Oh, boy, was this a powerful and inspiring essay from Dee. Haven't we all been there – deep in the trenches of trying to conquer a goal, the place where everything seems too hard, and giving up feels like the better, safer option? I know I have, and Dee's post spoke to me.
So isn't that life, really? Working one day at a time, and sometimes even one breath at a time to get our asses up this fucking hill that is called growth, one (sometimes) painful step at time?

(And, isn't there a Miley Cyrus song about this?)

It really doesn't all have to be amazing and exciting. It can really suck but we can do things that suck. We can find ways to work through the parts that suck. We can stay in motion with our tiny sparks still lit.
I'm currently reading The Senator's Wife by Sue Hill. I bought this e-book a year ago when it was $1.99 on Kindle because the premise was intriguing, so I'm excited to dive into it. The books I've been reading lately have been a little meh, so here's hoping this one breaks that cycle.
The best money I spent this week was on ingredients for baking cookies for my grandpa. He loves my cookies, so when my plans for Friday night were canceled, I decided to bake cookies and surprise him on Sunday. It's the little things, sometimes.
My plans this weekend include all of the things! Oh, boy, will this be a busy weekend. Tonight, Roomie and I are doing pizza and games with some friends. On Saturday, I'm going to the happiest place on Earth (The Wizarding World of Harry Potter!) with a group of friends, and then later on, Roomie and I have dinner reservations with some of her friends at Boma at the Animal Kingdom Lodge. Then, on Sunday, I have an early morning writing date with my writing partner, as well as lunch planned with my mama. And then? I will nap so hard. 🙂
What was the highlight of your week?