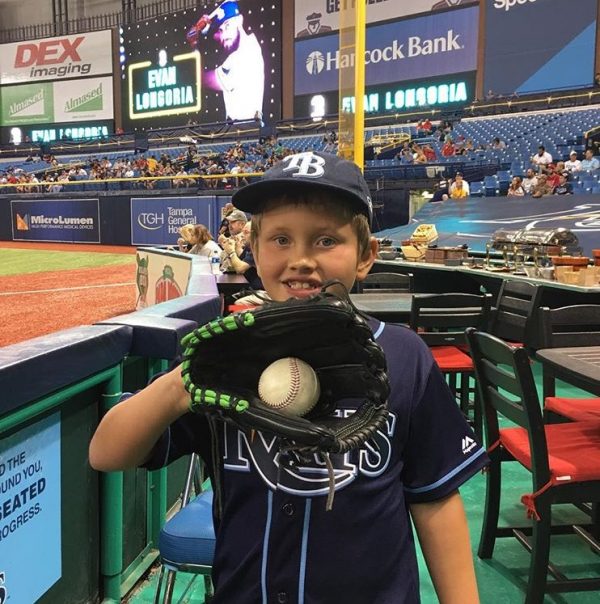 The high of my week was taking my older nephew to a Rays game. Over the past few months, my nephew has morphed into a Serious Baseball Fan. He knows stats and players, and could tell me all of the injured Rays players and how they got their injuries. So it was especially delightful to take him to a Rays game with my mom to experience baseball through his eyes. The Rays lost and my nephew was definitely bummed, but he had a blast!
The low of my week was coming home from that Rays game to a poopsplosion from Dutch and no electricity. My nephew wanted to stay for the entire game, so I didn't get home until after 11 and all I wanted to do was wash my face and go right to bed. Unfortunately, life had other plans. First, I came home to a little "poopsplosion" from Dutch, which was all over my kitchen floor, and then after dealing with that, I realized that my electricity was off (it was still on in my bedroom and bathroom, but the living room and kitchen were power-less). Thankfully, I was able to charge my phone and call my electric company to report the outage (I wasn't the only one affected), and then I proceeded to sleep not a wink that night, mostly because I didn't have AC and I need an ice-cold home to sleep. While I was able to use my ceiling fan for some of the night, I woke up around 4am to discover the ceiling fan was off and I had lost total power. Fun! The electricity finally came back on a little after 8am, whew.
I'm currently reading The Nightingale by Kristin Hannah. My work book club picked this for June after a coworker raved about it. Likewise, just about every person in my other book club has read this book and raved about it, so I think I'm settling in for a fantastic read!
A Internet find I loved this dating profile from 1865. Somehow, I need to adapt this for my own dating profiles.
A podcast episode I enjoyed was Are Election Laws Designed to Suppress Voters? by Stuff You Should Know. This was the kind of episode that had me saying out loud "oh my god" as I listened to it and I really liked how amped up Josh and Chuck got about it. I would encourage anyone to give it a listen to become informed about all the ways we have tried – and are still are trying – to suppress peoples' right to vote.
The best money I spent this week was $10 on Starbucks breakfast on Tuesday morning. Starbucks breakfast is always a "treat yoself" sort of thing for me. On Tuesday morning, after barely sleeping all night, I knew I need to treat myself and so I did. No regrets!
My plans this weekend include some workouts, including a spin class on Saturday morning. Potentially finally getting my book tattoo on Saturday, game night with my family on Saturday night, a writing date on Sunday morning, and a fun DIY class on Sunday afternoon with some friends. Whew! Let's hope I emerge from this weekend with my sanity intact!
What was the best thing that happened to you this week?