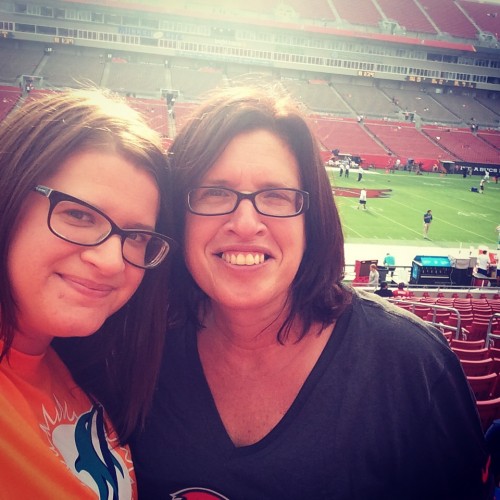 Happy Friday, friends! What a week! It's been a busy one for me at work, as I'm trying to finish up my last few writing assignments before the end of the month. I celebrated my one-year "work"-aversary, and had my review with my bosses on Tuesday. My review went really well! I'm happy, they're happy, we are one big happy family! 🙂 I am so grateful for this job.
My weekend was fairly low-key, though I did attend the Dolphins game on Saturday night with my mom. It was the BEST experience and I'm feeling so thankful and lucky that I was able to go and see my boys play in person. On Sunday, I accompanied my mom to a 5K she ran and then we went out for breakfast, which was super delish! (But Cracker Barrel… it is WAY TOO SOON for Christmas decorations. August?! NOT OKAY!)
The high of my week was attending the Dolphins game on Saturday. It was so special to be there, and we had incredible seats – near the 30 yard line, just a few rows up! It's the first time I've ever seen my team play in person, and it was so darn fun! Luckily, there were a ton of Dolphins fans there and we won the game, so it was just a sweet night.
The low of my week was dealing with nagging knee pain. It started around Tuesday night, but thankfully got better within a few days. It was just a dull pain on the back of my knee that I think happened because I kept hyperextending my knee with the way I was sitting in my chair at work. I'm trying to be better about my posture!
A blog post I loved was Stop Rolling Your Eyes and Start Taking Action by Nicole. Gosh, this was such a fantastic post that I don't even know where to start. Just go. Read it. Now.
"So, clearly, there's a lot to be said for doing the thing you judge other people for doing, which is something I've been thinking about a lot over the past week. I've been thinking about how the things we judge and criticize are actually a built-in yellow brick road we can follow to find (and relieve) our own sources of suffering."
A podcast episode I loved was Kathryn Jackson on The Lively Show. This show was so insightful! I didn't think I would find it as awesome as I did, since it was a little business-focused, but there was some really great advice about handling online overwhelm. I recommend it!
For my goal of working out 31 times in August, I worked out 6 times. Oy, not my best week at all! My bum knee affected a few workouts this week, as I tried to rest it as much as I could. There are just nine days left in August, and I have 12 workouts to complete. Completely doable, but I really have to put in the work this week!
The best money I spent was $68.28 on t-shirts for my mom and me for the game on Saturday. I figured I could buy them, since we got the tickets for free! I bought myself a really nice (dri-fit, even!) Dolphins tee, and my mom got a Bucs tee.
My plans this weekend include attending book club (we're planning on dinner downtown, gelato, and taking the Ghost Tour of St. Petersburg!), doing my fantasy football draft (!!!), seeing my brother and nephew, and trying to have some downtime from a crazy week? It should be a fun weekend!
(As always, thanks to Cait for the awesome TGIF format!)
What was the highlight of your week? Any fun weekend plans?