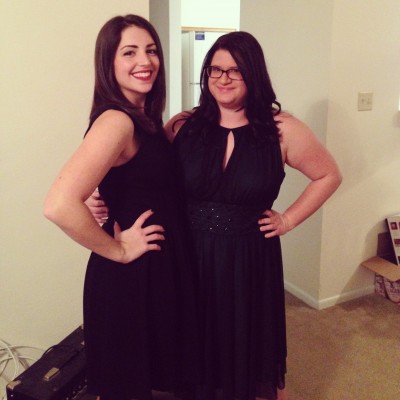 Friday was my Christmas party for work and I had a blast. I met up with two coworkers before the party (the picture above is my soul sister and work BFF, Bri) for drinks and "prom photos" (the drink(s) helped me loosen up, something I always need for big social events!), and then we went to the party. Which was fun! And there was karaoke! I did not sing, but was crying from laughter listening to some of my coworkers sing. It was the best. Afterwards, I went back to a coworker's apartment for a little after-party. I didn't get home until after 3am, which is a record for me. All in all, one of the best nights I've had in a seriously long time.
The high of my week was decorating for Christmas. Usually, I like to decorate the weekend after Thanksgiving, but my mom and I were in Savannah that weekend, so we finally managed to decorate on Sunday. Our tree is beautiful, our lights are strung, and sparkly garland borders our windows. I love how cozy and peaceful my apartment looks with all the decorations. I even got into the spirit at work and decorated my cubicle. A lot of the cubicles in my office are decorated, which makes for a super cozy work environment.
The low of my week was dealing with package delivery failures. I ordered a fun gift for my book club gift exchange (that's on Tuesday, so I need it ASAP!), and I was told it was delivered to my front door, but it most certainly was not. Looks like a call to Amazon is in order. Fun times.
A podcast episode I loved was Brooke White on The Lively Show. I haven't been listening to a ton of podcasts lately (I know… shocker for me!), and the ones I have listened to have been okay, but nothing spectacular. I listened to this episode of The Lively Show while driving up to Georgia and it was such a great one! I think I had a lump in my throat for the majority of the episode because gah, Brooke White! She has persevered through so much, and her story really touched me. She's one of the few American Idol alums that I distinctly remember and really adore.
A blog post I loved was Shannon from Awash With Wonder's guest post for Witty Title Here's "Feminist to Follow" series. I am really enjoying Cassie's "Feminist to Follow" series, and this post was especially poignant. Shannon is a beautiful writer and I love her message and how passionate she is about feminism.
But part of being human is to hope for a better world and to believe that you may play a role in making it so. Fighting for gender equality is one of the most important things we can do to make the world a better place – not just for women but also for men. 
The best money I spent was $11 for a tabletop Christmas tree and decorations for the tree from Target. I call it my "Christmukkah tree" because the tree itself is blue and the tinsel is silver so… it looks like it's celebrating Hanukkah. It all works out in the end, right?
My plans this weekend include a low-key evening in tonight (100% chance I'll be cozy on the couch, watching a Christmas movie or two), going to SeaWorld tomorrow (sooo flippin' excited!), and watching the Dolphins/Patriots game at a sports bar on Sunday. I am a Dolphins fan, I will be with a Patriots fan, and I'm pretty sure the Dolphins are going to lose. I'm just going to enjoy the game? Somewhat? If I can? Oy.
What was the highlight of your week?