Oh, I don't want to write about this week. I really don't.
It was a bad week, from start to finish. I didn't open my tracker once. I was half-hearted in my exercising. My cravings hit me hard and fast. And my motivation waned. Already! It's only my second week back on Weight Watchers. How am I already struggling to stay on plan?
I've taken a different approach this time around. I'm not making crazy plans for exercise or things I will never eat again. I've tried that before and it doesn't work for me. It just makes the cravings hit harder, the excuses seem more plausible, and my downfall to be more imminent. But this weight-loss-living-a-healthier-lifestyle-thing is hard. It's really hard. And while I don't feel like you should completely resist every craving, I do think there's a lot to be said when you resist the ones that are just your former life pulling you back rather than a true craving.
This was not my best week. Not by a long shot. But I know I'm going to have weeks like this. Everyone does. I need to take the mistakes from this week and grow from them, not repeat them.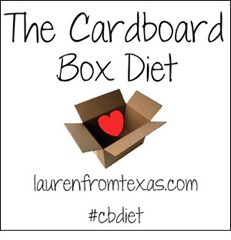 Weigh-In: Second week in and already a gain on the scale. Up 1 lb this week which is disappointing and disheartening. But all I can do is move on from here, recognize my mistakes, and strive to do better.
Exercise Completed:
Friday: I took a rest day since I woke up with horrible knee pain. No idea what brought it on but it was just a dull ache by the afternoon and completely gone by Saturday. Very weird!
Saturday: 30 Day Shred, Level 1 (25 minutes), stationary bike (30 minutes)
Sunday: Took another rest day, mainly due to laziness than anything else.
Monday: 30 Day Shred, Level 1 (25 minutes).
Tuesday: 30 Day Shred, Level 1 (25 minutes).
Wednesday: Rest day. Also due to laziness.
Thursday: 30 Day Shred, Level 2 (25 minutes).
I really want to get some other workouts in during the week, in addition to my 30 Day Shred challenge but it didn't really happen this week. But the Shred is still kicking my butt and making me whine to Jillian, "But it's so haaaaard!" so at least I'm getting that in.
Splurge/Guilty Pleasure: Ugh. Way too many. Peanut M&M's on Friday, a fruity alcoholic beverage on Saturday, Chick-Fil-A on Saturday afternoon and Wednesday night… just to name a few splurges. Splurges are good, of course, but there comes a point where you have to resist the urge to indulge. It's not always necessary and sometimes, much better for your state of mind to resist.
Successes: The only success I can see is that I tried to remain on plan as best I could this week. Even when I knew I screwed up this weigh-in, I still tried to get back on track with my eating.
Recipe: This week, I tried another Skinny Taste recipe. My mom and I have been in a food rut for a long time now, eating the same meals over and over again, so it's been fun to actually get in the kitchen and try out some new dishes! I made Skinny Taste's Skinny Sloppy Joe on Monday night and it was actually really good! It was a little too tomato-y for my tastes (probably because I put in the whole 8oz can of tomato paste instead of the 2 tablespoons that the recipe called for… Oops.) but it was still yummy. But since I put in too much tomato paste, it drove the points up to 6 instead of 3. I bought some rolls from the bakery that I toasted and served it open-faced.
The serving size is pretty big (it overflowed on my two buns) and it fills you up! It's a good recipe, but I'm not sure we loved it enough to try it again.
Photo: