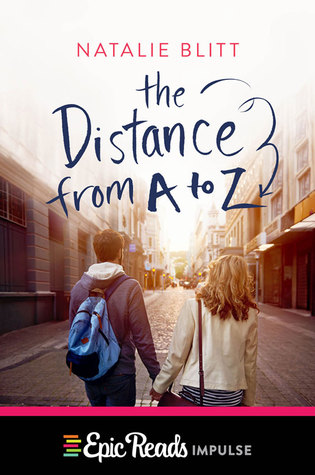 Abby is sure of two things: she needs to get away from her baseball-obsessed family and she loves the French language. Her dream is to go to college in France, so she can immerse herself in a culture so different than what she grew up in. In order to do that, she needs to be fluent in French, so she enrolls in a French intensive course at a university the summer before her senior year. A summer immersed in a French language course and without sports? This is her dream.
Unfortunately, Abby's partner in this French course is Zeke, who seems to be as obsessed with baseball as her family. It's the last thing she wants, but as the days and weeks go by and Abby and Zeke work together, speaking French and learning the language more deeply, she begins to fall for him.
And fall, and fall, and fall. But the more Abby falls for him, the more she realizes he's hiding a big secret and she has to come to terms with who he is, and if loving him is worth the risk.
I devoured this book within the span of 24 hours. I just couldn't put it down because I loved this little world of Abby and Zeke. I wanted to see how their romance would develop, and I was curious about Zeke's secret.
The book is not without its faults, as it is a novel by a debut author. I wanted more character development from Abby (she grew in terms of learning French, but I wanted more internal growth). I wanted to know more about her family and really dig into why she despises baseball so much (there was a little background into why, but it felt a little weak for something she despised with such ferocity.) And I wanted a stronger conclusion to the novel – the conclusion felt very rushed and a little forced. I wouldn't have minded another chapter or two wrapping up their time in the French intensive course and leaving the university.
But even with those faults, I can't deny that this was an outstanding book by Natalie Blitt. Sweet YA romances are my jam, and this checked all of my boxes. I felt like Abby and Zeke were two very well-written characters that seemed real and authentic. I was sad when I finished the novel, knowing my time with these characters had come to an end, which is always a sign of a fantastic read. I can't wait to see what's next for this author because I've definitely become a fan!
Book synopsis (from Goodreads):
Seventeen-year old Abby has only one goal for her summer: to make sure she is fluent in French—well, that, and to get as far away from baseball and her Cubs-obsessed family as possible. A summer of culture and language, with no sports in sight.
That turns out to be impossible, though, because her French partner is the exact kind of boy she was hoping to avoid. Eight weeks. 120 hours of class. 80 hours of conversation practice with someone who seems to exclusively wear baseball caps and jerseys.
But Zeke in French is a different person than Zeke in English. And Abby can't help but fall for him, hard. As Abby begins to suspect that Zeke is hiding something, she has to decide if bridging the gap between the distance between who she is and who he is, is worth the risk.
You can connect with Natalie Blitt on her website, Facebook, Instagram, and Twitter. Her book is available to buy from Amazon and Barnes & Noble. 
Click here to add this book to Goodreads!
I received a digital copy of this book for free in exchange for an honest review. All words and opinions, unless otherwise stated, are my own.