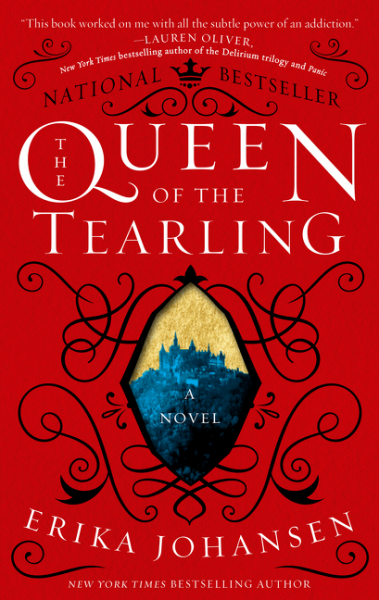 It's not often that I'm left without words when reviewing a book. Usually, I find it pretty easy to hammer out a few hundred words about characters and plots and settings.
But with this novel, a novel that truly impacted me, it's difficult. Mostly because I'm not sure where I want to begin with my review. Do I start with Kelsea, a heroine I could completely get behind and root for? Someone who loved books, loved people, loved justice? Someone who didn't exactly know what to do being queen at the age of nineteen, but soldiered on and did it anyway? Someone who was fairly ordinary, but given extraordinary power?
Or maybe I should talk about the setting of the book, this dystopian novel and the world Erika Johansen created. I could talk about how I wish I had just an ounce of her creativity, that this world she envisioned was so rich and lively and well-developed. She dropped me into this incredible world and I never wanted to leave it.
Or perhaps a good place to begin would be with the men of this novel – the Fetch and Pen and Mace and Carroll and Barty – oh, how I adored each and every one of them! Strong men who believed in this woman and trusted in her power. I might even confess that the Fetch, far and away, has my heart, so much so that when he reappears near the end of the book, I crowed, "The Fetch! The Fetch!"
More than anything, though, I should probably start by talking about the plot of this novel, of a young girl who has been isolated her entire life for her own safety who becomes queen of a nation in disarray and realizes her first act as queen will throw the entire world into chaos. And, from there, we learn about the reparations of what that act does – both positive and negative – to her kingdom and to the kingdoms around her.
Well, maybe you should just read the novel. I mean, right now. Download it to your Kindle, add it to your next online order, or request it from the library. Go. Do it. I promise you won't regret it.
Book synopsis (from Goodreads):
An untested young princess must claim her throne, learn to become a queen, and combat a malevolent sorceress in an epic battle between light and darkness in this spectacular debut—the first novel in a trilogy.
Young Kelsea Raleigh was raised in hiding after the death of her mother, Queen Elyssa, far from the intrigues of the royal Keep and in the care of two devoted servants who pledged their lives to protect her. Growing up in a cottage deep in the woods, Kelsea knows little of her kingdom's haunted past . . . or that its fate will soon rest in her hands.
Long ago, Kelsea's forefathers sailed away from a decaying world to establish a new land free of modern technology. Three hundred years later, this feudal society has divided into three fearful nations who pay duties to a fourth: the powerful Mortmesne, ruled by the cunning Red Queen. Now, on Kelsea's nineteenth birthday, the tattered remnants of the Queen's Guard—loyal soldiers who protect the throne—have appeared to escort the princess on a perilous journey to the capital to ascend to her rightful place as the new Queen of the Tearling.
Though born of royal blood and in possession of the Tear sapphire, a jewel of immense power and magic, Kelsea has never felt more uncertain of her ability to rule. But the shocking evil she discovers in the heart of her realm will precipitate an act of immense daring, throwing the entire kingdom into turmoil—and unleashing the Red Queen's vengeance. A cabal of enemies with an array of deadly weapons, from crimson-caped assassins to the darkest blood magic, plots to destroy her. But Kelsea is growing in strength and stealth, her steely resolve earning her loyal allies, including the Queen's Guard, led by the enigmatic Lazarus, and the intriguing outlaw known simply as "the Fetch."
Kelsea's quest to save her kingdom and meet her destiny has only just begun. Riddled with mysteries, betrayals, and treacherous battles, Kelsea's journey is a trial by fire that will either forge a legend . . . or destroy her.
You can connect with Erika Johansen on Facebook and Tumblr. Her book is available to buy from Amazon, HarperCollins, and Barnes & Noble. 
Click here to add this book to Goodreads!
I received this book for free from TLC Book Tours in exchange for an honest review. All words and opinions, unless otherwise stated, are my own.
No affiliate links were used in this post.