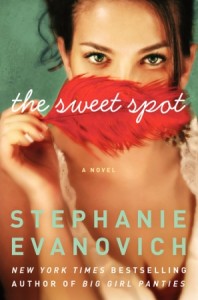 From Goodreads: When pro baseball player Chase Walker first meets Amanda at her restaurant, it's love at first sight. While Amanda can't help noticing the superstar with the Greek-god-build, he doesn't have a chance of getting to first—or any other—base with her. A successful entrepreneur who's built her business from scratch, Amanda doesn't need a Prince Charming to sweep her off her feet. And a curvy girl who likes to cook and eat isn't interested in being around the catty, stick-thin herd of females chasing Chase and his teammates. 

But Chase isn't about to strike out. A man who isn't interested in playing the field, he's a monogamist who wants an independent woman like Amanda. His hopes rally when she discovers that squeaky-clean Chase has a few sexy and very secret pre-game rituals that turn the smart, headstrong businesswoman on—and into his number one fan.

Then a tabloid discovers the truth and turns their spanking good fun into a late- night punch-line. Is Amanda ready to let loose and swing for the fences? Or will the pressure of Chase's stardom force them to call it quits?
My thoughts: Oy. This review is going to be a tough one.
I loved Evanovich's debut novel Big Girl Panties. It was sweet and smart and funny. I knew what I was getting into this one, since we're introduced to Chase and Amanda in that book and their kinky sex life. (Chase is into spanking, which isn't ruining anything. I just think I need to clue people in on this, since it affects my thoughts on the book.) At first, I really enjoyed Amanda and Chase's witty banter and the sexual tension they provoked. It was cute, it was sweet, it was everything I wanted from chick lit romance.
Then things took a turn to kinkytown and it lost all the sparkle it had in the beginning. Now, I've read my fair share of erotica and steamy romances so I don't get turned off from that. But I slowly began to dislike the novel and the characters the more I read.  Amanda turned from a self-sufficient, independent business owner into a simpering, co-dependent weak girl. And Chase turned into a guy I really liked into a whiny, self-entitled, smug jerk. It was just so hard to like them and it was so hard to root for them.
I wanted more story. The only plotline was about Chase wanting to find a woman who liked to be spanked, but whom he also had an emotional connection with, and Amanda trying to accept that she liked being spanked and to let herself fall in love with Chase. It was just… boring, after a while. It became too much about spanking, not enough about the characters and their emotional development.
So, it wasn't my favorite novel. The writing was good, but I found myself feeling a bit let-down by the plot and characters.
My rating: 2 stars
I received this book for free from TLC Book Tours in exchange for an honest review. All words and opinions, unless otherwise stated, are my own.