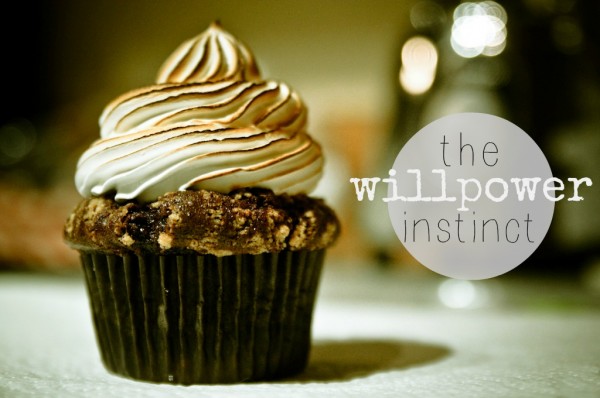 Way back in early May, when I wrote my reading recap for the books I read in April, I talked about a book called The Willpower Instinct, written by Kelly McGonigal. It was a thoroughly interesting read, and I took notes upon notes while working my way through the book. As someone who struggles with her weight, and pursuing other goals, I love reading about willpower, self-control, and how our brains react to different environments. It's a book I could definitely see myself reading again and again because it was so insightful, and also very well-written. McGonigal has a witty, easy writing style and I found myself chuckling during a few parts of the book.
Today, I wanted to rehash some of the lessons I learned while reading this book. It was hard to nail down to just four lessons because this book was chock-full of insights that had my mind buzzing and things clicking as I related it to my own life. But, for the purposes of this blog, I'll stick with four. If you're intrigued enough, I highly suggest buying the book and reading it yourself. It's worth the read!
Without further ado, though, here are four lessons I learned from The Willpower Instinct:
Lesson #1: We are primed to think about what we want to avoid.
It's actually a scientific theory and it's called ironic rebound. It's the "psychological tendency to fall deeper in desire whenever a romance is forbidden." So when you tell yourself you can't have cookies, or use your credit card, or have fast food… well, guess what the number one thought you'll be thinking of is?
What happens when we tell ourselves we can't have something, our brain starts working in overdrive. One part of our brain works hard to keep us from thinking about that forbidden thought. This part of our brain is in charge of self-control and wastes a ton of mental energy performing this task. And then, another part of our brain is "looking for any evidence that you are thinking, feeling, or doing whatever you don't want to think, feel, or do." Now, this part of the brain, has processes that are more automatic and they waste very little mental energy.
So, you can probably see what happens. We start overusing one part of our brain to not think about the thing we want until it gets overtired, and then the other part takes over. The part that's only searching for those forbidden thoughts. Oh, that naughty brain of ours! So we begin to think those forbidden thoughts, push them away, and they come back – and come back with even more authority. And, "because you are trying not to think about it, its reappearance seems even more meaningful. As a result, you're more likely to believe it is true."
So what can we do? Let go. Stop trying to control your thoughts and just let them come and let them go. Studies have shown that when we give ourselves permission to think a forbidden thought, it actually reduces the likelihood we are to think that thought. THE BRAIN IS CRAY. CRAY, I TELL YOU.
Lesson #2: Self-control is not punishment.
I know I can be someone who rewards myself when I work really hard toward a goal for a certain number of days. Isn't that, technically, what a cheat day or cheat meal is? Rewarding ourselves for "being good!" This is actually a process called moral licensing, which is when we believe we should "reward ourselves for good behavior if we believe that who we really are is the self that wants to be bad." In essence, every act of self-control we pursue is an act of punishment, while every act of self-indulgence is an act of reward. Isn't that insane to think about, but really so true? I know it is in my life. I tell myself I deserve that cookie for being good all day long. Or that I deserve this cheat meal because I was good during the week and lost weight. Every time I stay within my calorie limit, resist sweets, or wake up early to exercise is an act of self-control which can sometimes feel more like a punishment than anything else.
McGonigal writes: "Moving beyond moral licensing requires knowing that who we are is the self that wants the best for us – and the self that wants to live in line with our core values. We will no longer act like someone who must be bribed, tricked, or forced to pursue our goals, and then rewarded for making any effort at all."
Lesson #3: Stress shifts the brain into reward-seeking status.
This was something that I found super, super, super interesting. Feeling stressed is a normal part of anyone's life. Whether it's work stress, relationship stress, life stress, whatever stress, we feel it. We all have to find ways to cope with it. And, in fact, the brain is working against us when it comes to stress because it immediately shifts into reward-seeking status and you begin to feel that the only way to feel better, or less stressed, is by having that reward. Whether that's chocolate or shopping or mindlessly looking at the Internet, we all do it.
There are many, many stress relieving activities that are effective (such as exercising, reading, taking a walk outside, chatting with a friend, etc.), but many of us don't immediately think of those. Why are they so effective? Well, "they boost mood-enhancing brain chemicals like serotonin and GABA, and feel-good hormone oxytocin. They also help shut down the brain's stress response, reduce stress hormones in the body, and induce the healing relaxation response." But we tend to underestimate how good they will make us feel because "when we're stressed our body will mispredict what will make us happy, so we often talk ourselves out of doing the very thing that will make us feel better."
The only way to strengthen this muscle is to use it often. So the next time you feel stressed and feel yourself craving a candy bar, go outside and take a walk. Or sit down with a book for 15 minutes. Or meditate. Listen to music. Talk to a friend. There are many different effective stress-relieving activities that actually work to lessen stress that don't include eating everything in sight or draining our bank account.
Lessen #4: Be compassionate toward yourself.
Here's the deal: we are all our own worst critics. We beat ourselves up for not meeting a goal. We are hard on ourselves, way harder than other people are on us. And I think we can sometimes feel like this is the right way to look at things. To be super critical about our faults and not living up to what we expected of ourselves. But, in actuality, it's not.
"Self-criticism is consistently associated with less motivation and worse self-control…self-compassion is associated with more motivation and better self-control."
Interesting, eh? When we take a self-compassionate point of view, researchers have found, we remove the guilt and criticism and we can more fully reflect on our failure in a new light, allowing us to take more responsibility for our actions.
McGonigal writes more about the downfalls of self-criticism: "[It] makes your setbacks feel like evidence that you are a hopeless loser who screws everything up, and thinking about your failure is a miserable exercise in self-hate. Your most urgent goal will be to soothe those feelings, not learn from the experience. It drives you straight to comfort coping, like eating your feelings."
***
There were so many other lessons I learned while reading this book, but I think this post is long enough as it is. If you're interested in this topic (the book does skew a little bit on the healthy living side, but it's really helpful for anyone who wants to learn more about how our brains react to self-control and willpower, and how to strengthen those muscles), be sure to check out the book. Like I said, it's very well-written and I can see myself rereading it in the future.