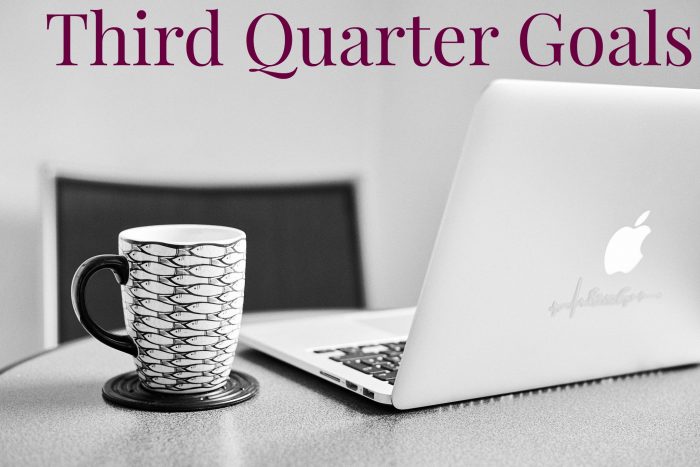 If you can believe it, we're nearly halfway through the third quarter of 2016! Time is flying by. The first half of the quarter has been a flurry of freaking out about finding a place to live in September, freaking out about moving costs, and freaking out about living alone. It's been fun times in this brain of mine.
But I also found a place to live (with a sweet rent price!). I have picked up freelancing work to ease the burden of moving costs. And, well, there's not much I can do about my worries about living alone. I can only prepare myself and make sure I have lots of romance novels, comforting Netflix shows, and boxes of brownies on hand to help me during the transition. 🙂 Self care, right?
Let's take a look at the goals I set for this quarter and see how I'm doing!
1) Write at least 20,000 words in my novel.
As of today, I've written 8,000 words in my novel. It's a little under where I should be at, but I'm not all that worried. I think I'm going to have a lot more time to focus on writing in September, as I'll be on a social media and blogging break. I'll make this goal!
2) Start a freelancing side hustle.
Yes! I am working with four different clients, two of which could potentially turn into long-term contracts. (Fingers crossed!) My weeknights and weekends have been a lot crazier, since I'm now working an extra 5-10 hours a week on freelancing, but I can't lie: I LOVE IT.
I mean, it's exhausting, too. The hustling side of things can be really hard sometimes, which is why I don't think I'd ever want to freelance full-time. I like the safety of a regular paycheck, having benefits, etc. But it's nice as a way to earn some extra income to ease some of my financial burdens.
3) Have a smooth, seamless move into my new home.
Well, I haven't moved yet so I can't say if this goal will be a success or not. I hope so, but ugh, moving is just the worst, isn't it? Especially because my lease ends on September 10 and I don't get keys to my new place until September 9. So that Friday and Saturday will be crazy with moving and cleaning the old apartment. (I'm planning on taking the following Monday and Tuesday off work to decompress!) Hopefully, all goes well!
4) Take a social media/blogging sabbatical in September.
Another goal that I won't be completing until the second half of the quarter! I am really excited to take some time away from the internet for 30 days. It's much needed and will be nice to just slow down and stop needing to document every moment, think about blog topics, or keep up with my social media feeds. (I love all of the above, but sometimes you just need a break, you know?)
5) Lose 10 lbs.
Ehhhh… no. I've been doing better with my eating habits and workouts, but I'm not seeing a ton of results on the scale. Oh, well. The important part is I'm trying, right?
6) Find a new primary care doctor or dentist.
I have made zero progress on this goal. Oops. But I'll get this done. Promise.
Final thoughts:
Well, I'm considering the first half of this quarter a success because I managed to make progress on my biggest two goals: working on my novel and earning money via freelancing. And two of my goals can't even get started until September, so I think I'm doing great! Go me! 🙂