As I mentioned on Tuesday, I'm in the process of re-categorizing and re-tagging my blog posts. My categories and tagging methods were a bit of a mess. But out of this process I've stumbled upon some fun blog posts I've done in the past that I want to revisit. They're the perfect type of posts for when you don't really have the time or desire for a longer post. I did a "3 Things Thursday" (inspired by Lisa) almost a full year ago, and I think it's about time I did another one. Enjoy!
Three confessions:
1. I love Daylight Saving Time. Love it. I mean, sure it sucks that it's darker in the morning (which means waking up is a bit more difficult!), but having more daylight hours? So worth it.
2. I am a supremely picky eater. A lot of my friends (lovingly) make fun of me about it. I'm just not very adventurous when it comes to eating, and I'm not a foodie by any means. I love food, but I don't have a sophisticated palate at all.
3. When I'm writing at work, sometimes I need to listen to music to drown out the conversations happening around me. My favorite Spotify playlist to listen to is Epic Film Scores for Studying. It makes writing about home improvement very dramatic!
Three things that made me happy this week:
1. Girl's night out that included Mexican food and margaritas. Can't go wrong with that!
2. Dutch feeling better! He's not limping anymore, but we are still keeping his walks short and carrying him up and down the stairs.
3. Writing for a new client that is much different than what I usually write about. It's stretching my brain in a totally new way, and I've learned so much!
Three books I'm reading next:
1. In the Blood by Lisa Unger
2. The Guy Not Taken by Jennifer Weiner
3. Delirium by Lauren Oliver
Three movies I haven't seen (that everyone else has):
1. The Hangover
2. Forrest Gump
3. Coming to America
2.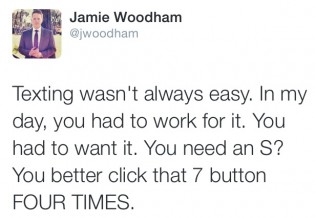 3.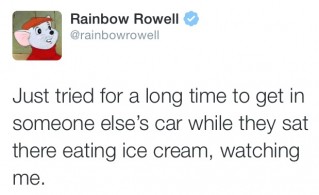 Three of the latest podcasts I subscribed to:
1. Criminal
2. Happier with Gretchen Rubin
3. Dear Sugar Radio
Three things I'm looking forward to:
1. My Savannah weekend (15 days!)
2. A girl's day in Orlando with Emilie in April
3. My 7th cruise! (65 days!)
Three apps I love:
1. Cuptakes (for fun wallpapers for my phone!)
2. Period Tracker (because I have funky cycles and this helps me keep track of them) (Sorry for the TMI)
3. Panera Bread (I love this for when I use the Rapid Pick-Up. Select my meal, pay with my fingerprint, and zip over to the restaurant, where it's waiting for me almost immediately. So convenient for lunch when I'm at work!)
Three words I'd use to describe myself:
1. Introspective
2. Reserved
3. Hard-working
Three things I'm doing this weekend:
1. Looking at apartments with Bri
2. Working on my fiction novel
3. Playing laser tag with some friends
What made you happy this week? What movie have you not seen that you feel everyone else in the world has?