Happy Monday!
I hope everyone had a fabulous weekend – I know I did! It was the perfect mix of being social, being productive, and having downtime to relax and regroup. Next weekend is going to be a billion times crazier, so I think I may hunker down this week to prepare for it. This is the Introvert MO. 🙂 Let's recap this weekend by talking about my top moments, shall we?
1. Had dinner at The Burg Bar and Grille. We went here for book club and it was fantastic! For many of us, it was our first experience and I will definitely return. We had an awesome waitress, delicious food, and great conversation. We sat outside, too, which was GREAT. (Yay for sitting-outside-in-January weather. I love Florida.)
2. Visited 3 Daughters Brewery and played cutthroat games of Cards Against Humanity, foosball, and giant Jenga. After dinner, we all trekked over to 3 Daughters Brewery to have drinks and play games. We played Cards Against Humanity, which is always a good time. (I had to take a picture of one of my "favorite" card pairings. Ha! So horrible, right?!) Then, there was a very competitive game of foosball played between two friends, and later, an intense game of giant Jenga. All in all, a super fun night! I love book club. 🙂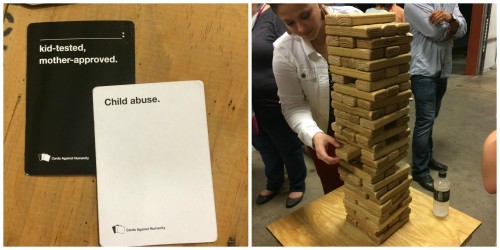 3. Relaxed with a new book on a rainy Saturday morning. Saturday morning, I woke up a little before 8am to high winds and rain, so after taking Dutch on a super short walk, we snuggled on the couch and I started a new book. I am loving it so far and am finding it hard to put it down!
4. Took a walk in the park. Once the skies cleared up, my mom and I ventured to our favorite park to take a nice walk. It was super windy (23 MPH winds!) so we were definitely working with some resistance! But it was sunny and beautiful and it really lifted my spirits, being out in the fresh air.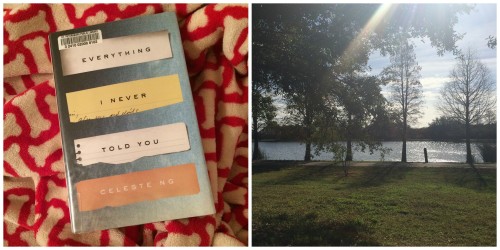 5. Saw American Sniper. Saturday evening, Alex and I went to see American Sniper. Oh, heavens. So good. I knew it would be intense and sad and really emotional, and it was all that and more. Bradley Cooper did a phenomenal job and it was a brilliant movie. I would highly recommend seeing it!
6. Had a super productive Sunday. Whew, was Sunday a productive day for me! Let's see, I… worked on my big freelance project for a few hours, wrote this blog post, did laundry, washed and vacuumed my car, grocery shopped, and meal prepped for the week. (Roasted potatoes, roasted broccoli, cooked a bunch of chicken to take for lunch, and boiled eggs to take as a snack.) Needless to say, I was pooped by the time I went to bed!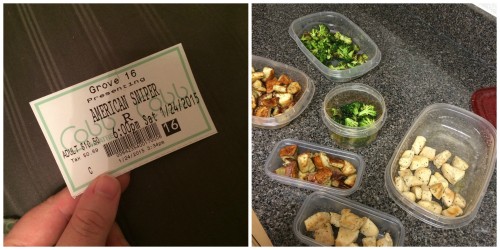 7. Started Gilmore Girls! And now I basically want to forget all responsibilities, snuggle on the couch, and watch this entire series start to finish. I've only watched maybe one and a half seasons of Gilmore Girls (and it was about halfway through the series), so this is an all-new experience for me. I love Lorelei and Rory. So much. They remind me so much of my relationship with my own mom! I'm obviously not a good Netflix-er, though, because this means I am now watching Friday Night Lights, Friends, and Gilmore Girls all at one time. I think you're just supposed to marathon one series at a time, right? Oops.
How was your weekend?