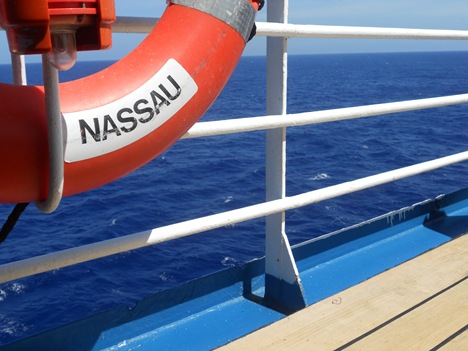 I wrote a post with this exact same title on May 19, 2011. And here I am, one year later, writing a similar post. It feels so amazing to me that I made this dream of going on another cruise soon after my first a reality. I can't tell you how many dreams I've had that I've just let fade away as other things come up.
I think we all have to find out niche in traveling. I was never interested in traveling until last May. Traveling through Europe or other foreign lands held no appeal for me and I put it off for a long time. Well, for one, you need money to travel and most of my life, we didn't have much of that. But now that I'm older and both my mom and I are more in control of our finances, it's becoming easier and easier to do so.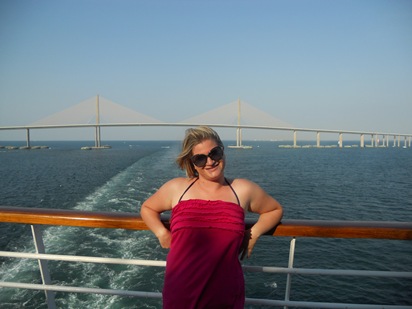 And cruising, quite frankly, is pretty cheap. It helps that I live within driving distance of four different cruise ports. (Yet another benefit of living in Florida. Woo!) I don't need to purchase plane tickets, although my mom and I will be driving to Ft. Lauderdale tomorrow and staying the night in a hotel before going to the cruise port.
We booked this particular cruise in August. It's been nine long months of waiting and saving up and anticipating. I think vacation anticipation is one of the most fun things. I didn't let myself get too excited over the cruise until a few months ago. It felt so far away before! I remember counting down with my mom and telling her we had "just 50 work days" to go. And now I'm down to my last day at work before leaving. Wow. (How am I going to survive this day?! Just glad I have a lot to take care of at work before leaving for a week!)
My suitcase is getting fuller. My excitement level is through the rough. And I am two sleeps away from being back on a Carnival cruise ship.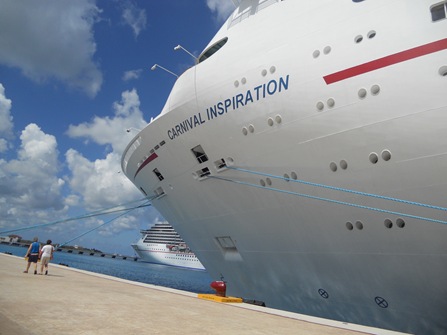 For this cruise, we have three stops: Key West, Jamaica, and Grand Cayman. I've been to Grand Cayman but have never been to Key West or Jamaica so I'm really excited to experience the island life there!
We'll be in Key West on Monday and we've booked a short bike tour that will take us all around the island and to historic spots in Key West. It's only about two hours so we'll have plenty of time to shop and eat before getting back on the ship. I'm not sure what to expect out of this stop but I'm just excited to take it all in and be completely in the moment.
On Wednesday, after a day at sea, we stop in Grand Cayman. We stopped there on my last cruise where my mom and I booked a fun sting ray and snorkeling excursion. We'll be doing a dolphin encounter, which may not be as cool as swimming with them but I still think this will be a neat experience. We're not allowed to bring cameras to the encounter and photos are expensive to buy, so I'm a little bummed about that. We're also stopping at Stingray City again where we'll be able to pet, kiss, and hold sting rays! This excursion will take up much of our time in Grand Cayman, which I'm okay with since we're dropped in a very touristy part of the island and I'm not all that fond of it.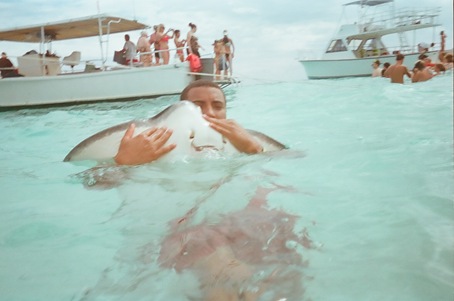 On Thursday, we have our last stop in Jamaica. I am seriously excited about Jamaica. Not only am I excited about being there, but we've booked an awesome excursion: zip-lining and bobsledding. I mean, you can't go to Jamaica and not bobsled, right? The excursion we bought takes us up to Mystic Mountain where we'll ride a chairlift to get to the bobsleds, ride the bobsled "as it plunges through 3,280 feet of twists and turns down the mountain" (as the description lists on the Carnival site), go back up the mountain via tram, and go zip-lining through "the canopy on a series of cables and pulleys that are interconnected on both tree and land-based platforms." Um, hi, MOST AMAZING EXPERIENCE OF MY LIFE! After all that fun, we have time to swim in an infinity edge pool. We also have the opportunity to go on another bobsled ride for a fee. We'll have to see how much we like it! I am really, really excited about this excursion, even though it's way out of my comfort zone. I'm not sure I'm going to want to leave Jamaica!
Friday is another day at sea as we sail back to Florida and we're back in Ft. Lauderdale on Saturday morning. (Saaaaad face!)
There is so much I've been anticipating about this cruise. The excursions. Visiting different countries. Afternoons spent lazily laying on lounge chairs with the Caribbean as my backdrop. Fancy dinners and meeting new people. Waking up and seeing the deepest blue waters out my window. Breakfast buffets. Nightly entertainment. Walking along the decks. Putt-putt golf on the top deck. Watching the sun go down over the ocean.
To say I'm excited is an understatement. I have been looking forward to this cruise for nine months and I can't believe I'm two sleeps away from reliving the most fun week of my life again. Only this time? This time it will be even better.
My mom and I will be driving to Fort Lauderdale (around a 4 hour drive) Saturday afternoon. If you're so inclined, prayers and good wishes for safe travels would be greatly appreciated. We're a little nervous about the drive.
What has been your favorite vacation you've taken so far?