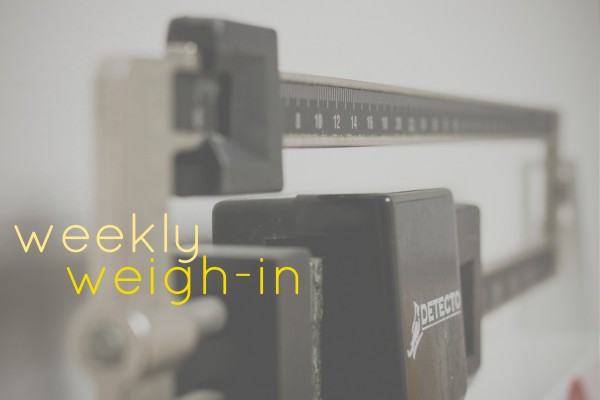 It's been a while since I've done a weekly weigh-in post and I have missed them. These posts really help me stay on track with eating well and exercising regularly, and both have been suffering for a few weeks now.
My first DietBet ended right before I left on my cruise. It actually ended the Monday I was on my cruise, and I was able to get a code to weigh in early, but I actually fell short of winning. I needed to lose 1 lb, and I only lost .4. But honestly? I am not upset about not winning! I am really, really proud of myself, for losing 6.4 lbs in 4 weeks and for being super serious about healthy living.
I also took my measurements and found out I also lost 8.5 inches around my body. !!! That's a whole lotta inches. I knew I had to be losing inches because my clothes were fitting me so well. I was feeling good.
Then the cruise happened and I didn't eat well, as typically happens when you're on vacation. I was active most days, either through walking, using the stairs on the ship, or doing a workout (okay, I only got in an actual workout once, ha!). But my body is really awesome at gaining weight easily so I wasn't surprised to get on the scale after my cruise and find out I had gained weight. As in, most of the weight I lost in the weeks prior hopped right back on!
It happens. I don't regret my vacation or eating like I did. I only go on a cruise once a year and if that means I gain 4-5 lbs during them, then that's what happens.
So here's how my weight loss and gains have worked out over the past few weeks:
Right before leaving on my cruise: -.4 lbs
After my cruise: +4.2 lbs
This week: -1.1 lbs
I am really happy to see a weight loss this past week because I haven't been great at eating well and exercising. I won't even write down my exercising for this past week because it was pathetic. I'm getting over a head cold (and I don't exercise when I'm sick, even though I know you technically can with a head cold, but nope, not my thing!), so that was part of the reason, and it's also interesting how easy you can fall out of habit of something! I am hoping that knowing I'm going to have to write these posts, detailing my exercise and eating habits will get me back on track.
So! Let's talk goals for this upcoming week, okay?
1. Get back to tracking. I've totally fallen out of the habit of tracking because it can be so tedious and annoying. But I know it helps and keeps me mindful of what I'm eating, so back to MFP I go!
2. Exercise 6 days. I feel so much better about myself when I'm exercising regularly. I only managed to exercise a few days last week, so I need to get back to my usual six-days-a-week routine.
3. Drink no more than 3 Dr. Pepper's. Oh, soda. My favorite substance! I don't want to go cold turkey off soda, but I do need to severely limit how much of it I drink. Three seems doable!
Do you have a hard time getting back on track with healthy living after a vacation?