Before I get to my weigh-in post today, I have to take a moment to congratulate the San Fransisco 49ers making it to the Superbowl! My brother has been a faithful fan since he saw them win the Superbowl in 1994 – when he was 8 years old. He's followed them through all their losing seasons until now – NFC Champions heading to the Superbowl. It feels surreal, but they earned their place there.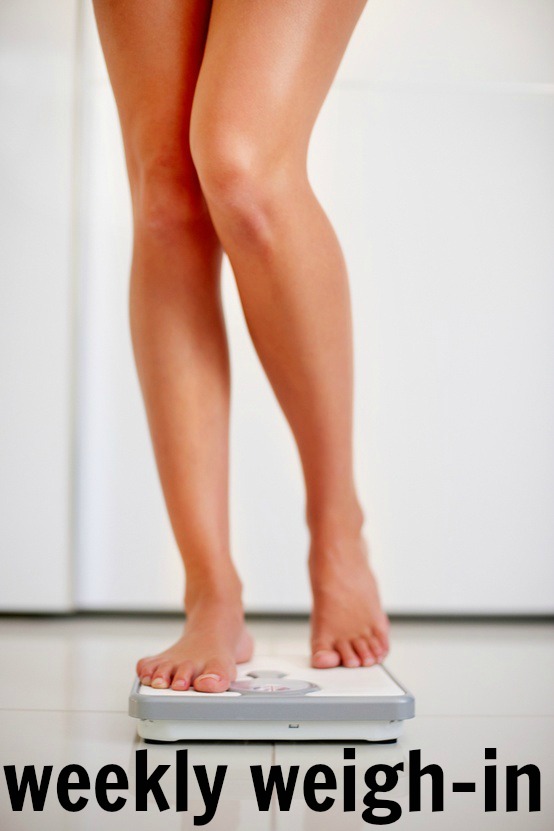 I decided something last weekend. I decided that I'm not in this healthy lifestyle for a specified period of time. I'm not doing this to see a particular number on the scale and my journey doesn't end when I reach my goal weight. I am doing this for overall health. I want to treat my body better by listening to its internal cues. I want to move more, eat less junk, and fill my body with good, wholesome foods.
I know. Duh. But I think I've had this diet mindset for so long. I just have to be good 'til cheat day, I would always think to myself. I didn't focus on overall health. I can really feel this shift in my thinking as I approach a new way to look at my health and fitness.
But it's a process. It's an up-and-down battle with my cravings and understanding change. It's about discovering what parts of my life aren't fitting into my ultimate goals of health and wellness. Changing your entire mindset on how you eat and what you eat is really, really hard. (Duh.) It's not an overnight process, or will even happen over the course of a few months – especially not with me, with how stubborn I can be about food.
I want to slowly chip away at these unhealthy behaviors I have in my life until I have rid myself of them.
Right now, I am focused on two things: exercising consistently and quitting soda cold turkey.
Exercising consistently has been rather easy. I have Best Body Bootcamp to thank for that, as I have three built-in strength-training workouts a week (my favorite way to exercise) and then I just have to come up with my own workouts two to three times a week for myself. Once I get into a pattern of working out, I'm in it for good. My alarm wakes me up at 5:30 four times a week and as long as I go to bed early, it's really not hard for me to drag myself out of bed to work out. I feel good about the progress I am making and I can feel my body getting stronger and my endurance levels increasing.
The second habit is one I have struggled with for years, well documented on this blog. I love soda. A lot. While some people reach for wine or beer at the end of a difficult day, I reach for soda. The combination of the sweetness and carbonation calms me. But I know it's incredibly bad for me and I am addicted to it. I'm emotionally attached to the stuff. I've tried unsuccessfully to quit it before, sometimes trying cold turkey and sometimes by gradually working it out of my life. But I think I needed all those failed attempts to bring me to where I am now. It's been over a week since I last had a soda. I've never gone this long. Either the headaches or the constant fatigue or the cravings hit me too hard and I give in.
I think all of my unsuccessful attempts have helped me to ease off the addiction as towards the latter part of last year, I wasn't drinking it as much so my body isn't as addicted to it as it has been previously. Friday night was the first time I had a real craving for it but I held strong and got over it.
I feel so ready this time. I finally feel as if I am strong enough to resist the temptations. I have never felt like this in my past attempts. I am not constantly thinking about the next time I'll get to have a soda and luckily, it's not readily available at work (and almost every coworker drinks water constantly) so my only battles come when I'm at restaurants. I think the hardest part of this has been the constant tiredness. I'm getting 8 to 9 hours of sleep a night (and I take a daily iron pill) but I'm still so tired every day. I don't want to use this time to get addicted to coffee and caffeine so I'm just going to keep getting lots of sleep, keep exercising, and pray my body gets used to no caffeine SOON.
While I'm acing every test when it comes to those two habits, I'm not as focused on eating perfectly. But honestly? I'm not worried about that right now. I am not going to put pressure on myself to heal every unhealthy habit right now. I have my entire life to do that and I think these two areas are necessary to getting me on the right track.
My next goal I want to work on is meal planning for healthy dinners every week. I can get so lazy with this and then I have a week (like last week…) where I ate out all but once because I didn't have anything planned for dinner.
In any event, with my eyes focused on exercising and not drinking soda, and not on eating healthy all the time, I was a bit worried about weigh-in but I told myself it's not about the number on the scale and even if it shows a gain, I still made incredible strides in cutting out soda. (Luckily, the scale didn't disappoint!)
Starting Weight: 166.6 lbs
Current Weight: 163.8 lbs
Weight Lost This Week: 1.0 lbs
Weight Lost Total: 2.8 lbs
What is one unhealthy habit you're trying to kick this year?