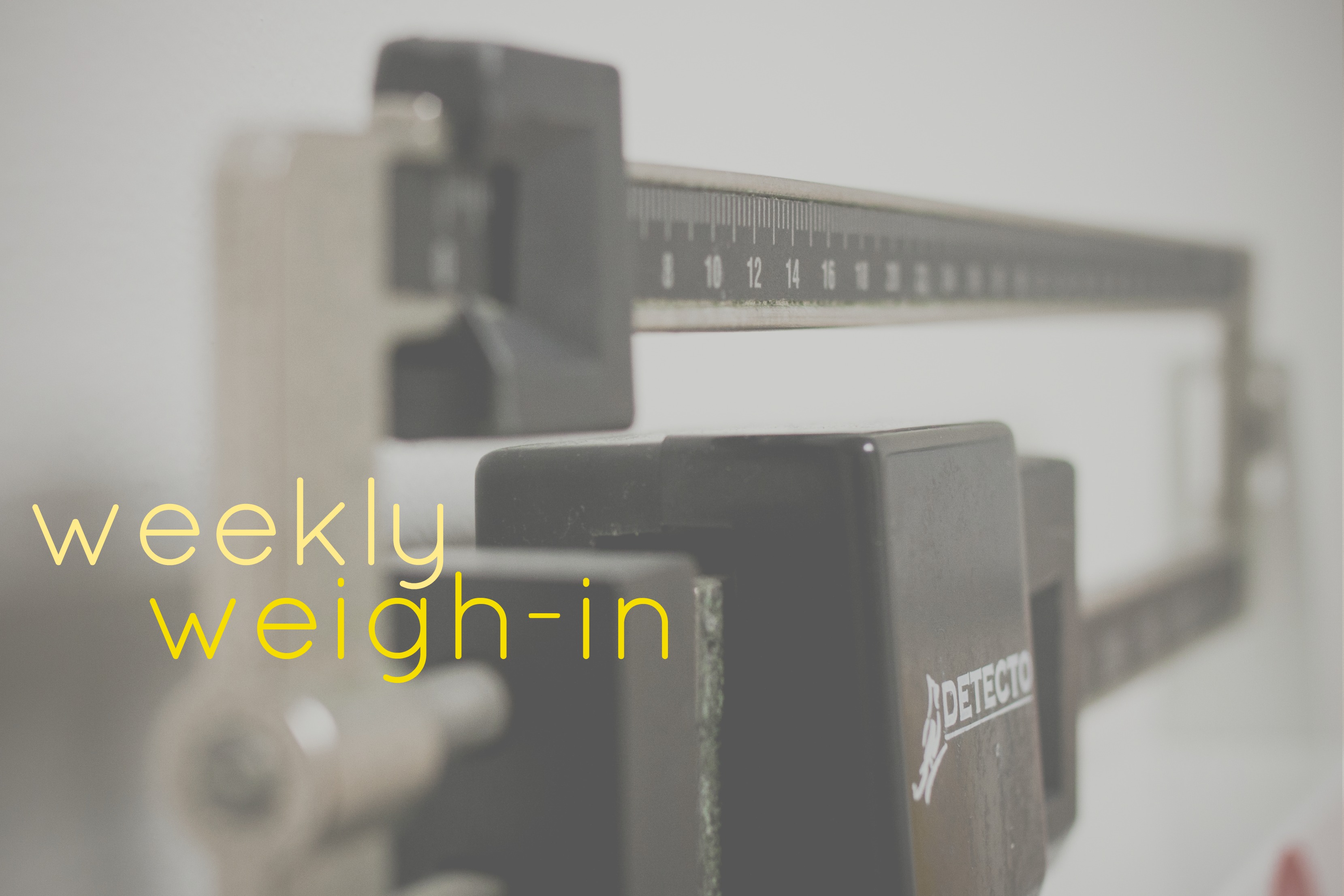 Happy Monday! I hope everyone had a good weekend. Mine was equal parts relaxing and busy, which is always nice. On Friday night, I spent four hours at Starbucks working on my current fiction novel with my writing partner. On Saturday, I got in a killer workout, laid out by the pool, & my mom and I worked together to completely reorganize our kitchen. (We got rid of so! much! stuff!) And on Sunday, I accompanied my mom to her 5K race, we went out to breakfast afterward, and then took long, wonderful naps (over four hours for me!) in the afternoon.  It was a great weekend!
Healthwise, last week was a really great week for me! I am concerned I'm going to fall off the wagon because that's what I tend to do. I'm super passionate and laser focused in the beginning, and then once it all starts feeling hard, I give up. I'm hoping that I won't do that this time around, so these check-in's are helpful!
I exercised 6 times, something I'm really proud about. I haven't been exercising as much as I should lately, and I think knowing I could add my exercising to MyFitnessPal and gain extra calories helped me find the motivation to wake up and get out there.
Here are my workouts last week:
Monday: Stationary bike interval workout (34 minutes)
Tuesday: Elliptical interval workout (30 minutes)
Wednesday: Couch to 5K (28 minutes)
Thursday: Elliptical interval workout (30 minutes)
Friday: Stationary bike interval workout (30 minutes) & a strength circuit (15 minutes)
Saturday: Couch to 5K (30 minutes) & an arm workout (20 minutes)
Sunday: Rest day!
I did pretty well with my goals, too! I tracked every day in MFP, and though I had a goal to exercise every day, six out of seven days ain't none too shabby! My third goal was to start using the stairs at work, which I did most days, and getting up from my desk every two hours, which is a goal I, surprisingly, had a difficult time doing! I really need to set a timer to remind myself to get up and moving a few times a day.
So, with all that said, how did I do this week? Well, I lost 4.2 lbs! Whoop, whoop! It puts me at my lowest weight yet this year and I am very, very proud of that number. I worked hard for it! I still need to lose about a pound per week for the next three weeks to win my DietBet, but I've built a great buffer. As long as I stay true to getting in lots of cardio workouts, eating healthy (and tracking!), and not drinking my calories, I think I'll do just fine.
Next week, my goals are:
To continue tracking daily in MyFitnessPal. I didn't find this too difficult last week, but I'm going to keep this as a goal until it becomes more of a habit.
To drink water with every meal. While I gave up soda this week without too much difficulty, I still tend to drink other things aside from water (coffee, Gatorade) with my meals.
To get up from my desk every two hours.
How do you stay focused on a big goal when you find yourself losing motivation and/or momentum? (I am so worried I am not going to be able to keep this up for longer than a week or two!)