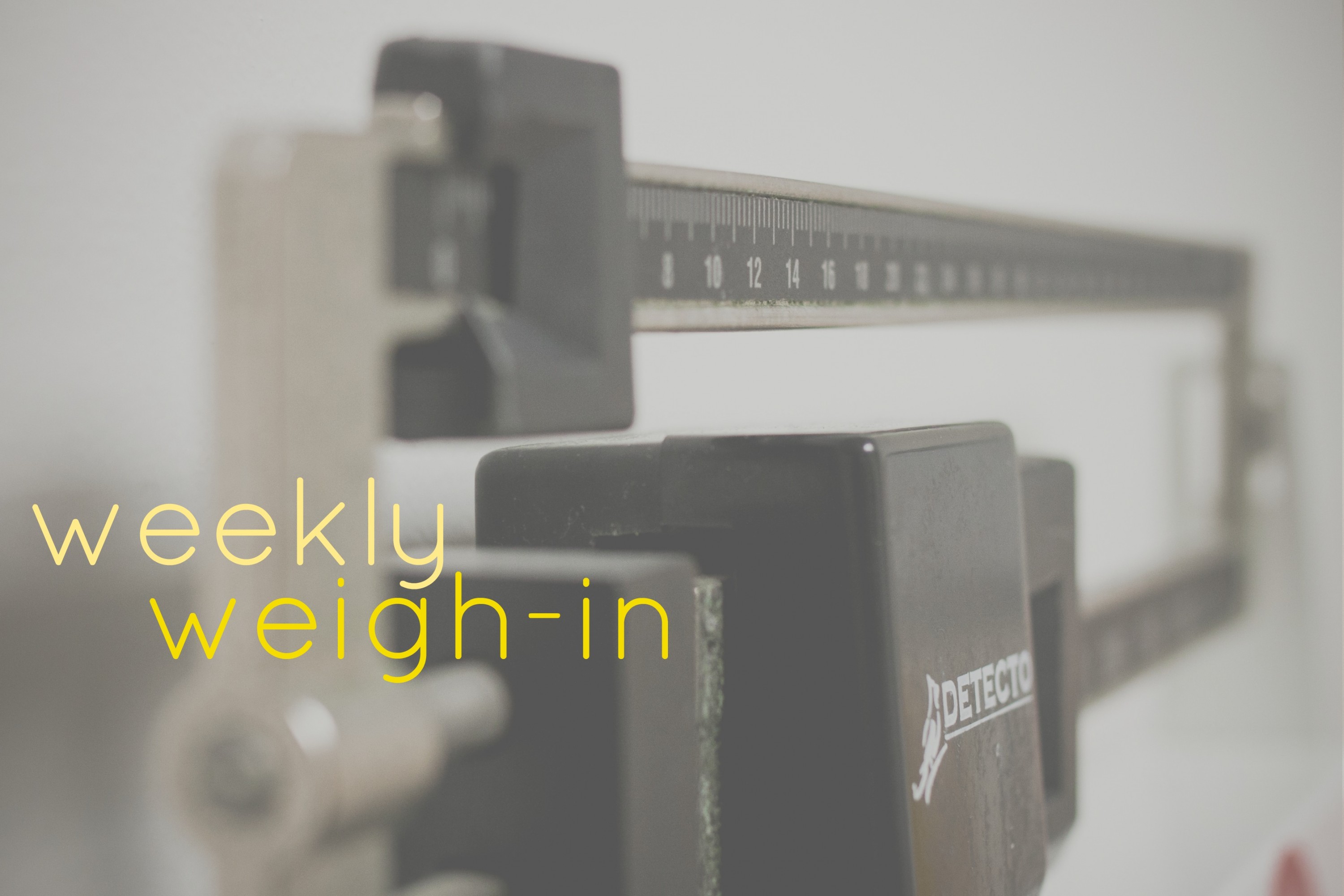 I had a feeling about last week. The week prior had gone so well, and I was worried about carrying the momentum into another week. For some reason, the second week always seems the hardest, where you really have to dig in and remember why you started.
For the most part, though, I had another strong week of eating well and exercising. I passed up treats at work, tracked daily, and exercised every day. I could have done better. I ended up, most days, eating the majority of my exercise calories (which I know aren't accurate anyway). I was a little too snacky-snacky. And there were a few days where I consumed too many fat and sugar grams, well over the limits MFP gives me. So I had some successes, and saw areas of my healthy eating that need work.
As for my workouts, it was another kickass week for me! I'm really proud of how I've fallen back into a regular exercise routine. It feels so, so, SO good. Here's what I did:
Monday: Stationary bike (30 minutes)
Tuesday: Elliptical (30 minutes – I used this workout) and this full body strength workout (15 minutes)
Wednesday: Elliptical (30 minutes)
Thursday: Stationary bike (30 minutes) and this arm workout (20 minutes)
Friday: Couch to 5k (30 minutes)
Saturday: Stationary bike (30 minutes) and Ripped in 30 (30 minutes)
Sunday: 100 burpees (22 minutes)
I was so nervous to step on the scale. I just had a feeling I wasn't going to be super proud of the number. And the result? I lost .4 lbs. Just about half a pound. I was really, really unhappy with that number and it actually made me angry for a while. I put in so much work! Yes, I wasn't perfect but gosh darnit, I never went over 1600 calories, put myself through a killer workout right before weighing in, and even ordered fish and brown rice with dinner the night before. Fish. And. Brown. Rice. WHEN THERE WAS PIZZA ON THE MENU! I wanted to be rewarded!
I eventually calmed myself down because I am still happy for losing weight and I am now under 170 lbs, a feat I don't think I accomplished once last year. And I lost four freaking pounds the week before. And I'm probably starting my girly time in the next few days. (Sorry to any boys who read this. Which is probably zero.) So. It happens. I still managed to lose weight, I still tried my best to follow my plan and eat well, and I still put in a lot of effort in my workouts. And that. That has to be more important than a number on a scale. I still did my very best, and that's all I can ask of myself.
As for my weekly goals, I did okay. I tracked daily, I drank water with most of my meals (I could have done better), but I completely flopped getting up from my desk every two hours. Man, that's a hard goal to accomplish!
Here are my goals for this upcoming week:
Stay under 1,500 calories a day and under the limits MFP gives me for fat/sugar.
Drink 40 ounces of water a day. (Not even close to what I should be drinking, but baby steps.)
Take a multivitamin and iron supplement daily.