First and foremost, Happy Memorial Day to my American friends! This is a special day for us, honoring those who have protected our freedom to the highest sacrifice. You are never forgotten and deeply appreciated.
Today, it's all about Grand Cayman! While I wouldn't call Grand Cayman my favorite island in the Caribbean, it still offers some of the best excursions of my cruises.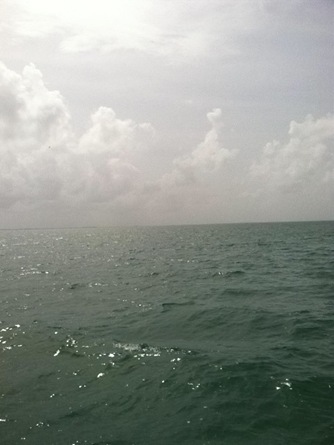 We stopped in Grand Cayman on Wednesday, the fourth day of our cruise. The day before was dreary and rainy and gloomy but Wednesday morning dawned bright and sunny. It was the perfect weather for a day on the water!
Our excursion didn't start until 10:00 but we had to check in by 9:15 so we woke up early, showered, and headed down for breakfast. (Still missing the breakfast buffets…) In Grand Cayman, they have to put down anchor in the middle of the ocean and we ride by tender to the island.
Being back in Grand Cayman felt a little like coming back home. I remembered the place so well, this little touristy area of the Cayman Islands, full of shops and tour guides shouting about great places to visit to anyone who would listen. My mom and I wandered around the shops for a while before checking in with our excursion guide. We still had a long time to wait until we needed to check in but I was being super neurotic about time that day, so we basically just stood around for a good half-hour. (My mom wanted to look around at the shops, but I was being a pain that day.)
In any event, we were off on our excursion soon enough. Our group was pretty huge, split into three different vans. We drove to Dolphin Cove, which was about a twenty-minute ride. There's really not all that much to see in this part of Grand Cayman (aside from the stretch of the 7-Mile Beach but as a Florida gal, I have seen my fair share of beaches). We arrived at Dolphin Cove soon enough and walked through a bird sanctuary to get to the boat that would take us to Stingray City.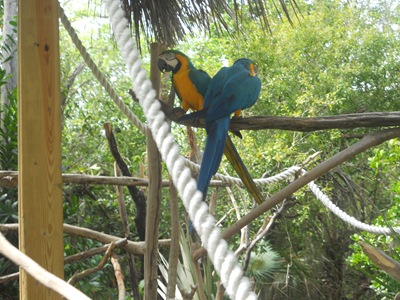 As many of you know, my mom and I visited Stingray City last year and absolutely loved it so we were excited to be back again. We loved it just as much the second time: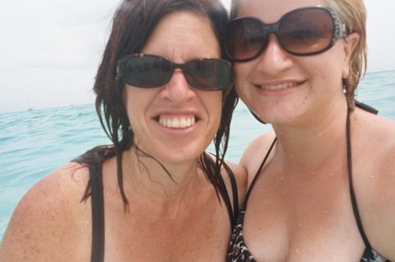 We spent about 30 minutes in the water with the sting rays where we kissed and held the rays, as well as getting to experience feeding a stingray – which is weird! Basically, you held calamari in your fist and held your fist below the water. The stingrays would come right up to you and SCHLOP! it out of your fist. It was pretty freaky! But also so fun and cute. 🙂
There were so many stingrays where we were swimming at. I can't even tell you how many times I would just be standing around and feel a stingray bump against my leg as it was swimming past. (Yes, it's as freaky as it sounds. But also so cool!) And I got my requisite kissing stingray photo for the year.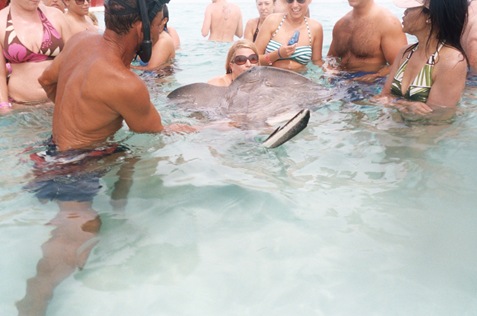 Sloppy and wet! Just how I like them.
Or not. I wouldn't know.
Let's move on.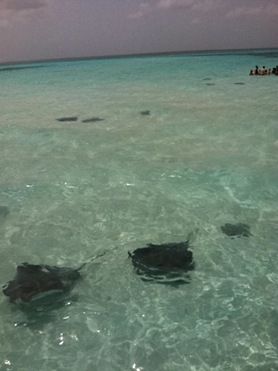 After our time with the stingrays, we all loaded back onto the boat to go back to Dolphin Cove. The boat ride to and from Stingray City was 30 minutes each way, which took an hour out of our day. (And I'm pretty sure the boat ride from Stingray City is where I developed a bit of a shoulder sun burn. Not a fan!) We were back before we knew it and our big group split up into three different groups: the people who had just paid for Stingray City, the people who were doing the dolphin encounter, and the people who were doing the dolphin swim.
We got into the dolphin encounter group where we had a short lesson on the dolphins and what we would be doing. And then it was time to get in the water!
Our group split into two different groups of 15 and half of that group would be in the water at one time. My mom and I were in the first group to get in the water. We stood on a ledge in the pool and had about 20 minutes with the dolphin. Our dolphin was a male named Nemo and he was the Most Fun! He swam around us so we could pet him, splashed us, and then calmed down enough to do some dancing and kissing with us!
We each had a turn dancing with him. We put our hands out and Nemo would come up so we could take his fins and do a little jig! It was so fun! I didn't get a picture of this because the pictures were $15 a pop and I had to be choosy. (We couldn't take our own cameras, which had one of the participants complaining loudly about. Whatever. There are better things to complain about, in my book.)
Once we all had a turn dancing with Nemo, it was time for kissing! We would stand close to the edge of the ledge with our hands behind our backs, leaning forward so he could kiss us on the cheek. Once he came up and kissed us, we got to kiss him back! I gave him a big ole smackeroo and when we finished, Nemo did a little dance in the water! I was the only one he danced for after kissing, so basically, he wants to be my boyfriend. (And as a side note: the trainer asked if I wanted to kiss him or Nemo. An odd comment but, um, he was cute so… both?)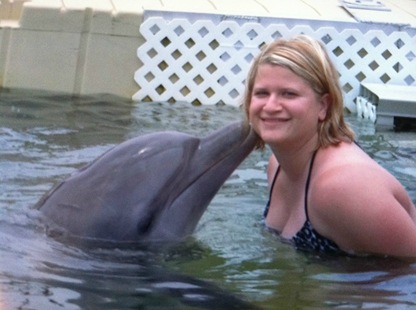 Nemo played a little hard to get with my mom when she tried to get a kiss from him but after much hemming and hawing, he did.
After the kiss, we took pictures with Nemo, where we got to hold him but those pictures turned out horrible so we only ended up buying one picture. The prices were pretty expensive ($15 a picture – and they weren't the best quality – but no sale prices for buying a bundle of pictures. You could buy a set of ALL the pictures for $80 but that included everyone's photos which… why would I want to pay that much for pictures of people I don't even know?!)
We wound up on the bus back to Grand Cayman around 1:00. We were starving by that time but couldn't find too many places within walking distance to eat at, plus the line going back on the ship was already starting to get pretty heavy so we decided to get in line and eat lunch back on the ship. (Plus, hi, it's free!)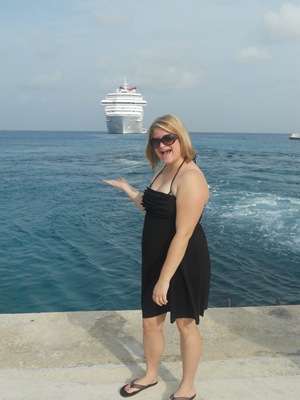 It was a fun day in Grand Cayman and I'm so happy we did this excursion! Unfortunately, it was a longer one so we didn't have any time to shop afterwards but that's okay. Experiences > stuff, in my opinion. I thought the dolphin encounter would feel weird and super touristy, but it was actually one of my favorite moments from my cruise. The trainers were awesome and while I most definitely want to do a dolphin swim someday, I didn't regret only choosing the encounter. We didn't get a WHOLE lot of time with Nemo, but even just those 20 minutes were pretty awesome. I wish the picture prices were more affordable, but what can you do? It's a tourist trap!
If you're ever in Grand Cayman, please, please, please visit Stingray City. I know it sounds freaky – swimming with stingrays – but these stingrays are domesticated and in the two times I've gone there, there have been no stingray attacks. (I even stepped on one by accident this time and didn't get attacked!) It's such an amazing experience and just to say I've gone there twice is incredible to me.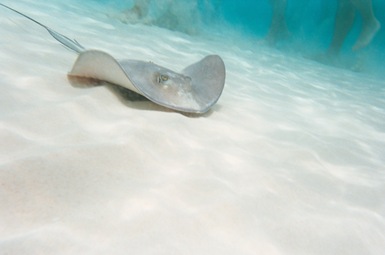 In any event, it was a fun day on the island and then a relaxing afternoon on the boat. We had another lovely, yummy dinner but it was early to bed for us because JAMAICA awaited us in the morning! Bob-sledding, zip-lining, shopping, oh my!
What's the craziest thing you've done while on vacation? Would you ever visit Stingray City, if you have the chance?