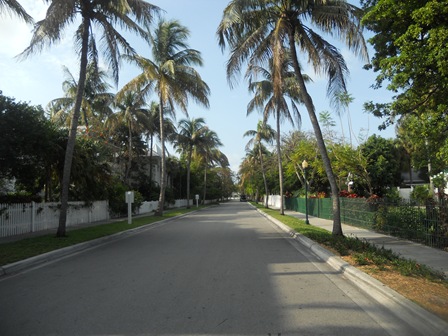 My mom and I weren't sure what we wanted to do in Key West. We'd never been to the island at the bottom of Florida and weren't sure what to expect. We also didn't want to spend a lot of money on a pricey excursion since we chose pricier ones for Grand Cayman and Jamaica. After looking through the cheaper options, we settled on a bike tour. I thought it would be a better way to see the island and I loved the idea of a bike tour.
We arrived in Key West early on Monday morning and our bike tour was scheduled at 9:00 a.m. After a quick breakfast at the buffet in Lido deck (side note: I really, really miss the daily breakfast buffet…), we headed off the boat to meet up with our tour guide.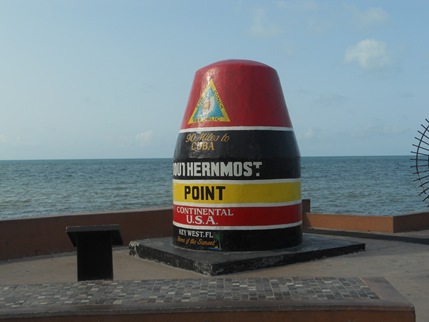 It's usually pretty easy when you get off the ship to check in with your excursion guides. They have big, white signs with the name of the excursion you picked scattered around the area you enter when you step off the ship. We checked in and from there, headed over on foot to where the bikes where held. We had a fairly small group. I think 12 people in total, including my mom and I which is the perfect group for a bike tour, I think. Not too many people, not too few.
The tour guide was fantastic. He kept up an easy pace and I was directly behind him, with my mom behind me, the rest of the group behind her. He stopped frequently to talk about different historical spots, beaches, and housing structures. He wasn't too long-winded but kept up an interesting conversation flow. It was really the perfect excursion for my mom and I – I was able to get my history needs fulfilled while my mom was able to get her exercise needs met. 🙂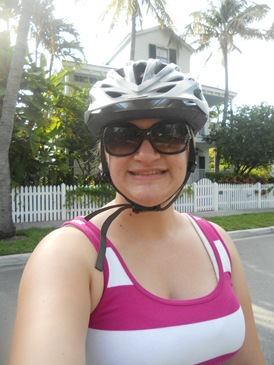 The tour was two hours long and took us from one side of Key West to the other. We passed Ernest Hemingway's house, traveled throughout little streets and down the beaches. We passed the Southernmost Point of the Continental United States, although fun fact: it's actually not the Southernmost Point. There's a little hotel located close by that's actually more southern than that landmark and our tour guide thought it was more interesting that a "hunk of rock". Ha! So, sadly, I just got a quick snap of one of the most famous landmarks in Key West since he didn't stop for us to take pictures.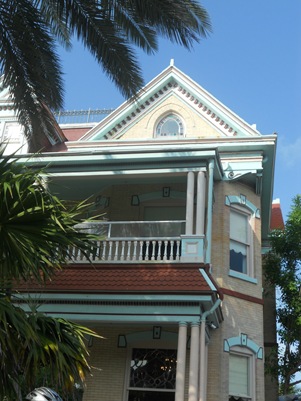 I really recommend doing a bike tour if you're ever in Key West. Since we had never been, it was a great way for us to get a feel for the island and learn about it's rich history. (We also got a bit of a lecture from a writer of the newspaper in Key West, about how people are buying houses there but not caring about the history or culture of the island.)
After the tour, we had four hours left until we had to be back on the ship so we spent the majority of it walking around the little shops and streets, soaking in the sunshine and trying to find the perfect touristy keepsakes.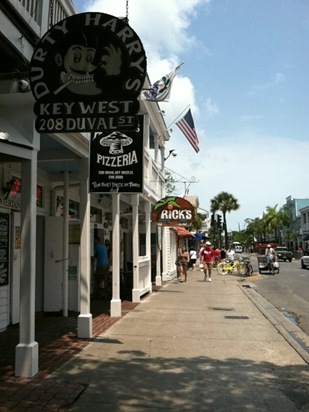 We had lunch at the famous Sloppy Joe's Bar where we both got sloppy joe's. (How could you not?) The feel of the restaurant was laid-back where you just walked in, found a table if you could, and a waiter would come to you for your order. I get nervous about those types of restaurants since the service usually sucks but this was not the case for Sloppy Joe's. Service was prompt and friendly and the sloppy joe? TO DIE FOR. The perfect amount of spice in the meat and soggy bread in the sandwich to make it the best sloppy joe I've ever had.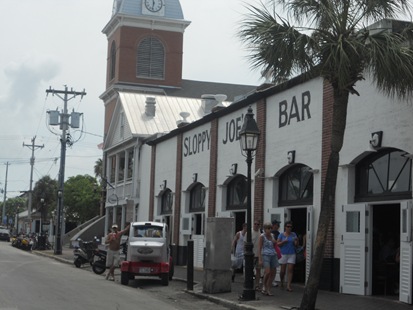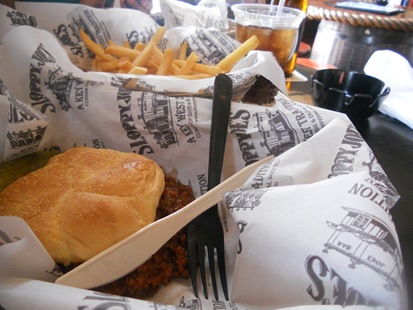 I ended up buying a tank top and a key chain. (Key chains became my "thing" to buy in our stops. Don't ask me why.) My mom bought a magnet. (Magnets became her thing.)
We had a really fun day in Key West and it was a pretty great way to spend a Monday. Much better than how I usually spend Mondays. 🙂 The bike ride really got us pumped to buy our own bikes when we got home. I'm hoping to buy mine in the next few weeks. We were only cruiser bikes but it was such a fun way to get some exercise and fresh air.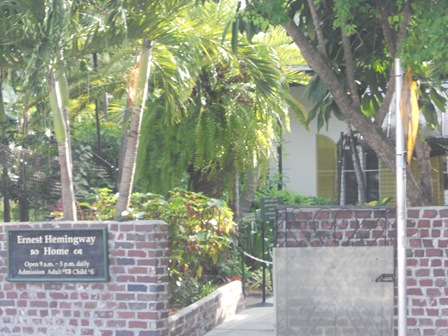 Key West itself was a cute little town, although I would like to see more of the real island next time I go. We spent most of our time near the ship where all the tourist shops were, after the tour. And even on the tour, we just stopped by some famous landmarks, not stopping long enough to snap more than a few photographs.
But it was a great start to our cruise and we were pretty exhausted from all the biking and walking that our next day, a day at sea, we slept in until noon and spent the rest of the day being lazy and not doing much, other than eating and reading and napping. (On a Tuesday! Can you see why I love cruising? Offers the perfect balance of relaxation and being busy.)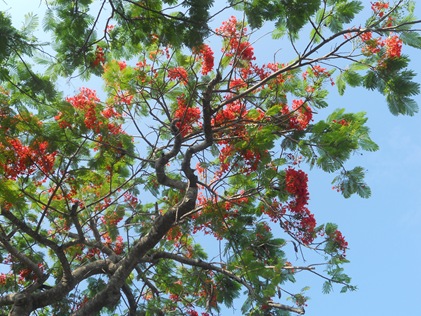 Next up on our cruise was Grand Cayman, where we had a fun-filled day planned: visiting Stingray City and playing with dolphins!
Have you ever visited Key West? What did you think of it? Have you ever done a bike tour around a city?