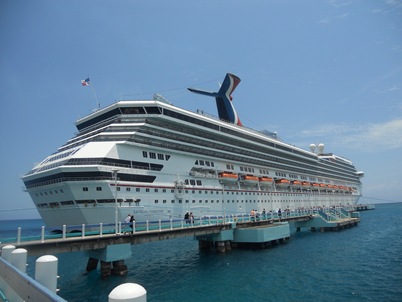 I've talked all about my excursions for the past two weeks. Biking in Key West, swimming with stingrays and kissing dolphins in Grand Cayman, and zip-lining in Jamaica. But the excursions were only a small portion of my cruise. I spent the majority of my time on the ship and I want to take some time to talk about all the fun I experienced while on board the ship!
Our Room
Our room was perfect. It was bigger than our room on our last ship, including a much bigger bathroom, a window seat, and a couch. We actually spent a lot of time in our room. One of my favorite things to do while on the ship was take a nap in my room right before dinner. It is so easy to be lulled to sleep by the rocking of the ship. This is probably why we slept in until 11:00 or noon on both of our days at sea. (Whoops?!)
One of my favorite things about this room was the window seat. It looked right out over the water and I spent a few mornings there, journaling and just enjoying the view. There is something so calming and peaceful about watching the ocean roll past you.
The Dinners
We had a fun table this time around! We had a gay couple who were seriously so fun and kept the whole table laughing, two best friends who were around my mom's age, and then two males who worked together (one around my mom's age, one around mine.) The crowd was boisterous and loud and the flow of conversation was easy and fun. We had a great waiter who had just gotten back on a ship after being home for two months, so he definitely had lots of homesickness. From him, we learned the staff on the ship stays on the ship for 6 months and then get 2 months of vacation. And when they come back, they're assigned to a different ship. (And also, the staff loves cruise ports that have a Wal-Mart!)
We went to every dinner, although sometimes there were just four of us, sometimes six, and the last night was the first time all eight of us were present at dinner. And I'm not even going to get started on the delicious food. Bread and appetizers and entrees and desserts. Oh, my! It was all so good. I tried sushi for the first time (not a fan) and my mom tried frog legs for the first time (she's a fan).
The last dinner of the cruise is always so sad. The waiters do a little song & dance for us, everyone takes a bunch of pictures, and talk about the crazy morning that lies ahead of us. (Especially for those that are taking flights back home!) But we had a great group this year and while I'm tempted to ask for a table for just my mom and me on our next cruise, forcing myself to be more open and conversational with people is good for me. And I met some great people because of it!
The Entertainment
With an 8:15 dinner time, it was hard to make it to too many of the nightly entertainment. They had comedy just about every night but it started at 11:45 and was more "adult-like" comedy which isn't my favorite. (And 11:45 is still too late for this old lady. Even on vacation!) We did manage to make it to an "adult" game show that promised to make me uncomfortable but was pretty tame from what I was expecting. (The most "outrageous" thing they did was make guys put on women's clothing. And it was more hilarious than uncomfortable.) We also made it to the talent show but oh. my. goodness. The worst. The absolute worst.
We went to the talent show on our last cruise and the people were actually pretty good! Not amazing, but good for a cruise ship talent show. This year? Horrendous. While the first guy, a singer, was pretty stunning, the acts that followed were so bad. We had a lady doing some sort of show with twirling balls – except she kept dropping them and hitting herself on the head with them. She mentioned at the end she sometimes does this act with FIRE. I'm surprised she's still alive! Seriously. Then there was a newly married couple who had taken, like, 10 dance lessons and proceeded to amaze us with their ballroom dancing skills. Except they were terrible. And the girl wore Crocs. We left halfway through the fourth act (a singer. Not terrible, but the song was approximately 49,389 minutes long.) because we couldn't handle the terrible any longer. (I mean, I give them props for even getting up on stage. I really do. But man, at least have a little talent. Am I right?)
That was the only entertainment shows we went to, mainly because the rest were either too early (while we were eating dinner) or started too late. We ended up at the casino on our last night but I'm not much of a casino girl so after 10 minutes on the slot machines, I was good. I'm hoping with an earlier dinner time on our June cruise, we'll be able to do more nightly entertainment.
The Decks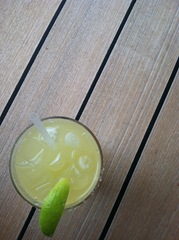 I mentioned more than a few times how much my mom and I enjoyed the Serenity Deck on our first cruise. It was located at the back of the ship, away from the hustle and bustle of the Lido deck, and quiet. We had a great view of the water. This time, the Serenity Deck was located right near the big water slide and just steps away from where all the music and entertainment was happening. It was also the most windy part of the ship. We were very disappointed, to put it mildly. We didn't enjoy the Serenity Deck this time around, as there wasn't anything serene about it. Instead, we formed our own Serenity Deck. We found a quieter section of the ship, close to the front. (Yes, I realize how boring this paragraph makes me sound, being on a cruise ship and all. Whatever.)
***
We really did have a blast on our cruise, though. We enjoyed each one of our stops and had amazing experiences in them. My six days went by in a blink of an eye and I'm already looking towards my 2013 cruise and the locations we want to sail to this time around. (We're thinking Puerto Rico!) And, of course, we're just 15 days away from leaving on our second cruise of 2012! This was my second Carnival cruise and I just love this cruise line. I fully recommend booking a cruise through them because they are affordable and really, a whole lot of fun.
And can we just talk about booking a Bloggers On a Carnival Cruise trip? Because this needs to happen!