I wanted to write a separate post on my zip-lining experience in Jamaica. Because it was the best part of my cruise and if I ever make it back to Jamaica, it is the one thing I know I will do again.
When we booked this excursion, I'll admit I was pretty nervous. I live a small life, I don't venture too far outside my comfort zone, and the craziest thing I've done so far in my life is swimming with domesticated stingrays. Flying through a rain forest? File that under: Things I Never Thought I Would Ever Attempt In My Life.
But when I was scouring the excursions, zip-lining is what pulled my interest the most. The other ones seemed fun, but nothing as exciting and thrilling as zip-lining. And the fact that it was done in a rain forest? Made me even more willing to try this.
I've already talked about the amazing Mystic Mountain, which is where we did our bob-sled and air tram adventure. It's also where we did our zip-lining. After we finished with the bob-sled and looked around in their little shop, we headed straight over to get suited up for our adventure.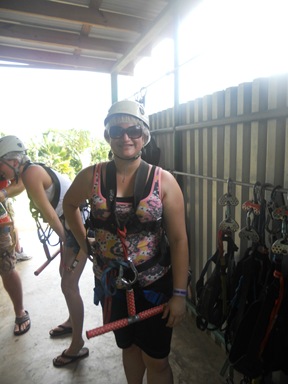 Not my hottest look, for sure. And I really should have ditched my sunglasses.
We followed our tour guides down a series of steep steps to get to where our zip-lining adventure would begin. I loved our tour guides so much. They were adorable, for one, with the best Jamaican accents and really put everyone at ease from the beginning by joking around (one tour guide mentioning it was his first day on the job and he didn't really know what he was doing) and making sure we all knew what we were going to be doing.
What followed was the most amazing experience of my life.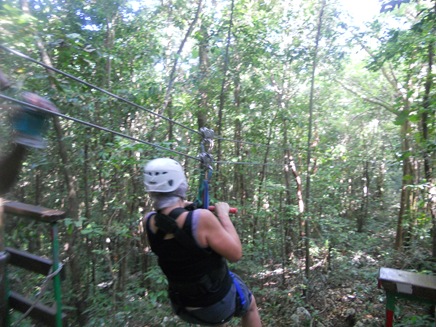 We had a group of about 10 people, all of us first-time zip-liners, and we would zip-line from one platform to the next. Each time, one of the tour guides would zip-line down to the next platform first (usually upside down…) and they would catch us as we landed on that platform. The other tour guide would get us locked into the zip-line and wait on the "call" from the other tour guide to let us go. (It seriously sounded like a bird call!)
The first time I went I was second-to-the-last and as I was leaving the platform, the tour guide shouted, "WAIT! COME BACK! COME BACK!" Luckily, I had seen him do that to a few other people in our group so I just let out a quick shout and then enjoyed my first ride! It's hard to explain how zip-lining feels.
You feel alive. Exhilarated. Slightly scared. Awed. Amazed.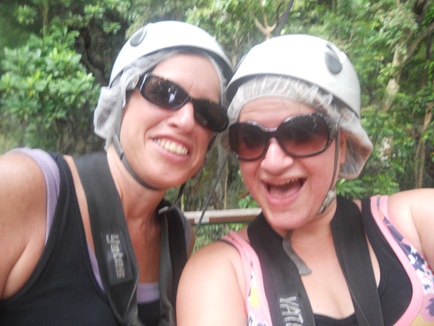 The lines were short and sweet and the platforms came up quick. The first time I went, the other tour guide, shouted, "SLOW DOWN! SLOW DOWN!" Which freaked me out since I had no idea what he meant by slowing down! How was I supposed slow down? They didn't cover this in the training! But, of course, he was kidding. Yes, we got a regular bunch of comedians for our tour guides! The zip line would slow down as we got closer to the platform and it was fairly easy to step onto the platform and get unhooked.
All the different zip-lines were fairly short and easy. I felt completely comfortable and god, it was so much fun! I can't even explain how much fun it is to zip-line. You just have to experience it for yourself!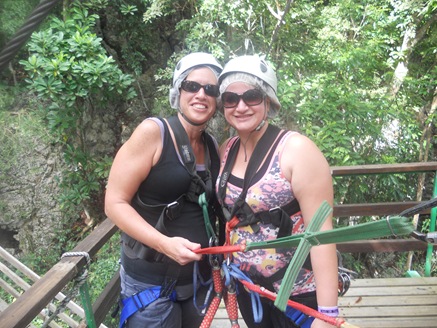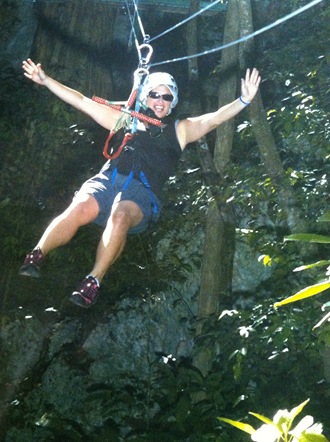 The scariest zip-line was our second-to-last one where we took a 30-foot drop from the top of a platform. Something you should know about me: I hate big drops! It's the scariest part of a roller coaster for me. Basically, I got hooked up and then just sat, hanging in the air, until my tour guide deemed it okay to drop me. SCARIEST MOMENT OF MY LIFE! I screamed the entire time. A huge, girly, I-probably-woke-every-animal-in-Jamaica scream. And then promptly slid down one of the tour guides, legs splayed. Yep. I'm that girl.
Our last zip-line experience of the day was our longest ride yet and it's where I managed to finally slip my camera out of the pocket of my jeans and snap some out-of-this-world photos.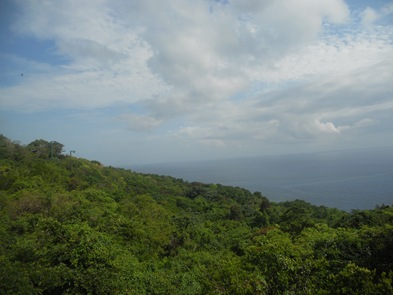 Just the top of the rain forest. NBD.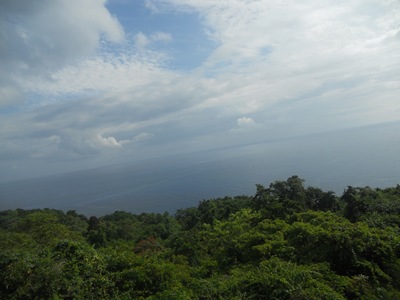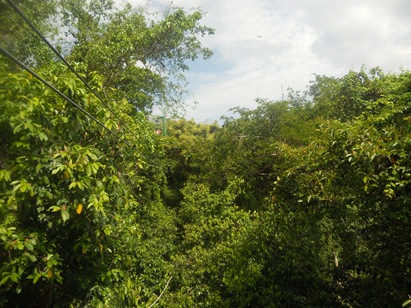 And just like that: our zip-lining experience was over. It was the perfect amount of time, really, although I wouldn't have cried if we could have had more lines to fly through. 😉
We had such an amazing experience, that we're almost certain we'll do a zip-lining excursion when we're in Cozumel on our next cruise.
After zip-lining, it was time to do some serious shopping. It was only about 9:30 AM by that time so we perused the little shop at Mystic Mountain, where I bought a little sling bag and a keychain (yes, still my thing) before riding the air tram back down to the entrance and getting on the bus to go back to where we got on the bus, which was in a major shopping district.
We spent a lot of time looking through the shops – as well as getting a sample of rum poured into our Coke bottles. Too strong for me but still pretty awesome – before settling on some shirts to take back home.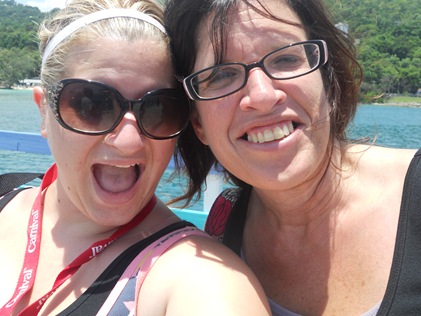 And then we headed back to the ship! But not before my mom was asked if she needed any marijuana (no) and then a street vendor tried to sell me some necklaces. He came right up to me, explained what the colors of Jamaica mean, and then put it around my neck. It was pretty easy to get rid of these people so all the warnings people gave to me beforehand were unfounded – at least for me. It was actually a little sad to see how some of these people were trying to make a living and I felt a little bad not buying those necklaces! (I'm such a sucker, I know.)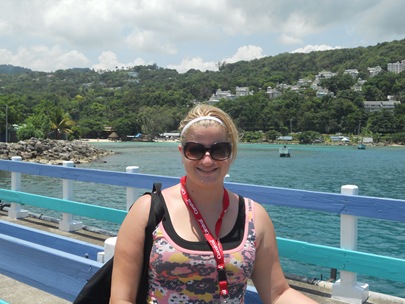 We were back on the boat by 1pm and it was such a bittersweet time. I remember saying to my mom, "The next time we leave the ship, it will be for good!" We still had almost two days to spend on the boat, but all the fun experiences were over for this cruise.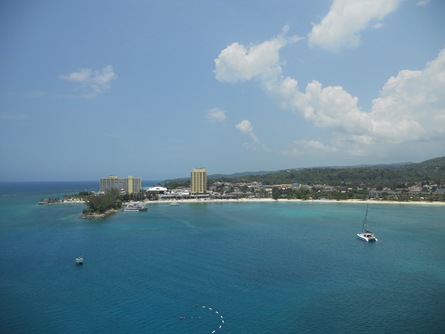 But my recaps aren't over! I still have to recap my time on the ship so expect the last two of my cruise recap posts coming this week.
Have you ever been zip-lining?