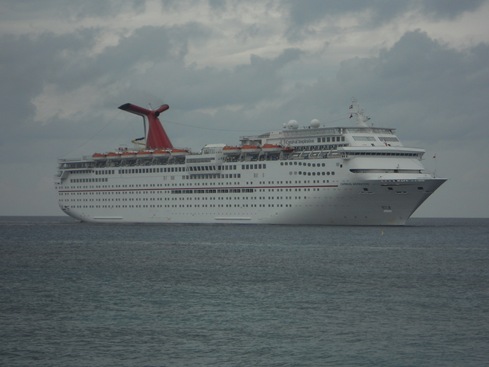 So I know I've only mentioned my love for cruising a bajillion times and I am not lying when I say I have a personal mission to go on one cruise a year. I don't think I realized how much I would love it when I went on my first one last May, but it was the best five days of my life. (You can read all about my adventures here!) Even though I've grown up in Florida and learned to swim by the time I was four, I wouldn't classify myself as someone who loves the beach and water. The beach can be more irritating than relaxing, what with the sand and drunk people and screaming kids and blistering heat…
But I've always wanted to go on a cruise. It seemed like a fun time, but I didn't have a clue how much I would fall in love. I had planned on a simple "10 Things I Learned" post, but as I started writing, I realized I had a lot to say about what I learned. (I was up to 17 points within twenty minutes.) So, without further ado, part one of the list:
1. Make sure you pack some snacks and drinks.
My mom and I learned this the hard way. While there is plenty to eat, there are times when the buffets are closed down. (Mainly for a few hours between meals.) It was especially hard at night, a few hours after dinner, when you get the urge to munch — and there's nothing to munch on! They do have a midnight buffet, if I remember correctly, but we were usually asleep before then. This year, we will be bringing some snacks!
2. Alcoholic beverages are expensive. And if you're a soda drinker, be sure to budget for a soda card.
I think I only got two drinks on the cruise — both being mojito's where I asked the bartender to be light on the alcohol. (I hate the taste of alcohol.) One of my regrets is not buying a "drink of the day" since they come in some awesome souvenir glasses! But you can easily spend hundreds of dollars on your drinks. (One day, I saw a woman buying her THIRD DRINK before 10am! I shudder to think of what her drink bill looked like.) And also, soda card. A must-have if you're a soda drinker. They cost about $6 per day you're on the ship so for my upcoming cruise, it'll be a flat fee of $36. (Well worth the money!)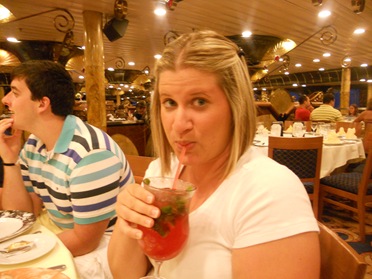 3. Serenity Deck. The most amazing thing to ever happen to a cruise ship.
One of the best features of the Carnival cruise is the Serenity Deck. It's a 21+ deck in the back of the ship where it's quieter and the lounge chairs are sooo luxurious! The only issue with Serenity is that it's very limited in chairs so it's a first come, first serve basis (and very popular!). It was my favorite part of the cruise ship and I just loved how it was quiet and away from the hustle and bustle of the other areas of the ship.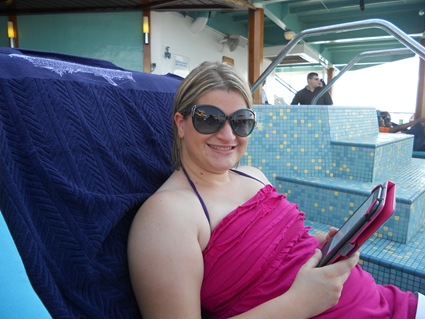 4. The excursions are worth the extra money.
Before my first cruise, when I asked for advice, someone told me to forego the excursions and instead stay on the boat since it's quieter and way less crowded. This was terrible advice. First of all, why would I want to stay on a boat when I could explore an entirely new country? And why would I give up awesome experiences of kissing sting rays, snorkeling in the deep blue waters of Grand Cayman, and exploring ancient Mayan ruins? The excursions are completely worth their money. You can find an excursion from $40 – $250 per person. I usually try to stay in the $80 – $100 range and have found quite a few gems. Just be sure to read the reviews beforehand, since they give you a better idea of what to expect than the descriptions. But I wholly recommend going on an excursion during your cruise (especially if you're like me and not the most savvy traveler! You can probably find things to do on your own, but I find it's just so much easier and safer to book it through the cruise line.)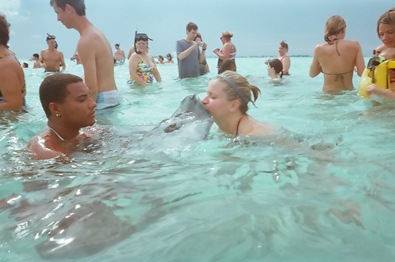 5. You will be seated with strangers at dinner. Which is weird, at first, but gets to be pretty awesome.
I had no clue what the dinner process was. I surely didn't realize I would be seated with strangers. Luckily, we had a great group of people to sit with: a grandma and her granddaughter and then a family of three – a mom, a dad, and their 19-year-old son – who kept the conversation flowing. (We also had a husband and wife, but they only ate with us once.) At first, introvert and social outcast that I am, I was upset that I would have to make conversation with strangers during dinner. But then it got to be really cool, getting to know these people, where they were from, and their lives.
6. Make sure you bring some sort of bag as a "carry on", since your luggage doesn't get delivered to your door until later on the first day.
And sometimes, it takes a long time for your luggage to get to your door. So try not to freak out and alert the cruise staff that your luggage is missing while they're preparing everyone for the safety demonstration. Not that we did that. Us? Of course not. We are not that neurotic!
7. There aren't too many fancy dinners.
My first cruise was a 5-day one and we had one fancy dinner. I had packed 3-4 fancy dresses and most nights, the dinners were casual dress (i.e., you could show up in jeans or khakis.) This time, I'm bringing two fancy dresses but not getting too worked up over how I'm supposed to dress at the dinners. It's a very relaxed atmosphere.
8. The professional photographs are the cheesiest things ever. Don't waste your time or money.
Did I ever write about the time my mom and I had a lady do our photographs after dinner one night and she put us in poses that, um, well, made us wonder if she thought we were a couple. Awkward? JUST A LITTLE BIT! The backdrops they create are cheesy and fake (think pianos, plastic columns, and dorky screens) and the poses they put you in remind me of elementary-school pictures. Do not recommend. They are also a ridiculous amount of money. Take your own pictures.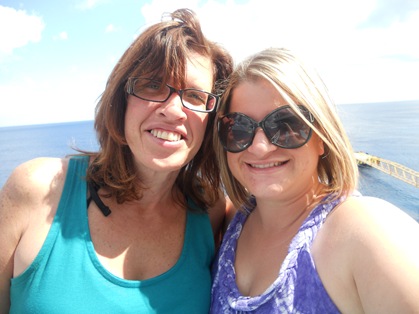 9. All-inclusive? Partially.
The last night of your cruise (a sad, sad day…), an envelope is slipped under your door that lets you know the tip money that is asked of you for services provided. (This includes your server at dinner, stateroom services, and other staff.) On Carnival, it is a flat fee of $11.50 per day per guest. So, for my upcoming cruise, it will cost us $138 in total ($69 per person). You can always give more than the minimum amount, of course, but all guests are required to pay this. And the service we received on our cruise was out of this world amazing, that we had no problems paying the fee. They do a lot and they do it with a smile.
Along with tip money, you will see any other charges incurred while on the ship – alcoholic beverages, soda card, Internet charges, etc. If you chose to have an alcoholic beverage every day, well, this is when you may have a heart attack. Lucky for us, we are not big drinkers so our bill wasn't crazy. (Our final bill came to $200 total, which included tip money, soda cards for each of us, and four drinks between the two of us.)
10. Learning to use the bathroom and shower on a rocking ship is difficult, but manageable.
This was something I was not expecting. Or perhaps just something I didn't even think about. Obviously, it's not as if you're in danger of falling over while in the shower but there's a slight unsteadiness to it all that takes some getting used to. This was the only place that I felt the rockiness of being on a boat, and even then, it wasn't bad at all.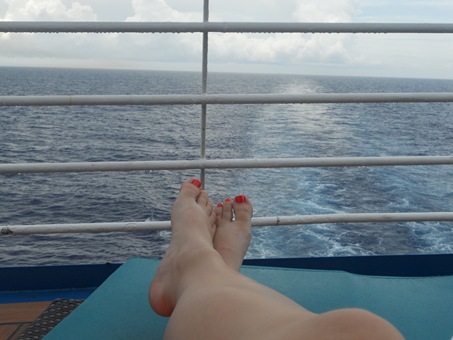 Do you have any questions for me about cruising? They may make them into Part 2! Did I help clear up any misconceptions you had about going on a cruise?