I'm back with another round of cruise tips! If you missed part one, you can find it here.
(Four sleeps 'til my cruise!)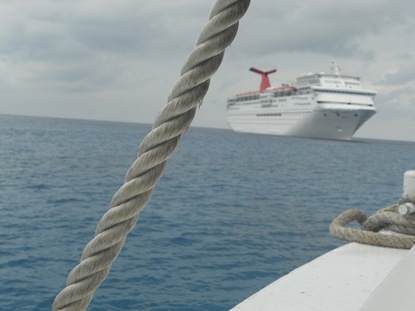 11. Don't bring a computer and keep your phone off. For one, Internet fees are insane and for another, it's nice to be totally unplugged.
Last year, I brought my laptop with me where I mainly wrote a daily update on what I did to help me remember for when I wrote about it on my blog. This year, I plan on keeping my laptop at home and bringing a little journal to write in every day. For one, I want to get into a habit of journaling so this vacation offers me the perfect starting point. And for another, there's really no need for a laptop. (I also plan on turning my phone on airplane mode when I get on the ship.)
A cruise is the perfect time to completely unplug from it all. For the majority of my cruise, I wasn't in range to get a signal on my cell phone anyway. Honestly, it felt completely normal and relaxing to be away from my laptop and focused on the present. It's so easy for me to get caught up in Twitter and blogging and emails that it was the best way for me to get away. (And now that my job requires me to be in front of a computer screen 8 hours a day, I imagine this vacation will feel even more luxurious!)
So this is my advice: leave the laptop at home. Turn your phone off. Those things can wait. Be in the moment. Be present. Because the cruise flies by in a blink of an eye.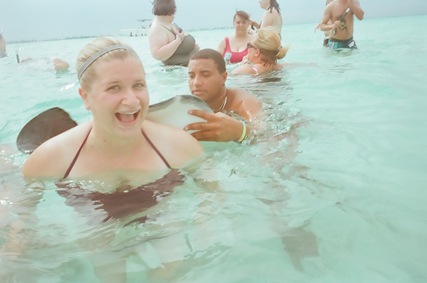 12. GET A OCEAN-VIEW ROOM!
You have the option of four types of rooms: interior, ocean-view, balcony, or suite. Now, obviously, the last two are the most attractive options. But they are also more expensive. (For example, on my upcoming cruise a balcony room would have cost us $300 more, while a suite would have cost us $800 more! Ouch!) While I would one day love to be in a balcony or suite, the ocean-view rooms are pretty nice themselves.
I wasn't sure what to expect from our room and it was small, but I was pleasantly surprised at how spacious it felt! We had plenty of room to store all our luggage, clothes, and odds and ends that women seem to need. 🙂 And it never felt cramped, even when we were both trying to get ready. My only issue with the room we were in is that it only had two outlets – one of them being on the ceiling of the bathroom! That was quite tricky to figure out but we managed.
In any event, I've never stayed in an interior room and I would never want to. I think it would disorient me to be in a windowless room – and the fact that the room would be pitch black when you shut the lights off! – so pay the extra money to at least have ocean-view. Waking up to see the ocean surrounding you out your window is an experience not to be missed!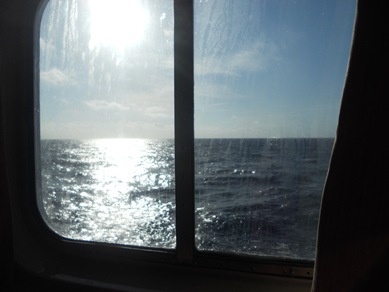 13. You don't need as much clothes as you think.
I overpacked by a LOT during my first cruise. I don't think I wore half of what I brought. What you need: bathing suit(s) and cover-up, flip-flops, clothes for your excursions (if needed), pajamas, and outfits to wear for dinner. That. Is. It. I promise. On "At Sea" days, you mainly spend the entire day in your bathing suit until dinner. Or at least my mom and I did. I plan on packing much lighter this time around!
14. Best sleep you will ever have is on a cruise ship.
I have never slept better than when I did when I was on my cruise. Between the happy exhaustion from a day lived well to the gentle swaying of the ship along the waves, I conked out each night and woke up leisurely. There is nothing like it in the world. I know some people worry about being able to sleep while in movement but trust me, more often than not, I would forget I was on a moving vessel while on the ship. There are few things worse than not being able to get a good nights sleep while on vacation!
15. Don't ever wear a dress on the top deck of the cruise ship.
I learned this the hard way. And perhaps every one of you is thinking, "Well, duh! It's the top of the ship! It's bound to be super windy." Obviously, I am not that smart. I wore a cute little sundress on the top of the ship while trying to play mini-golf. This didn't go well. I spent the majority of the game with one hand gathering my dress so it didn't billow up and the other hand on my golf club to tap the ball in the hole.
(In case you're wondering, I lost that game. By a lot.)
17. Two dinner options: early and late. Both offer their own pros and cons.
Early dining is at 6:00 and late dining is at 8:15. My mom and I prefer the late dining, since we're late eaters by nature. This meant we weren't rushed to get back on the ship, showered, and dressed on our excursion days. It also meant there was a beautiful window of time when it was less busy and noisy out on the decks. But late dining means missing some of the nightly entertainment choices. There were more than a few shows and activities we missed out on because they started when we were still eating. But you also miss the crowd of little kids when you choose late dining which, for me, is a huge plus. (No offense to those who have little kids.)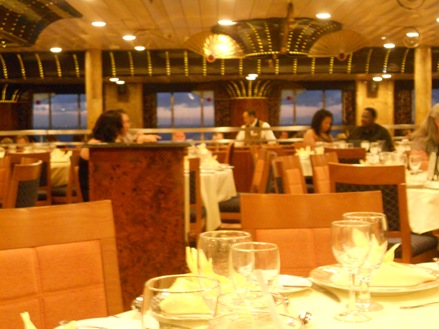 On our May cruise, we have late dining and on our June cruise, we have early dining. So I guess we'll see which option we like better!
18. There is nothing in the world like waking up to the bluest waters out your window, or a vast ocean surrounding you.
Becky asked me if I ever felt trapped on the ship. I can honestly say no. I never, ever felt trapped or claustrophobic or scared.  I trusted the captain and the staff at Carnival to know what they were doing and they did. If anything, I felt more free than I ever have in my entire life. Standing on the top of the ship with the bluest waters I've ever seen surrounding me was simply amazing. Waking up, looking out my window, and seeing the ocean surrounded me is an experience I treasure every day. Sigh. I can't wait to experience it all again!