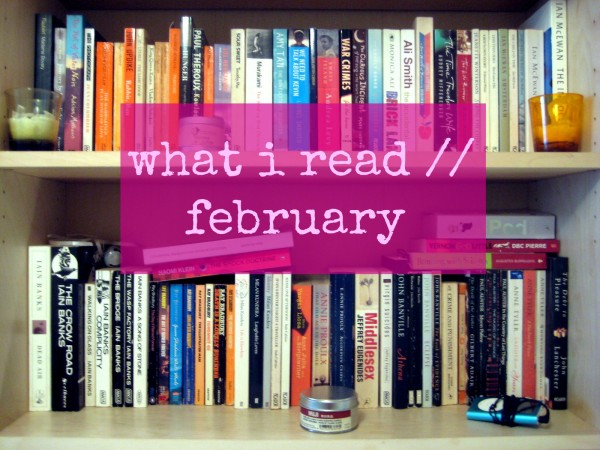 Book club selection: The Storied Life of A.J. Fikry by Gabrielle Zevin (5 stars)
This book was so, so lovely. I went into it with high expectations, knowing that most everyone who had read the book had loved it. And all my expectations were met! I loved A.J., even at his grumpiest. He was ornery yet adorable. I loved the natural twisting and turning of the book; nothing felt too dramatic or too crazy. The story flowed so well, and when I finished the book, I felt content and satisfied. It's such a good novel, and I highly recommend it.
Book Riot Read Harder Challenge (a book of short stories): Olive Kitteridge by Elizabeth Strout (2.5 stars)
This was another book I dove into with high expectations because I had seen a lot of really, really good reviews. It's a book of short stories, centered around this small town of Crosby, Maine and the retired schoolteacher, Olive Kitteridge, who lives there. It takes you on a journey of the people in this town and their stories. And… I just didn't like the novel. I found the stories overwhelmingly depressing and sad and a bit hopeless. I felt a little depressed and sad and hopeless when I finished it. It just didn't give me that good feeling you want from reading. I just felt… yucky… when I finished it.
Book Riot Read Harder Challenge (a book written by someone who identifies as LGBT): Me Talk Pretty One Day by David Sedaris (3 stars)
This was my first David Sedaris book and I liked it well enough. Sedaris' writing style is very easy to read and humorous. I don't think I'm one for short stories, though, so the book dragged a bit for me because I wasn't really following a specific plot… just reading essays that had little to do with one another. A good novel, but I'm not sure I'm jumping out of my chair to read another one of his books.
TLC Book Tours read: The Swimmer by Joakim Zander (3 stars)
I reviewed this book earlier in the month. An intriguing thriller about politics and corruption. I wish the book had been a little more fast-paced and I wasn't a huge fan of the ending… but still a good read!
Others (read for fun!)
The Things We Do for Love by Kristin Hannah (4 stars)
I enjoyed this novel. It was a pretty long book, but I read through it in a matter of days because I was so intrigued by the plot and wanted to know what was going to happen next. The story follows a woman named Angie who, in the space of a year, has a miscarriage, loses her father, and goes through a divorce. The beginning is incredibly sad and heartbreaking, as Angie moves back to her old hometown to deal with her heartbreak, and it is there she is wrapped up in the love of her family. I love, love, love the way Hannah wrote this family. They were so enveloping in warmth and love, but also felt very real with their own insecurities and vulnerabilities and sadness. Kristin Hannah is one of my favorite writers because I just adore the way she writes her characters. You really pull for them, whether or not you find them completely loveable.
Dark Places by Gillian Flynn (4 stars)
Oh, my god. This book was so creepy. I don't remember Gone Girl being creepy. Gone Girl was disturbing and twisted… but this book was just downright creepy. I love Gillian Flynn, though, because she creates SUCH unlikeable characters. There's something… interesting… about that. They are so real and raw and vulnerable and horrible and creepy… and she just really gets into these characters' psyches. Dives right into the twistedness of human behavior.  This book was a wild ride and I honestly did not guess the ending (but I'm not very good at guessing endings, unless they are super predictable). It was dark and twisty and creepy and a little too graphic at certain times… and I am really interested to see how this book will be made into a movie.
book stats // february
# of books read: 6
# of pages read: 2,002
quickest read: The Storied Life of A.J. Fikry (4 days)
longest read: The Swimmer (13 days)
multicultural: 1 out of 6
formats: ebooks (3), physical books (3)
What was the best book you read in February? Mine was The Storied Life of A.J. Fikry!