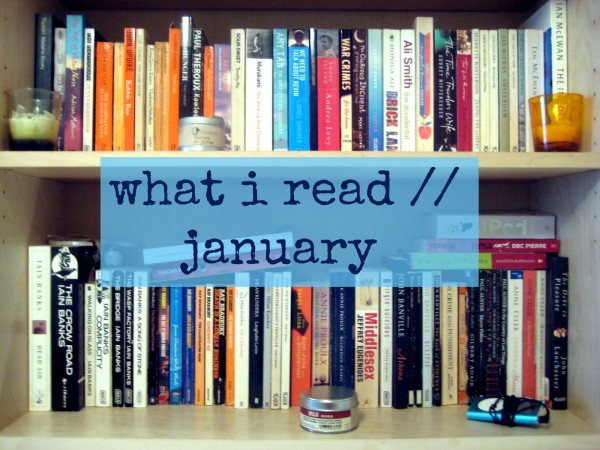 January was a great reading month for me! And I'm excited to dive into reviewing the books I read. This year, I'm taking a different approach to reading than I have in the past. For one, I'm doing a reading challenge. And for another, I'm being a little more analytical about detailing my reads. I've created a spreadsheet, which breaks down the books I'm reading and some details about them (such as how many pages in the book, what format it's in, the genre, why I'm reading it, etc.) It is the ultimate in book nerdery and I. Love. It. It makes me giddy!
So, this year (and maybe going forward), I'll be doing my reviews a bit differently. First, my books will be broken down into categories. The categories will most likely be: book club (1 book per month), Book Riot Read Harder Challenge books (2 per month, and I'll let you know which category they fit into, for those also doing the challenge), TLC Book Tours (typically, 1 per month), and then other. My "other" category are the books I'm reading for fun. (I have a monster TBR pile that I choose from. My book selection process is a bit… complicated. One of these days I may write a post explaining it.) Secondly, I'm going to include some reading stats at the bottom of each post, using the spreadsheet mentioned earlier.
So! With that long intro… let's dive into my book reviews for January. (I'll try to keep these short and sweet. Ish.)
Book club selection: Orphan Train by Christina Baker Kline (4 stars)
I loved this book. It has a sad premise, but it's not a sad story. It's uplifting and hopeful. It was one of those books that just made me so happy that I am a reader. You know those kinds of books? They're the best. This book switched between present day and the past. Present day involved Molly, a foster kid, who is helping elderly Vivian clean out her attic. The past involved Vivian's story. She lost her family at a young age and was sent away on an orphan train to be adopted. Vivian's story is sad and heartbreaking and filled with strife. But even so, I found her story compelling and she was such an easy character to root for.
Book Riot Read Harder Challenge (a book that was originally published in another language): Momo by Michael Ende (5 stars)
I lucked out, as this was the first book I received for the Postal Book Club that Kathleen is running. The book was originally written in German in 1973 and translated into English in 1984. I was so happy to find an easy match for this category for the Book Riot challenge! And this book was incredible! I was really nervous about it because I'd never heard of it and worried it would be long and boring. And it was neither – it was engaging and uplifting and had such a unique message. I really loved the fantasy and symbolism used in the book; it made me wish I was back in school and could discuss these themes with a class! It's a quick read, a great read, and I would highly recommend it.
Book Riot Read Harder Challenge (a book written by someone under the age of 25): The Outsiders by S.E. Hinton (5 stars)
I loved this book! I was never assigned to read it during school, which is when it seemed most people my age read it. It's written from the perspective of Ponyboy, a 14-year-old boy who is part of a gang called The Greasers. It's a book that has been frequently challenged because it talks about many intense issues, such as underage smoking/drinking and gang violence, as well as having strong language, but it's such a great read. I can't believe the author was only 15 when she started writing it! (The stuff I was writing at 15? HA. So silly!)
TLC Book Tours read: 13 Things Mentally Strong People Don't Do by Amy Morin (2 stars)
I reviewed this for TLC Book Tours, and while the concept was really interesting and I learned a lot, I felt that the writing was a little stilted and I didn't get any sort of practical application that I was hoping for. It was one of those books I read just to finish it, rather than reading because I enjoyed it.
Other (read for fun!)
Too Hot to Touch by Louisa Edwards (4 stars) – Because sometimes you just need to read a sexy romance novel, right? I enjoyed this novel, and I'm looking forward to reading more by this author. It centered around a family restaurant that is trying to save its business by entering a national cooking contest. I found myself skimming the cooking parts (they got seriously in depth in some parts), but it was still a fun little novel.
Everything I Never Told You by Celeste Ng (5 stars) – Oh, goodness gracious, this book was so, so, so good. It was engaging from beginning to end, and I could barely put it down while I was reading it. It tells the story of a family reacting to their daughter's death, and through the pages, you get to learn all about this family, where they came from, and how they got to where they are today. It's sad and tragic, but it didn't make me feel sad or hopeless. The way Ng writes is so beautiful and elegant and engaging… I just wanted to keep reading her writing forever.
Yes Please by Amy Poehler (4.5 stars) – So, I had been seeing some not-so-awesome reviews of this book from other people and it bummed me out because I have a mad girl crush on Amy Poehler and I wanted her book to be awesome. I went into the book with low expectations, I think, and I guess I'll be in the minority of people who LOVED the book. I think you really have to be a fan of Amy and a fan of comedy and the whole Saturday Night Live crowd to appreciate this book. And if you aren't, then you won't really understand how special it is. Because it is a special book. It is filled with incredible stories about the comedy world, and how Amy got to where she is today. It's filled with wisdom and heart and passion. Amy is just incredible. Her passion and work ethic and love for her work is just inspiring. I found the book to be engaging, easy to follow, and very fun to read.
book stats // january
# of books read: 7
# of pages read: 1,966
quickest read: The Outsiders (2 days)
longest read: Too Hot to Touch (8 days)
multicultural: 2 out of 7
formats: ebooks (3), physical books (4)
What was your favorite read in January? Mine was easily Everything I Never Told You!