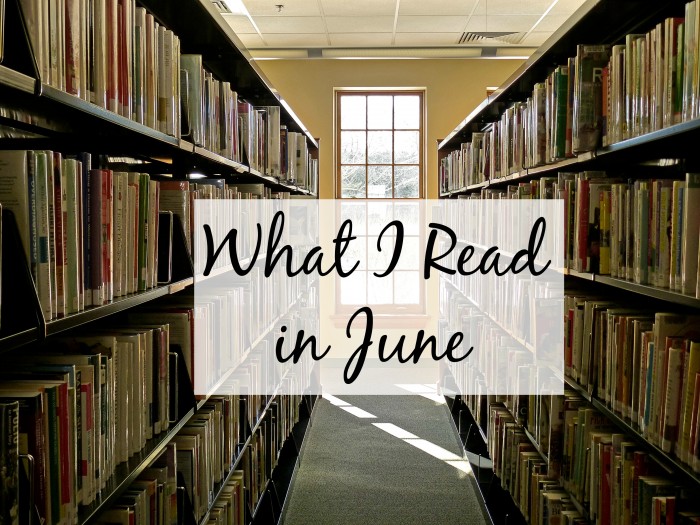 I don't really know how it happened, but I managed to read 9 books in June. I think I read a lot of easy reads that only took me a few days to finish because it's not as if June was a low-key, boring month for me! Hmm. I am so pleased with my reading progress this year – I've read 48 books and I am on pace to read 70+ books this year. Wahoo! This month, my favorite book was Big Little Lies and my least favorite was A Deadly Wandering.
Book club selection: Flat-Out Love by Jessica Park (5 stars)
This book was just downright adorable. It followed a girl who moves to Boston to attend college and when her living situation falls through, she moves in with her mother's old college roommate and her family. The main character, Julie, realizes the family is a little… strange… and she gets to work on figuring them out. It's a book about family, love, and finding yourself. My most favorite thing about this book was the dialogue. It was quick and funny and smart, and I was drawn into the story from the get-go because of it. If you like YA and novels that explore dark themes in a light-hearted way, I'd definitely recommend this novel.
Book Riot Read Harder Challenge (a book published this year): The Girl on the Train by Paula Hawkins (3 stars)
I liked this book, but I didn't find it as gripping or engaging as I had hoped. It was one I could easily set down. It's marketed as "the next Gone Girl" but I can't compare it to that book. I loved Gone Girl and it was a book that gripped me from beginning to end. This book was different. It was still good. It was still intriguing. I found the characters incredibly infuriating, but also interesting and well-developed. I was engaged enough to where I wanted to keep reading and find out what had really happened.
Book Riot Read Harder Challenge (a romance novel): Mine Till Midnight by Lisa Kleypas (4 stars)
Romance novels are my favorite genre to read (it used to be the only genre I read until I started diversifying my selections), so this was an easy category to mark complete for the Book Riot challenge. I'm making my way through Lisa Kleypas' historical fiction novels, and they are just such fun, easy reads. I like how much depth and personality the characters have; I genuinely felt sad when I finished this novel because I would miss the characters. (Thankfully, it's the first novel in a series, so I'll get to read about them again soon!)
TLC Book Tours Read: A Deadly Wandering by Matt Richtel (2 stars)
I reviewed this on my blog earlier this month and you can read my review here.
Others (read for fun!)
Big Little Lies by Liane Moriarty (5 stars)
I am officially a huge fan of Moriarty. I had previously read The Husband's Secret, which I thought was fantastic, and a friend raved about this book so I knew I had to read it. I'm pretty sure this book will end up as one of the top three books I read this year. It was just so good. I love the way Moriarty finds a way to talk about heavy subjects (in this case, domestic violence and bullying) in a light-hearted manner. Not making light of the issues, but writing in such a way where the topics don't feel heavy or depressing. I loved this book from start to finish and I wholly recommend it. And I would like Madeline to be my BFF, please and thank you.
Off Balance by Dominique Moceanu (4.5 stars)
This book was eye-opening. I have been obsessed with elite gymnastics since I was a little girl and I remember how much I looked up to Dominique Moceanu (even though I wasn't a gymnast, or even very athletic!) This memoir gave such a detailed perspective into the world of elite gymnastics and how a girl winds up on a gold-medal Olympic team at the age of fourteen. I am impressed by Dominique's dedication, strength, and bravery because what she went through, both in the gymnastics world and in her personal life, was gut-wrenching. Definitely a must-read book for those who are as obsessed with elite athletes as I am.
The Perfume Collector by Kathleen Tessaro (4 stars)
This book gripped me from beginning to end. The only reason why I didn't give it 5 stars is because I felt the ending was a little rushed, and it left me wanting a little bit more. But I loved the setting of this novel – Paris in the mid-1950s and New York in the 1920s – because I don't read too many books involving that time period. It was an enchanting novel with an interesting plot and such likeable characters. I also loved getting a glimpse into what it's like being in the perfumery world.
The Weird Sisters by Eleanor Brown (4 stars)
I listened to this on audiobook and the reader couldn't have been more perfect. She had such a pleasing tone to her voice, which made it easy to follow along. And this story was so charming! The setting was perfect, the sisters were so different and yet so alike. I loved their transformation throughout the novel; it felt natural and authentic. And I honestly couldn't get enough of the father and his penchant for spouting wisdom through Shakespeare quotes. The plot might seem a little slow to some people, but I think that's what made this book so special to me. It didn't need to be fast-paced or super gripping – it was a story about change and growth and finding yourself, and most times, that happens at a slow and steady pace.
To the Limit by Cindy Gerard (4 stars)
So, romance novels are my favorite genre to read, but more than that, romantic thrillers are my jam. A good romantic thriller will have characters that aren't too brooding or bad-ass, a twisty-turny plot that keeps you guessing, and steamy love scenes. A novel by Cindy Gerard has all of that and more. This is actually my third time reading this novel (sorry I'm not sorry?) and I fell in love with the characters all over again.
BOOK STATS // JUNE
# of books read: 9
# of pages read: 3,317
quickest read: Flat-Out Love (4 days)
longest read: The Weird Sisters (13 days)
multicultural: 5
formats: ebooks (4), physical books (4), ebooks (1)
What was the best book you read in June?