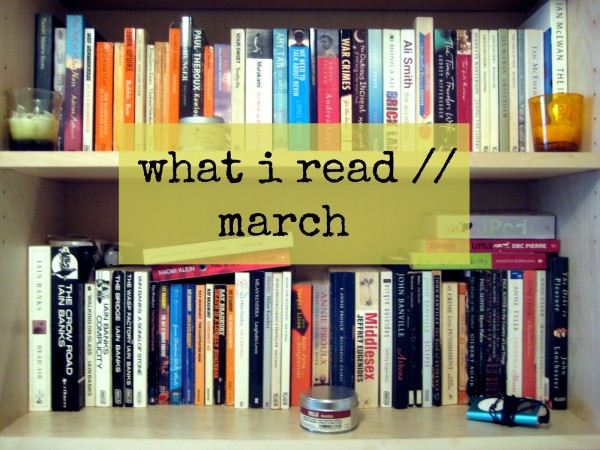 And we are in April! I had a fabulous month of reading in March – 10 books read. Though 3 of those books were listened to on audio, which helped bump up my reading count. So far in 2015, I have read 23 books, and am 10 books ahead of the goal I set to read 52 books (which was a low ball number anyway). I'm hoping to reach 75 books read, but we'll see! I'm also trying to take my time with the books I'm reading, not try to rush through to finish as fast as I can to get to the next book on my list. This month, my favorite book was In the Blood and my least favorite book was The Elite.
Book club selection: In the Blood by Lisa Unger (5 stars)
This book was goooood. It was so, so, so good. It's a psychological thriller that has a crazy twist about 3/4 of the way in that threw me for a complete loop. It was unlike any kind of twist I could have ever imagined. I finished the novel and wanted to tell everyone in the world how much I loved it. Just… go read this book. Now. It's fantastic.
Book Riot Read Harder Challenge (audiobook): The Selection by Kiera Cass (3 stars)
This ended up being the first of three audiobooks I would read in March! Readers of audiobooks can make or break the experience, and this one took a little getting used to, but once I did, I found myself easily following the story. The story is impossibly silly and ridiculous… like The Bachelor meets The Hunger Games, maybe? The main character, America, is sassy and easy to like, as is Prince Maxon. I loved the interactions between the two of them. Since this is YA dystopian, obviously there's some terrible overarching plot to bring a hint of danger into the novel, but I don't think that was very well-thought-out or well-written. It just seemed… silly? Immediately after finishing this book, though, I requested the second book. This series is complete brain candy, but I can't quit it!
Book Riot Read Harder Challenge (a book by someone whose gender is different from your own): The Rosie Effect by Graeme Simsion (4.5 stars)
I had read a lot of mixed reviews about this book, so I went into it with low expectations, which was maybe helpful because I ended up really enjoying it! I just love the character Simsion has created in Don Tillman – he's so quirky and so unique and I can't help but love him to pieces. This novel moved at a slow pace, but I found that I didn't mind it. I just settled in and read slowly. The only thing I didn't enjoy was Rosie's character. One of the reviews I read of the novel was that she lost all of her charm from the first book, and I think that is 100% accurate. I just didn't enjoy her character at all.
TLC Book Tours read: An Uncomplicated Life by Paul Daugherty (4 stars)
You can read my review of this book here.
Others (read for fun!)
Reconstructing Amelia by Kimberly McCreight (4 stars)
This novel got 4 stars from me because it was fairly impossible to put down. I had to keep reading it until I finished! It's a mystery, where a mother tries to figure out what happened to lead her teenaged daughter to commit suicide by jumping off the roof of her school. (She's especially concerned because she gets an anonymous text that informs her that her daughter didn't jump.) I found the mother to be incredibly unlikeable and a bit unrealistic. And some of the revelations were a bit cliche and one was especially… weird. And made me feel squirmy. But still… if you're looking for a fast-paced read, this is your book.
The Guy Not Taken by Jennifer Weiner (3 stars)
This was a book of short stories, and it was an okay read. Nothing earth-shattering, no stories that made me especially enthralled. I did like how Weiner brought back some characters from her past books, especially Ruth from The Next Best Thing (my favorite Weiner novel).
The Elite by Kiera Cass (3 stars)
I listened to this novel on audiobook, as I did the first one in the series. This one wasn't as good as the first one, and I felt like the author was really trying too hard to find conflict and make the novel move forward. Honestly, I think this series would work fine as a stand-alone book. I think there's way too much unnecessary plot that could have been cut out to make the book more concise. America was a bit more bratty in this novel, which annoyed me, and Prince Maxon did a few things that seemed inauthentic to his character from the first novel.
Delirium by Lauren Oliver (4 stars)
I liked this book all the way up until the ending. The ending left me with mixed feelings, and it makes me a bit hesitant to pick up the next novel in the series. This novel, which is YA dystopian, has an interesting premise: the idea that love is a disease that needs to be cured. At the age of 18, everyone is administered the "cure," in which they do not have the capability for love any longer. It made me think of everything we do/say/think/feel based on love. I found Lena, the protagonist, to be a bit one-dimensional and a little underwhelming (especially with how she wanted Alex to keep saving her), but I'm hoping she develops more with the second and third book.
Lean In by Sheryl Sandberg (4 stars)
I listened to this on audiobook, and this was the first time I "read" nonfiction this way. While I don't mind fiction audiobooks, I don't think nonfiction audiobooks work for me. I think it's because I'm a visual learner and with nonfiction, I want to take my time to digest the information and highlight and mark passages that resonate with me. That said, I thoroughly enjoyed this novel – much more than I thought I would. I'm not a high-powered career woman (and don't aspire to be), but I appreciated hearing Sandberg's thoughts on feminism, the work/life balance, family, and career. I also like how she doesn't think women just need to lean in to their careers more, but men need to lean into their families more. (I am just as icked out when a father talks about "babysitting" his children as she was!) Anyway, a good read and very thought-provoking!

The Next Best Thing by Kristan Higgins (4 stars)
And then a sweet romance novel to round out my month of reading! I love Kristan Higgins and her novels. They are just feel-good romances that are a bit cheesy, but also a lot of fun. While I didn't love the main character in this one (she was a little over-the-top at times), I couldn't put this book down until I got to the end.

book stats // march
# of books read: 10
# of pages read: 3,444
quickest read: The Guy Not Taken (5 days)
longest read: The Elite (9 days)
multicultural: zero
formats: ebooks (2), physical books (5), audiobooks (3)
What was the best book you read in March?