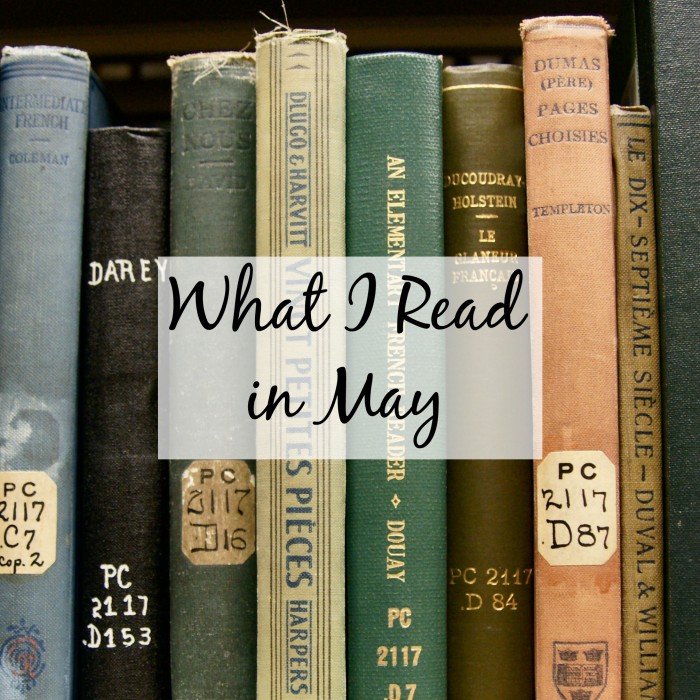 May was a solid reading month for me – 8 books read! I am really happy with my yearly book reading progress so far, as I am at 39 books read, which means I could maybe hit 80 books for the year. We shall see! This month, my favorite book was The Predictions and my least favorite book was Love and Miss Communication.
Book club selection: Hush by Kate White (3 stars)
I was the one who suggested this book for book club in May. And it was okay. It's a thriller, about a woman who has a one-night stand with a guy she works with, only to find him dead when she wakes up in the morning. Knowing she'd become the number-one suspect, she flees the scene and then tries to solve the murder herself. It sounds enticing, right? And it was an interesting read… it just wasn't as fast paced as I would have liked it. I was expecting twists and turns, but nothing felt too shocking and I never felt on the edge of my seat. It's a good read if you're just looking for an easy mystery, but not if you're hoping to read a really engaging thriller.
Book Riot Read Harder Challenge (a book that someone else has recommended to me): The Art of Racing in the Rain by Garth Stein (4 stars)
I have had multiple people recommend this book to me, most recently a coworker. So it was an easy one to tackle for the recommendation category for the Book Riot reading challenge. It was such a sweet novel! I expected it to be much more of a tearjerker, but it didn't make me cry. (Surprising, I know!) Instead, I just found the ending to be so perfect and heartwarming. Enzo is one of my new favorite literary characters. He was so easy to love and while I know it's a work of fiction, it gave me some insight into my own dog. (I dearly hope he has a rich inner life like Enzo did!) If you love dogs, I highly, highly, highly recommend this book. I didn't care too much for the racing parts, but I did get caught up in the excitement because of how passionate Enzo was about them!
TLC Book Tours read: The Predictions by Bianca Zander (5 stars)
I reviewed this novel earlier this month and you can find the review here.
Publisher review: Love and Miss Communication by Elyssa Friedland (2 stars)
I reviewed this book earlier this month and you can find the review here.
Others (read for fun!)
Pandemonium by Lauren Oliver (4 stars)
This is the second book in Oliver's "Delirium" series and it was really good! I found it really fast paced and engaging. I really liked hearing about her time in New York City, as it seemed like more was happening to move the plot forward there. All in all, a really good read, but I do have to say the ending of both novels in this series have left me with a weird feeling in the pit of my stomach. Sadness, maybe? There's always a cliffhanger that makes my stomach knot up… and remain that way for a few days. I'm hoping the last book ties up this series in a good way… and that I'm not left with a stomach in knots at the end!
On the Rocks by Erin Duffy (2 stars)
I really wanted to like this book because I loved Duffy's first novel so much, but it just fell flat for me. I didn't really like the main character. The writing was a little cheesy and some of it felt really, really outdated, as this book was supposed to take place in 2012 and there were mentions of using Myspace and beepers. (?!) So, an easy beach read, but not one I would necessarily recommend.
The One by Kiera Cass (3 stars)
This is the last book in The Selection series by Cass, a dystopian trilogy. This has been one of my favorite dystopian trilogies so far because it's just fun. It's light-hearted and silly and romantic. Most dystopian novels are so serious and heartbreaking and intense. There was definitely conflict and some sad moments in this novel, but overall, it was a nice, light vacation read. I felt like the ending was a bit rushed and I think the author could have cut out some of the conflict with the rebels at the beginning to flesh out the ending so it felt more satisfying. Still, just a really fun dystopian series that I would recommend.
Hot on the Hunt by Melissa Cutler (3 stars)
This is a Harlequin romance novel, but it's by an author I really love. This is the last book in a series I started reading a few years ago and it was okay. I didn't love either main character throughout any part of the novel (not even the ending), so it wasn't easy to root for them. I didn't find the ending to be all that satisfying. Still, a fast-paced read that kept me engaged the entire time, and I do hope to see more from this author!
BOOK STATS // MAY
# of books read: 8
# of pages read: 2,717
quickest read: On the Rocks (2 days)
longest read: Hush (9 days)
multicultural: zero
formats: ebooks (5), physical books (3)
What was the best book you read in May?