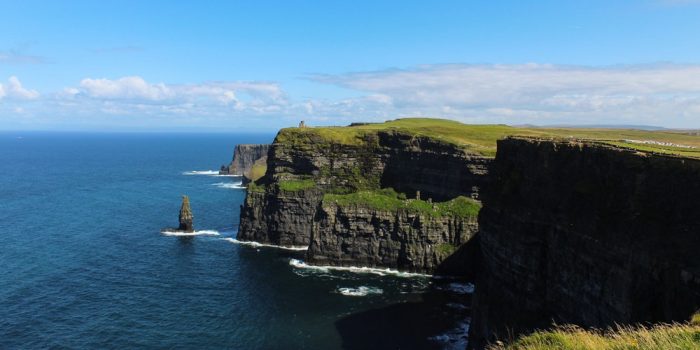 You guysssss. We leave in THREE DAYS for Ireland! This weekend is going to be a busy one, too. I have brunch plans with friends along with game night with the family. And, oh yeah, I need to pack! I still need to do a Target run for snacks and some travel necessities, as well as make sure I have everything ready for my cat sitters next week (I'm having someone come every day to check on them). And I have a long list of cleaning tasks I need to do. Whew! We don't leave until Monday afternoon so thankfully, we don't have to rush out the door at, like, 5am or anything like that. But it will be a very busy, relatively nap-free weekend. 😉
Now, let's talk a bit about Ireland itself and everything I'm looking forward to next week:
Spending a whole week with my mom
I love to travel with my mom (which is why we take a vacation together every year!) We travel so well together, although we have had some epic fights like the one time in Savannah where we both ended up storming off in separate directions after some angry shouting. Eek. But mostly, we get along! And she's my safe place so it's always nice to travel with someone I feel 100% comfortable with and I don't have to be "on" with.
Visiting bookstores
Ireland has a celebrated literary history and I scoped out some of the best bookstores in Galway and Dublin to visit. I'm planning on visiting Charlie Byrne's Bookshop in Galway and The Winding Stair and Hodges Figgis in Dublin.
Seeing the Cliffs of Moher
This was the non-negotiable experience on my Ireland to-do list. Originally, we thought about driving ourselves to the Cliffs, but I ended up finding a tour and I am really glad I did. It means we can sit back, relax, and enjoy being driven to-and-from the Cliffs (and some other interesting historic sites) and not worried about the logistics and driving. Yay!
Visiting centuries-old castles and historical sites
I am out of my mind excited to visit sites that are just bursting with history, like the Rock of Cashel that dates back to the 12th century. And I am really, really excited for all the castles I'm going to see while I'm in Ireland, like Kilkenny Castle that was built in 1195 and Dublin Castle, originally built in the 13th century. It's going to blow my mind.
Learning how to drive on the other side of the road
Provided I don't chicken out at the last minute! I'm sure I will be really nervous until I just get in the car and start driving. Everyone I've talked to about driving in Ireland says you get used to it quickly and I'll be mostly driving on a motorway, so it shouldn't be too difficult. Plus, I feel like if you can successfully drive in Tampa (or rush-hour Atlanta, which I've done before), then Ireland should be a breeze. That's what I'm telling myself, at least.
Riding on a train
I feel like a child with this one, but I honestly do not know if I've ever ridden on a train that wasn't in an amusement park. To be fair, one of those trains was the Hogwarts Express so it was one of the most special experiences of my life. 🙂 We'll be riding a few trains while in Ireland, and I'm really excited about them! I can't wait to sit back and watch the world go by on the train.
Spending my days exploring, not sitting in a cubicle
Listen, I love my job and I don't mind the cubicle life. But I am really excited to get away from it for a full week. I cannot wait to put on my out-of-office auto responder this afternoon and not come back to my office for thirteen days. I am excited to spend my days exploring Ireland and seeing new sights and having new experiences. I'm looking forward to my only big decisions being where we're going to eat and if we should visit that museum or tour that cathedral. I really need the reset and time away from work. Really, really.
Plane travel
Most of the travel I've done so far in my life is through cruise ships. I've been on a few planes: to and from Atlanta, to and from Puerto Rico, and to and from Asheville. But this will, by far, be my biggest flight to date. I'm nervous about the flight from New York to Ireland because it's an 6.5-hour flight, at night, and I think I'll spend a lot of time worrying about what happens once we arrive in Ireland. (I'm planning on taking melatonin before the plane takes off, so hopefully that will calm me down and help me sleep!) That said, I'm also really looking forward to the flights. I love airports and the hustle and bustle of them. I love flying itself; I've never been one to get very nervous about flights. And I don't even mind all the waiting around that occurs with flying. To me, it's all grand!
I'll be taking the next two weeks off blogging. I'll be back on May 13th to begin my Ireland recaps but I'll be providing real-time updates via Instagram if you want to follow along!