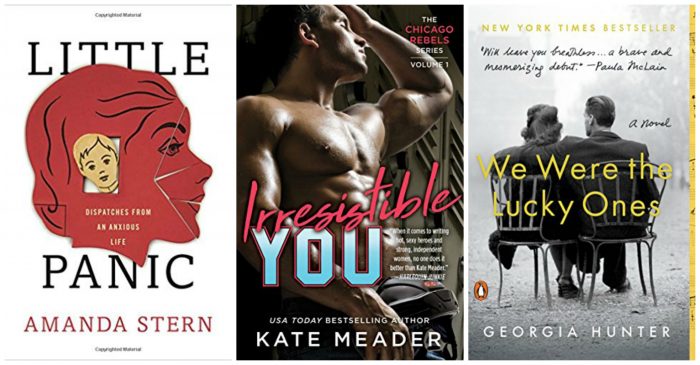 Surprise! It's a "What I'm Reading" post in the middle of the week. I didn't end up finishing any books this week until Sunday evening and I knew I wouldn't have time to put together a post in time for Monday morning, so I just switched things up on ya. We all need that from time to time, right? 🙂
Little Panic is the book to read if you want to feel less alone in your anxiety struggles… or if you want to really try to understand what the world is like for those of us who struggle with anxiety. It's a book that could be exhausting at times because Amanda's inner world is exhausting – just as my inner world is exhausting. This book is raw and vulnerable, and I truly appreciate Amanda for being so open and honest about her struggles and the way they have affected her. While my anxiety isn't as severe as hers, I could definitely relate to her struggles and her overwhelming fear at just about everything that crossed her path. The book is written in a nonlinear form, moving back and forth between Amanda's childhood and adulthood. Interspersed throughout the book are notes from the various specialists she saw as a child (therapists and the like). That made the book feel a little disjointed at times; it was missing the type of flow I'm used to having in memoirs. I also found that the book was just a bit too long (it was over 13 hours in audiobook form) and I think it could have used a tighter edit. But even with those negatives, I still think it's a book that is worth a read.
I love when I find a romance writer who I can trust to write a strong, well-crafted romance novel. These are the writers who I don't have to worry about. I know their romances won't require suspending crazy amounts of disbelief or cringing over silly dialogue. Kate Meader is one of those writers, and since she's a new find for me, I am so delighted! This book officially begins her Chicago Rebels series: Harper Chase, one of the new owners of the Rebels, is ready to get her father's professional hockey team into the playoffs for the first time in a long time, and it all starts with her new acquisition: Remy DuPre. Remy is one of the most solid hockey players in the league who can always be counted on to bring a team together. Of course, as you might expect, Harper and Remy have some serious chemistry and wind up falling in love. Aww. I really, really loved the natural evolution of their relationship, as well as the super steamy love scenes. (I love a well-written steamy love scene, but if you don't, this book probably isn't for you!) I also really enjoyed the feminist undertones of this novel – both from Harper and from Remy. Throughout the novel, Harper had to contend with sexism due to being a woman in a man's world. Plus, there was also the subplot of Harper not willing to go public about her relationship with Remy because she knew she would be judged way harsher than Remy would. It's a valid concern, and I'm glad it wasn't glossed over. I also found the way the author resolved this plot point to be believable to an extent. (If this happened IRL, I think the backlash would be way more overt, but this is a fiction and a romance after all. We need our HEAs!)
Oh, what can I say about this outstanding novel that hasn't already been said? This book is a must read, in my opinion, and completely stands out in the WWII subgenre. And I think the main reason it stands out is because this is a true story, albeit a fictionalized version. It follows three generations of the Kurc family in Poland as they navigate a cruel world that has suddenly deemed them unworthy of humanity based solely on being Jewish. The whole family is separated throughout the war: one brother flees the continent, others move to a different Polish city to pose as Aryans, and still others stay in their hometown and struggle to survive. It's a story of grit, tenacity, resilience… with a dose of luck thrown in there. Hunter did an amazing thing with this novel because not only is it incredibly well-written, but it also preserves her family's history in a beautiful way. I am so glad I finally read this novel and want to get it in the hands of everyone I know.
I'm currently reading…
> Healing Spiritual Wounds: Reconnecting with a Loving God After Experiencing a Hurtful Church by Carol Howard Merritt. I just started this book, and I'm taking it slowly by reading one chapter every night before bed. I bought this book after hearing Merritt on a podcast and her words really spoke to me. I'm not sure what I'm hoping to get out of this book but I'm going to keep an open heart and mind.
> Act Like It by Lucy Parker, for my romance of the week. I'm only a chapter into this delightful romance and it has already captivated me!
> The Alice Network by Kate Quinn. Typically, I wouldn't read another novel about war so soon after finishing one, but I already returned this book to the library once and had to wait weeks to get it back. My next read, however, is most likely Anne of Green Gables so that will be the palate cleanser I need!
What are you reading?