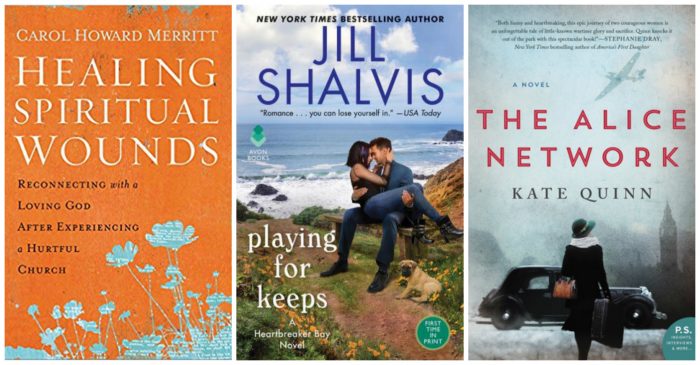 Happy Monday, friends! I had a pretty great weekend and the weather was pretty gorgeous for us here in Florida (sorry to brag for everyone experiencing arctic-like temperatures up north). I was able to take three long walks outside, work on my novel, and get some reading done. I also thoroughly enjoyed my mom's Super Bowl party, even though I wasn't thrilled with the outcome of the game. 😉
This week, I finished three books! This means I somehow read FIFTEEN (?!?!) books in January, which feels like too many books to read in a month, haha.
I've been spending a lot of time lately thinking about my own faith and what I want from it. (If I want anything from it.) So, this book came to me at the perfect time and has really challenged my ideas of God and what faith means today. I haven't gone to church or read my bible in years, mostly because I never felt welcomed in church and I find many parts of the bible to be problematic and hurtful. This book was so helpful in parsing through all the ways the church can harm people and how to develop a relationship with God that is healthy and positive, not endlessly damning and rigid. At the end of each chapter, Merritt had a series of prompts for readers to work through and I'm taking my time to journal my thoughts but so far, they have been enlightening and allowing me to make peace with my hurtful church past and build a way forward. I encourage anyone who has been hurt by the church and/or its teachings or confused by their faith to pick this book up. It has been so impactful for me.
This was such a cute, fun romance! It's the seventh book in Shalvis's Heartbreaker Bay series, and it's one I truly enjoyed. It follows Caleb and Sadie who wind up adopting a three-legged dog together when the dog is abandoned by her owner. Caleb is a genius tech gazillionaire while Sadie is barely making ends meet, working two jobs and trying to build up her clientele at a tattoo shop, which is her true passion. Both Sadie and Caleb have their own demons to work out, and their romance felt believable and natural, even though there were times when I wanted to shake Sadie for some of the dumb choices she made.
The Alice Network is a fictionalized story about a real-life female spy network that worked against the Germans in World War I. The book alternates between Eve and Charlie's stories. In Eve's timeline, the year is 1915 and she is recruited to join The Alice Network and become a spy. In Charlie's timeline, World War II has ended and she's determined to find her cousin Rose, who disappeared in France during the war. Charlie has reason to believe that Eve may know where her cousin is, so she shows up at her door to ask for her help. It's not an easy read – especially Eve's chapters – but it's an utterly engaging, well-written story and one I won't soon forget.
I'm currently reading…
> 99 Percent Mine by Sally Thorne. I've been devouring this romance from my very favorite romance author. It's so perfect and fun and sweet. I'm trying to read it slowly and savor every word, but I'm also finding it hard to put down!
> Anne of Green Gables by L.M. Montgomery. I'm only about 50 pages into this novel (which is nearly 500 pages – I had no idea it was so long!) and ugh, it's so damn perfect. Anne Shirley is everything.
What are you reading?