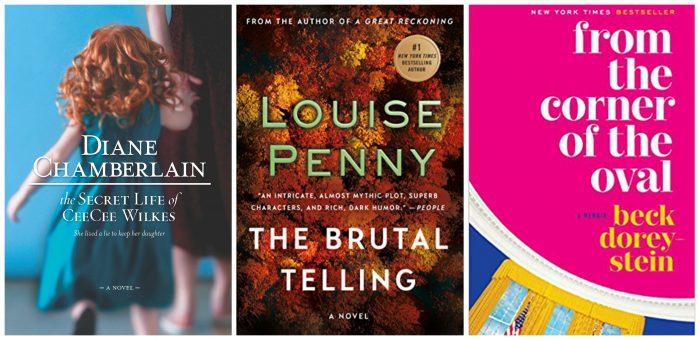 Happy Monday! I had a really lovely weekend that was the perfect mix of social time and downtime to suit my introvert soul. I had a great therapy appointment on Friday afternoon followed by an evening of planning my Ireland itinerary. Saturday, I got to see a friend's new house and float around in her pool for hours, as well as celebrate Chip's first birthday and enjoy game night with the fam. And then, on Sunday, I spent the whole day in my pajamas! Divine!
This week, I finished two books, including one that is probably going to make my favorites list for the year. Let's get into it.
I listened to this story on audio, and it was such a fantastic listening experience. Since the print book is around 500 pages, it's not a short listen (it's nearly 14 hours), but it was so worth every minute. When this novel begins, the remains of a pregnant woman who disappeared in 1977, Genevieve Russell, are found. A man named Timothy is charged with her murder but her unborn baby is nowhere to be found. But CeeCee Wilkes know that Timothy isn't responsible for Genevieve's death, and she also knows what happened to the unborn baby because she has raised the baby as her own. Crazy plot, right? It's so twisty-turny in the best possible way and I was just in awe of the author's writing ability. It all felt so believable and heartbreaking, while also being sweet and human and raw because the novel takes you back to how CeeCee happened to raise this baby and also what the ensuing two decades were like for CeeCee, the baby, and their family. A must read, in my opinion!
The Brutal Telling is the fifth book in the Chief Inspector Armand Gamache series, and it starts with a dead body being found in the bistro in Three Pines. The murdered man is unknown to everyone in the tiny village but suspicions abound surrounding the bistro's owner, Olivier, especially as Gamache and his team dig into Olivier's past and find some troubling answers. I found this mystery to be very slow-paced for me (it took me nearly two weeks to finish it as I just never felt like picking it up) and had an unsatisfying ending, so meh. Not my favorite in this series.
I'm currently reading…
> Dating-Ish by Penny Reid. This is a fun contemporary romance that I started over the weekend. I'm over halfway through it and it's great so far. I never want to put it down!
> From the Corner of the Oval by Beck Dorey-Stein, on audio. Originally, I wasn't planning on reading to this memoir by an Obama White House stenographer, but it has gotten rave reviews from many trusted sources so I'm giving it a try. It's a much more light-hearted read than other memoirs from Obama staffers and I'm really enjoying it so far!
> My Sister, the Serial Killer by Oyinkan Braithwaite. I'm starting this quick fiction book today, which I suggested to my book club for our March read. So far, one friend loved it and another was "meh" about it, so we'll see which camp I fall into!
What are you reading?