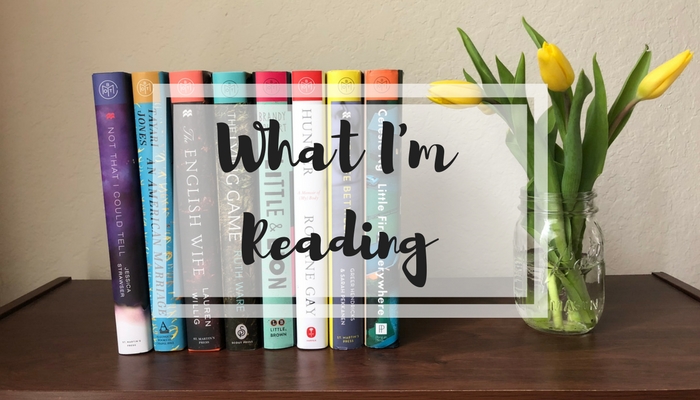 Wow… what a week of reading it was for me! This week, I finished four books, although it feels a little like cheating to say that because I read the majority of Nobody But You the week prior. But alas, I finished it this week, so it counts toward my total. This balances out last week when I "only" finished one book. (I say "only," because it's uncommon for me to only read one book a week. I realize one book a week is a massive win for most readers! I'm just obsessive about this hobby of mine, haha.) Anyway, let's dive into what I read last week and my reading plans for this week.
Books Finished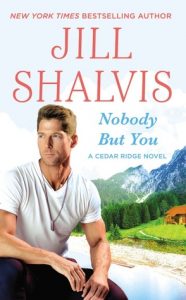 Title: Nobody But You
Author: Jill Shalvis
Reason for reading: For fun!
Published: 2016
Rating: ★★★★★
Oh my, I loved this book from beginning to end. It was the perfect romance. This novel finishes up Shalvis's Cedar Ridge series and we finally get Jacob's story, who has been MIA in the previous novels. He left Cedar Ridge when he was 18 to join the military, and while he has returned once a year to visit his mom, none of his other siblings know about his visits. But now he's on leave and has decided to spend it in Cedar Ridge, reconnecting with his family. And during one of his first days back, the most original meet-cute happens when recently divorced Sophie docks her ex-husband's boat (the only thing she got in the divorce; she took it out of spite) at his dock and he comes out to tell her she can't dock there. I felt the zing from the moment Sophie and Jacob met and couldn't wait for their love story to evolve. It was perfect in every sense of the word and I never wanted this book to end. (Add to Goodreads.)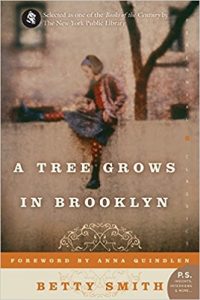 Title: A Tree Grows in Brooklyn
Author: Betty Smith
Reason for reading: Yearly goal of reading four classic novels
Published: 1943
Rating: ★★★★★
This book took me forever to read (over two weeks!), but it was so well worth my time. (Though I'm astonished how many people read this book in middle school. I don't think I was reading 500-page novels in middle school! Ha.) It's a coming-of-age story about Francie Nolan, a young girl who lives in Brooklyn. Her family is poor and I could feel their struggles seeping through the pages. As the novel progresses, Francie grows from a precocious little girl to a woman in her late teens who is desperate for education and love. She encounters setbacks, tragedy, and heartache, but she never loses herself in the midst of it all. Francie is a character I don't think I'll ever forget. (Add to Goodreads.)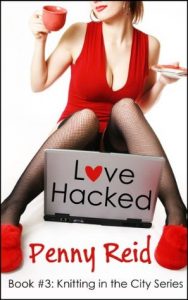 Title: Love Hacked
Author: Penny Reid
Reason for reading: For fun!
Published: 2014
Rating: ★★★★☆
I said last week that Penny Reid is hit or miss for me, but this book was definitely a hit. It wasn't a typical romance with the typical hero, which I really appreciated. Sometimes, I can get annoyed when a romance author doesn't follow the "rules" of romance (I know, I know, I'm working on it), but in this case, it totally worked. This novel follows the story of Sandra who has been on 30 dates, nearly all of which have ended with the man sobbing uncontrollably and her referring them to her psychotherapist friend. On its own, the premise sounds a little unbelievable and it is, but this is Penny Reid and it's not unusual for her to have a wacky premise like this. All of these 30 dates take place at the same Indian restaurant, and so this is how she meets Alex, her ever-present waiter whom she secretly pines for. It's after one disastrous date that she has an "encounter" with Alex and begins the process of unraveling who this gorgeous man is. What I appreciated most about this novel is how different it was, especially with a hero like Alex who really wasn't someone I rooted for at the beginning due to how close-lipped he was about himself. But eventually, as his secrets were slowly revealed, I grew to love him and want the best for him. It was truly a beautiful story about the power of love and how it can change us for the better. (Add to Goodreads.)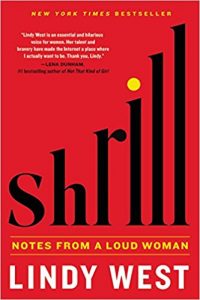 Title: Shrill: Notes from a Loud Woman
Author: Lindy West
Reason for reading: On my "immediate TBR" list
Published: 2016
Rating: ★★★★★
Do yourself a favor and read this book. I think it holds the top spot of my favorite book of 2018 so far. It was well-written, poignant, funny, vulnerable, powerful… and every other word I can think of. It's a book of essays that talks about everything from what it's like to be fat in a thin-centric world to dealing with trolls on the Internet to rape culture in the comedy world. And it is excellent. I found myself nodding my head in agreement during the chapters on fat acceptance, feeling so much disgust about how she was treated when she spoke up against rape jokes in stand-up comedy, and just generally feeling so grateful to Lindy and the way she speaks up even to her own detriment. She is no stranger to trolls and has had to develop a thick skin to deal with the onslaught she receives due to being a woman writing on the Internet – and I know for a fact that I would not be able to handle that world as she does. (Just one mean comment on my blog and I want to burn it all to the ground, so…) I was inspired by Lindy and just want to shove this book in everyone's hands. A must read. (Add to Goodreads.)
What I'm Reading This Week
Roomies by Christina Lauren – My romance read for the week! I bought this novel at Target a few months ago because the premise sounded perfect. A marriage of convenience trope? I'm here for that.
Not That I Could Tell by Jessica Strawser – This was my March Book of the Month (<– affiliate link, you get a free book if you sign up using my link!) pick, described as Big Little Lies-esque, which is one of my all-time favorite novels. It's gotten some mixed reviews, though, so I'm going into it with lessened expectations, which may help me enjoy the novel more! We'll see.
Irresistibly Yours by Lauren Layne – I may or may not get to this one this week, but I'm adding it to the list just in case. My upcoming week and weekend aren't too busy, which will make for copious reading time, and I can always make time for a Lauren Layne romance. Her books are quickly becoming some of my favorite contemporary romances to read!
What are you reading this week?