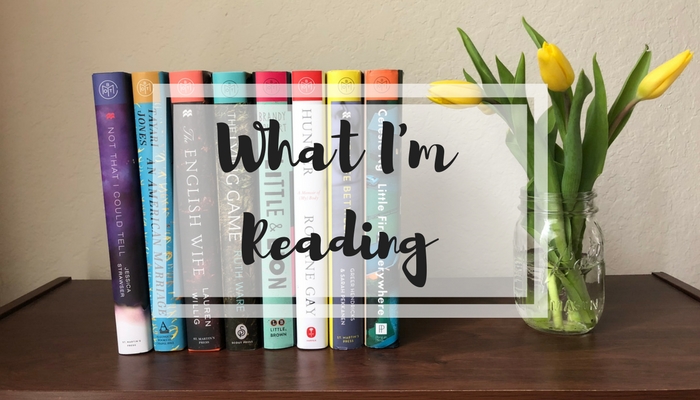 Happy Monday, friends, and happy April! I am super looking forward to this month because my mom and I leave on a cruise at the end of it. Yayyyyy! We booked this cruise sometime in the fall of 2017, so to say we've been looking forward to it for awhile is an understatement. April is also the month I get to see my guys at Pod Save America live, and I couldn't be more excited about that. I'm also hoping to spend some afternoons at the pool and put some real work into my novel this month.
But before all that, let's dive into my reading life in the last week of March, shall we? It was another great week of reading for me because I finished three novels (two being romances, which I read super fast).
Books Finished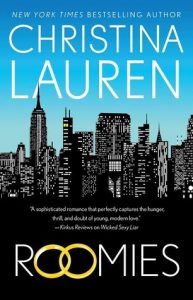 Title: Roomies
Author: Christina Lauren
Reason for reading: For fun
Published: 2017
Rating: ★★★★★
So, I need to preface this review by saying that I understand why many people are little leery of this novel, especially with the debates about DACA and immigration in the news. In a way, the plot can be seen as insensitive because the hero in this novel is an Irish immigrant whose visa expired more than four years ago. And yet, due to his whiteness, he has certain privileges that other black or brown immigrants don't have. And, honestly, that privilege is never brought up in the novel and it can be off-putting for some people. I get that totally. But also? I loved this novel, and I just had to realize that this novel can be problematic and I can love it, too. The characters were so well-written and real. The plot moved along at the perfect pace, and the way Calvin and Holland fell in love with each other felt natural and beautiful. But I think what I liked most about this novel was that while the romance was the central figure, it was also about Holland and her process of finding herself. When the novel begins, Holland is a girl with an MFA in creative writing who wants to be a writer, but is uninspired and feels that she's just letting life happen to her. She works at her uncle's playhouse, selling merchandise, and she knows she's destined for way more than that, but doesn't know how to go out and get it. Her fears and vulnerabilities were so real and I could see a lot of myself in her. She was a really easy heroine to like and root for. And I love how she came full circle in this novel. (Add to Goodreads.)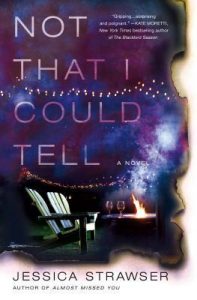 Title: Not That I Could Tell
Author: Jessica Strawser
Reason for reading: March Book of the Month pick
Published: 2018
Rating: ★★★★☆
I wasn't expecting to enjoy this thriller as much as I did, maybe because I'd read two lukewarm reviews of the novel that tempered my expectations. (Maybe that was a good thing?) I actually thought it was a truly well-written thriller that wasn't too over-the-top with crazy twists and turns. And the characters were all super likable; the author didn't fall into the trap of writing about female relationships in a negative way. Even the contentious relationships had a true-to-life feel to them. As I've had time to reflect on this book, I think the core of this book isn't about the disappearance of a neighbor and her kids. It isn't about the investigation into her disappearance or her estranged husband's maybe-guilt. It is about these neighbors, about sisterhood, about vulnerability and opening up. It's about motherhood and how lonely and isolating it can be. It's about singlehood and how lonely and isolating that can be. It's about how we need to watch out for each other and how women can come together and help each other. So, I can really see why this book was compared to Big Little Lies because that was the overarching theme to that novel, and I really think like this was a good read-alike to that book. All in all, I really, really liked this novel and I'm really glad I gave it a chance! (Add to Goodreads.)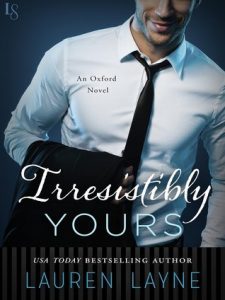 Title: Irresistibly Yours
Author: Lauren Layne
Reason for reading: For fun!
Published: 2015
Rating: ★★★★☆
This was such a quick, fun read and one that was hard to put down because I enjoyed the characters so much. This novel is about Cole (a character who was present in some of Layne's previous novels) who is a notorious womanizer and freelance sports writer. He's hoping to be hired to a full-time sports writer position at the magazine he often writes for, Oxford, and thinks he's a shoo-in because he already has a relationship with the editor-in-chief and other staff. Enter Penelope, a woman who lives and breathes sports and wants a chance to prove she has what it takes to make it in the cutthroat sport writing world (a world where there aren't too many females leading the way). Cole and Penelope meet during a baseball game, where he's enamored with the way she watches the game with her entire being… until he realizes she's his competition for the job of his dreams. Guys, I loved Penelope. I loved her so damn much that I wish she was a real person because I'd like to be her best friend. It was obvious from the beginning that she wasn't Cole's usual "type" – she was short and skinny with no chest and had no fashion sense – but there was something about the fact that she wasn't his usual type that drew him to her. Their love story was sweet and hopeful and made me happy sigh when I finished this book. (Add to Goodreads.)
What I'm Reading This Week
Everybody's Son by Thrity Umrigar – I recommended this book to my book club as our April read, and everyone was on board, so I'm diving into it this week! By the synopsis, I know it's going to be a really heavy read, so I'm bracing myself for it by making sure I have some romances on deck to read when I need a break from the heaviness.
Take the Lead by Alexis Daria – I've heard amazing things about this book (it's basically like Dancing With the Stars in romance novel form), so I think I'll start it sometime this week.
The Way Home by Cindy Gerard – I'll be starting this romance after Take the Lead. Cindy Gerard is my favorite romantic suspense author, so I'm really looking forward to this one.
Born a Crime by Trevor Noah – I like to listen to one nonfiction and one fiction audiobook every month, so I started Trevor Noah's memoir yesterday. I actually won a copy of his book through a Goodreads giveaway, but I wanted to listen to it on audiobook because I hear his narration is fantastic. My library didn't have this on audiobook, so I used up my one free Audible credit to listen to it. So far, so great.
What are you reading this week?