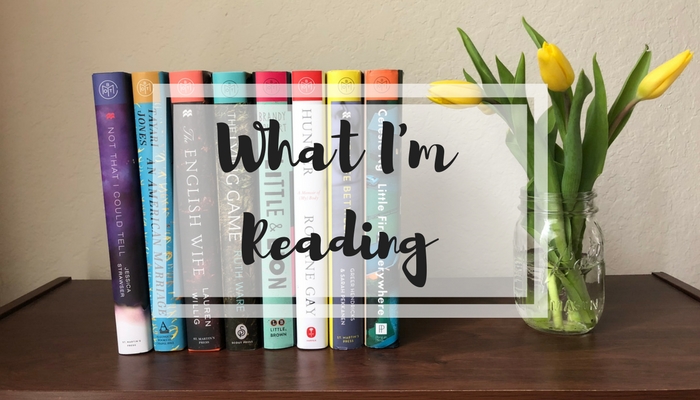 Well, it was another pretty solid week of reading for me and both books I finished earned a four-star rating from me. How do you rate books? I've been thinking about my rating system lately, and I think I've come up with a good system:
5 stars: I loved this book and will recommend it to everyone. It changed me.
4 stars: I loved this book and would recommend it.
3 stars: I liked this book, but there were some problems with it.
2 stars: I didn't like this book, but I can see why others might.
1 star: I hated this book and only read it to finish it.
So, with this rating system in mind, the two books I finished last week are ones that I would recommend – they're not for everyone and not life-changing enough for me to recommend to everyone I meet, but great reads nonetheless.
Books Finished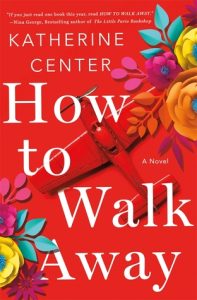 Title: How to Walk Away
Author: Katherine Center
Format: Hardcover
Published: 2018
Rating: ★★★★☆
Plot Summary: On what should be the happiest day of Margaret's life, the day she not only scored her dream job but also got engaged to her longtime boyfriend, tragedy strikes. In the hospital and trying to cope with the idea that her life will never be the same again, she has to find a way to find beauty in the mess.
My Thoughts: I actually finished this book right around midnight on Sunday evening, but it was too late to add it to my post last week. I flew through this book in just two days and thoroughly enjoyed it! It was well-written and didn't feel too heavy, even though the subject matter was. I also just really enjoyed Margaret's character and how she wasn't a pushover, even though she was in the hospital and so reliant on other people. I found some of the characters in the novel to be a little over-the-top unlikable, like her mom and her fiance's mom. They said some things that felt a little unrealistic, stuff you just wouldn't say to someone in the hospital. Then again, I'm coming to this novel knowing if I was in Margaret's place, my mom would be there every step of the way and always offer encouragement and support, so maybe I just can't understand a mom being more focused on appearances than her own daughter's healing. I also really didn't love the ending scene nor the epilogue and I wish the author had chosen a different way to wrap it up (and, really, let's stop with unnecessary epilogues! Ah.) But, all in all, it was a really enjoyable reading experience and it's a book I'd definitely recommend.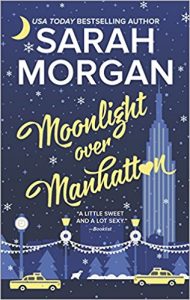 Title: Moonlight Over Manhattan
Author: Sarah Morgan
Format: Library e-book
Published: 2017
Rating: ★★★★☆
Plot Summary: Professional dog walker, Harriet, takes on an unusual assignment: providing around-the-clock dog sitting services for a busy ER doctor, who is watching his sister's dog for a short period of time. It's a romance, so you can imagine what happens here: sparks fly and both of them have to find a way to be brave enough to take a chance on love.
My Thoughts: Oh, how I loved this novel! Harriet was so relatable as a character, a shy woman who struggles with stammering when she is stressed out or upset and is trying to put herself out there more in the form of daily challenges. When the novel begins, she's challenging herself by online dating, but it's not going well. As the novel progresses, however, and she takes on more challenges, she discovers an adventurous side of herself that she never knew existed. I also really, really loved the male hero in this novel, Ethan. He's an ER doc and there's just something so damn sexy about that, isn't there? He's funny and charming and everything I want in a male hero. I loved watching how the two of them together learned to come out of their shells as they explored the chemistry between them. A really fun and lighthearted romance novel!
What I'm Reading This Week
The Engagements by J. Courtney Sullivan – I'm a little less than 200 pages into this novel and it's… okay so far. There are five different storylines, each taking place during a different decade, and some storylines are much more interesting to me than others. It's also more of a character-driven novel than a plot-driven one, and I usually struggle with these types of books. It's hard to really get invested in a novel when I'm not sure why I need to be invested, you know? I don't think I'll abandon it, though. It's engaging (ha) enough for me to keep reading.
I Wish You Were Mine by Lauren Layne – I just downloaded this fun contemporary romance and I am going to start it soon, in between breaks from The Engagements. Lauren Layne novels have become my favorite lately. She never lets me down!
I Am Not Your Perfect Mexican Daughter by Erika Sanchez – Once I finish The Engagements, I'm starting my book club's June read. I have been wanting to read this book for a long time and it's gotten rave reviews from friends, so I'm looking forward to diving in.
What are you reading?