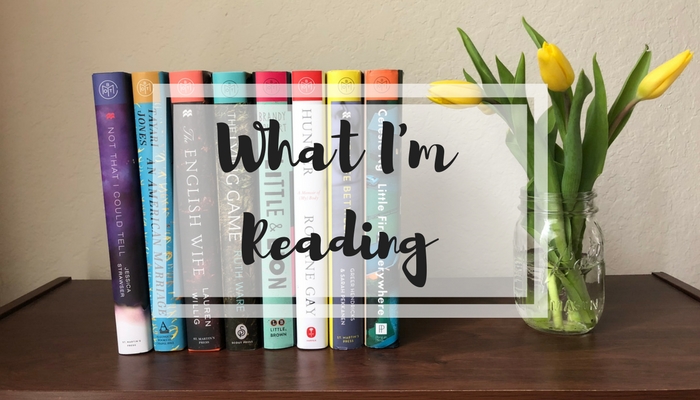 Hello friends and happy Monday. I had a really great weekend and I am gearing up for a very busy week. I have deadlines on deadlines at work, as well as some fun social plans, like going to see Ocean's 8 with my girlfriends and watching the season premiere of Big Brother with my mom. Don't you worry, though. I'll be sneaking in as much reading time as possible. 🙂
Last week, I finished three books, but I'm only going to be talking about two here. The third one, A Storied Life, will get its own review on Wednesday, so stay tuned for that!
Books Finished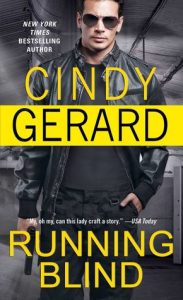 Title: Running Blind
Author: Cindy Gerard
Format: Library e-book
Published: 2015
Rating: ★★★★☆
Plot Summary: When Jamie and Rhonda are tasked to take on a high-stakes security mission together, the sexual tension that has been brewing between them becomes too much to resist.
My Thoughts: This wasn't my favorite book by Gerard because it got off to a slow start and I wasn't quite sure if I even liked either heroes at first. There was this distance between me and them, so it was hard to really grasp their internal motivations. And the first 50% of the book was pretty slow, which is unusual for a Gerard book. Her books are usually pretty fast-paced from beginning to end, but for the first half of the book, I really didn't know where it was going. When the book finally picked up, however, it didn't slow down at all and I couldn't put the book down for anything. I wish the book had had a bit more character development, but all in all, a pretty good romantic suspense novel.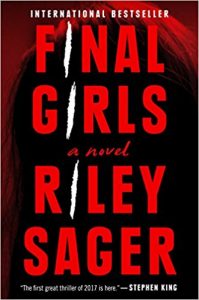 Title: Final Girls
Author: Riley Sager
Format: Library audiobook
Published: 2017
Rating: ★★★★★
Plot Summary: Quincy is the sole survivor of a brutal massacre that happened while on vacation with friends when she was in college, and as such, she becomes a final girl. She becomes a media sensation, just like the two final girls before her – Lisa, who survived a massacre at a sorority house, and Sam, who survived a massacre during her shift at the Nightlight Inn. Quincy has built a life for herself in the ten years since, but then Lisa turns up dead and Sam shows up at her home. Sam is a force to be reckoned with, demanding Quincy relive that frightful night and spilling out so many truths and lies that Quincy doesn't know what to believe anymore. Or if her memory of the night a decade ago is even real.
My Thoughts: Oh boy, oh boy. I loved this thriller so damn much! I don't think I've been so shocked by the twists and turns a book has taken in a long, long time and I can tell you that Riley Sager knows how to deftly craft an incredibly complex novel. I listened to this book on audio and it was perfect. I never wanted to stop listening because I never knew what was going to happen next, which is the true sign of a great book because I can usually stop and start audiobooks easily. I loved Quincy and Sam's push/pull dynamic because I honestly never knew who was telling the truth or what to believe. Highly recommend!
What I'm Reading This Week
1984 by George Orwell – I have about 150 pages left of this classic sci-fi novel and I think the reason I am loving it so much is that it feels so terrifyingly real. I have highlighted so many passages that resonate with me, solely based on what has been happening in politics ever since the worst human became president.
Fool Me Once by Katee Robert – When I need a break from 1984, I'm reaching for this sweet contemporary romance. It's a short book (under 200 pages) and not particularly well-written, but it's a nice palate cleanser.
The Kiss Quotient by Helen Hoang – Once I finished 1984, I'm going to start the book I picked out from June's Book of the Month (<– affiliate link) selections. I am so excited to dive into this one!
What are you reading?