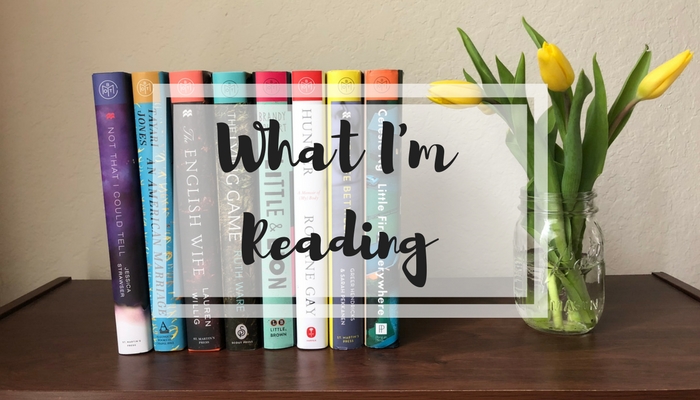 Happy Monday, friends! I had one of those pretty perfect weekends where I had the right mix of social plans and alone time to keep me happy. And I took a nap every day! So, I really can't complain much and I'm starting the work week feeling refreshed and ready to tackle my to-do list.
I finished two books this past week and abandoned one, so let's get into my reviews:
Books Finished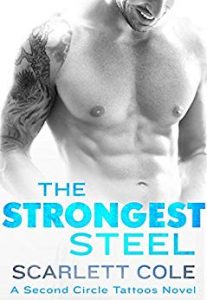 Title: The Strongest Steel
Author: Scarlett Cole
Published: 2015
Format: Library e-book
Rating: ★★★★☆
Plot Summary: Harper needs a tattoo artist who can tattoo over the scars on her back, left there by her violent ex-boyfriend. So, she asks Trent, a tattoo artist who specializes in tattooing over scars, to do it. In doing so, Harper finds herself not only healing from the trauma of her past relationship, but also finding the courage to fall in love again.
My Thoughts: I loved this novel! From the first page, I was invested in Harper's story and couldn't put the book down. It was beautiful to see the arc of Harper's story, going from a girl who was living a half-life and still dealing with the after-effects of an abusive relationship to someone who understands her worth and can stand up for herself. And some of that change was due to Trent, her tattoo artist. He was such a perfect male hero – sexy, sensitive, tough, vulnerable, and everything Harper needed. He had his own struggles to work through, but I loved watching the two of them fall in love and how it changed both of their worlds. There was just something so sweet about their romance.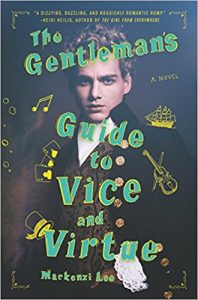 Title: The Gentleman's Guide to Vice and Virtue
Author: Mackenzi Lee
Published: 2017
Format: Library hardcover
Rating: ★★★★☆
Plot Summary: It's Monty's one last hurrah before he has to take over his family's estate – he is embarking on his Grand Tour of Europe with his sister Felicity and best friend Percy. But a time that should simply be full of drinking and debauchery instead has them on the run from all sorts of dangerous people and fighting for their lives.
My Thoughts: What a fun novel this was! My hardcover copy was 500 pages, but I tore through this book in a matter of days. It was so compelling and fun and a perspective we just don't get to see in historical novels with a bixsexual male character who is pining for his best friend. What I loved most about this novel was how much of an anti-hero Monty was. He wasn't brave and courageous like Felicity, nor kind and good-natured like Percy. No – he was pretty selfish and inconsiderate. All he wanted to do was drink his life away with no regard to who he hurt. I also liked how useless he was in crisis, ha. He's just not your typical main character, and I loved how self-centered he was (to a point – thankfully, he had to grow up through the novel and he did so admirably). This book was just a wild ride full of pirates and dukes and alchemists and so much more. It wasn't anything like I was expecting, and I loved it for that.
Book Abandoned
Too Fat, Too Slutty, Too Loud: The Rise and Reign of the Unruly Woman by Anne Helen Petersen – I gave up on this book around page 50, right before the chapter on Melissa McCarthy ended. It was just very dry and a little uninteresting, even though the topic at hand seemed right up my alley. I can download the audiobook version from my library, so I may try it on that medium in a few months, but the book just wasn't for me right now.
What I'm Reading This Week
What are you currently reading?