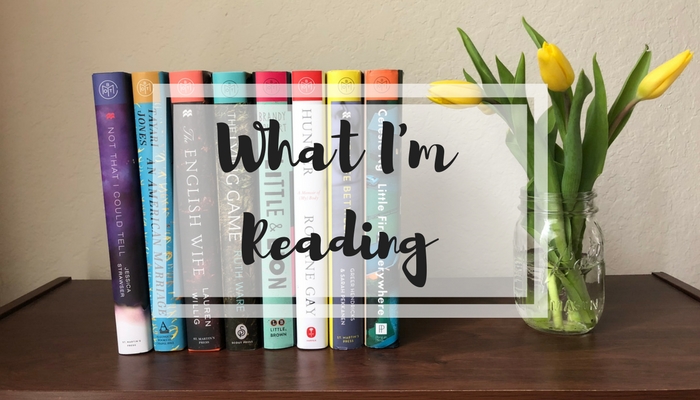 This was my last low-key weekend for the next few weeks, so I tried to enjoy the extra downtime as much as I could. I'm happy to have a few busy weekends on my schedule in August, but also aware that it will limit my alone time, which can lead to anxiety and overstimulation. Just have to make sure to build in some alone time when I can!
Last week, I finished three books and I'll be interested to see if I can read at this same frenetic pace when my weekends are much busier than usual.
Books Finished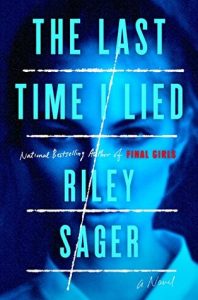 Title: The Last Time I Lied
Author: Riley Sager
Published: 2018
Format: Hardcover
Rating: ★★★★★
Plot Summary: Emma was 14 during her first summer at Camp Nightingale, a summer that ended in tragedy when her three cabinmates turned up missing and were never found. Now, fifteen years later, Emma returns to Camp Nightingale, this time as a painting instructor, with the secret mission to find out what really happened to her friends.
My Thoughts: I loved Sager's first novel, Final Girls, and I was curious to see if his second novel would be just as captivating. The answer is yes. I think I loved this book more than Final Girls! The setting was terrific (come on, a sleepaway camp? Yes, please.) and I really enjoyed each and every character, even the ones that were written to be unlikable. I was also surprised by all the twists and turns this book took, and definitely didn't see the ending coming. If you're on the lookout for a really great thriller, pick this one up!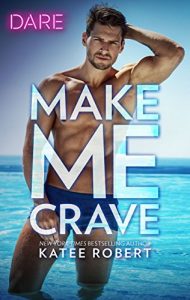 Title: Make Me Crave
Author: Katee Robert
Published: 2018
Format: e-book
Rating: ★★★★☆
Plot Summary: Roman has an investor interested in Allie's women-only gym/women's shelter, but she hasn't taken any of his calls about it. When she takes off for a vacation to a Caribbean island for a week, he decides to follow her there to make her finally listen to his spiel.
My Thoughts: Romance novels often require you to suspend belief, and this one definitely required that because in any other setting, a man chasing a woman down on vacation is creepy and stalker AF. But there's a good reason why Roman is so intent on his investor taking over Allie's business and it didn't come across as creepy as it might seem. The chemistry between Allie and Roman was sizzling from the get-go, and I was pulling for them to make it. They both brought a ton of baggage into their vacation fling turned something more, but I really love the way they worked through it. There was just something so sweet and lovely about their love story. I thought the ending was super rushed and since the book was only 225 pages, I definitely think author could have tacked on an extra few chapters to flesh it out, but still a fun romance novel. (Be warned: this book has a lot of sex scenes, so if that's not your jam when it comes to romances, you might want to steer clear.)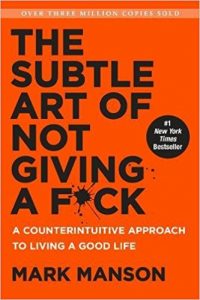 Title: The Subtle Art of Not Giving a F*ck: A Counterintuitive Approach to Living a Good Life
Author: Mark Manson
Published: 2016
Format: Library hardcover
Rating: ★★★★☆
Plot Summary: A profanity-heavy book in the self-help genre that begs the question, you only have so many fucks to give, so what do you really give a fuck about?
My Thoughts: I loved this book. I had a feeling I would because self-help like this is my jam, and I found so much incredible insight from Manson's words. I saved so many quotes from this book, and it really made me think about my life and the pain I've experienced in an entirely new way. Manson states clearly that it's our negative experiences, our suffering, our pain, and our fears that help us to live more fully and happily. It's only by going through those peaks and valleys that we find our truest self. "We suffer for the simple reason that suffering is biologically useful," Manson writes in the book. "It is nature's preferred agent for inspiring change." It wasn't the epiphany I was hoping to get from this book (I mean, yeah, not sure most of us want to know that suffering is useful to our overall sense of self), but it's one I'm continuing to ruminate on as I think about this book and Manson's words.
Book Abandoned
Lost and Found Sisters by Jill Shalvis – I abandoned this book at page 55, and it's the first time I've ever abandoned a Jill Shalvis novel. Her contemporary romances are some of my favorite to read, but this women's fic novel left a lot to be desired. I found the writing to be a little over-the-top cheesy and the main character to be supremely unlikable. Meh.
What I'm Reading This Week
What are you reading?