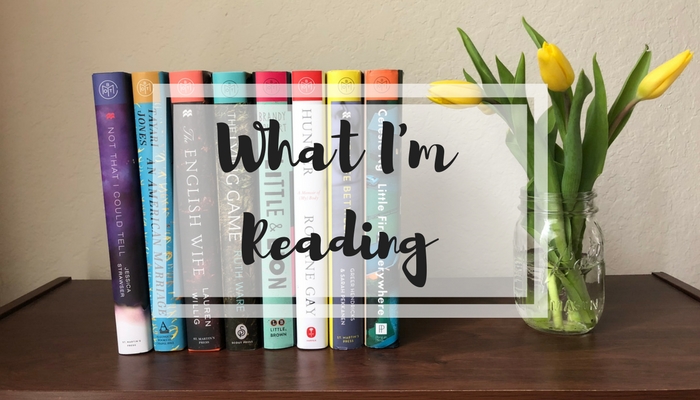 Happy Monday! I am feeling refreshed and ready to begin a new week, and I haven't felt that way in a really long time. I had a really great weekend; my mom's birthday was yesterday, so I basically spent the weekend celebrating her and that was lovely in all respects. My brother and I spent Saturday night with her, playing games and eating pizza and cake. Then, yesterday, I brought over mini doughnuts and then took her out to lunch. It was perfect.
This week, I finished three books! One of them was an audiobook, so don't get too excited. 😉 Here are my reviews:
Books Finished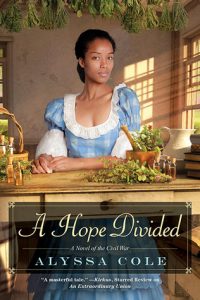 Title: A Hope Divided
Author: Alyssa Cole
Format: Library e-book
Published: 2017
Rating: ★★★☆☆
Plot Summary: For three years, Marlie has been a spy for the Union, even though she lives in the South where the Confederacy is strong. When she has to harbor a Union soldier recently escaped from prison in her laboratory, she does so not knowing the effect he will have on her. Then, the home Marlie is staying in becomes a new base of operations for the Confederate Home Guard and in doing so, she becomes a prisoner in her own home. When a stunning family secret is revealed, Marlie and her Union soldier have to go on the run, following the path of the Underground Railroad.
My Thoughts: I was a little disappointed in this historical romance, especially since I loved the other Alyssa Cole romance I read. I just did not enjoy Marlie's character and the romance between her and the Union soldier, Ewan, was lackluster. I didn't really feel any chemistry between the two of them, any reason for why they needed to be together. There were also a ton of loose ends that were never fully wrapped up. And it's not that I need a tidy ending to love a book, but it's rather annoying when an author opens up a can of worms, but then never really resolves it. I needed a little more closure. What I did love and appreciate from this novel was learning so many new things about the Civil War (there's so much my high school history classes never covered!)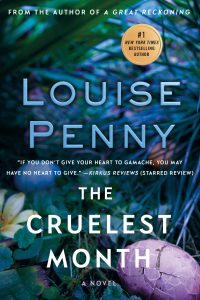 Title: The Cruelest Month
Author: Louise Penny
Format: Library paperback
Published: 2008
Rating: ★★★★☆
Plot Summary: Chief Inspector Armand Gamache and his team is called backed to Three Pines when a murder happens at the old Hadley house during a seance. Was the victim merely scared to literal death, or was something more sinister at play?
My Thoughts: While a lot of this book moved a bit too slowly for my tastes – I'm still trying to get used to the pace of a cozy mystery, since I'm so used to reading thrillers full of crazy twists and turns – the last 30% was pretty much perfect. I also struggled with this book because there was a secondary plot line involving an old case that Gamache had solved in which he sent the former Superintendent of the police to prison. In the previous two books (The Cruelest Month is the third book in Penny's Chief Inspector Gamache series), there have been a few storylines leading to this one, so it wasn't a surprise, but it was still very stressful to read about and hard to stomach. In the end, though, the mystery at hand had the starring role and when everything was finally revealed, I was pretty surprised at who the murderer turned out to be!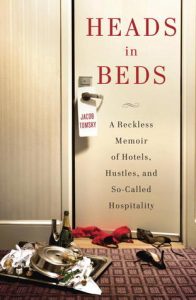 Title: Heads in Beds: A Reckless Memoir of Hotels, Hustles, and So-Called Hospitality
Author: Jacob Tomsky
Format: Library audiobook
Published: 2012
Rating: ★★☆☆☆
Plot Summary: Jacob Tomsky is an experienced hotelier who dishes on the secrets of the hospitality business, and provides some tips and tricks for your next hotel stay.
My Thoughts: I listened to this memoir on audiobook, read by the author, and it was just okay. It was the kind of memoir that didn't really seem like it needed to be written. Know what I mean? Like, just because you can write a memoir about working in the hotel business doesn't mean you should. It was kinda boring to be honest, and his tips can be boiled down to: treat hotel employees with respect and bribe them with money (preferably a "brick," aka $100) for upgrades. This won't be a memoir that I recommend to everyone I know, nor do I think I'll remember reading it just a few months from now.
What I'm Reading This Week
The Strongest Steel by Scarlett Cole – I am loving this contemporary romance by a new-to-me author. This is the first book I've read from Scarlett Cole, but you can be sure it won't be the last. I'm nearly finished with it, and kinda don't want the story to end!
Too Fat, Too Slutty, Too Loud: The Rise and Reign of the Unruly Woman by Anne Helen Petersen – I talked about this book in a previous What I'm Reading post, but I didn't end up reading it the week I said I would because I had to read a more time-sensitive book (Educated by Tara Westover, which was on a two-week loan from the library and I knew I wouldn't be able to renew it.)
Intermediate Thermodynamics by Susannah Nix – Once I finish The Strongest Steel, I'm picking up another Susannah Nix contemporary romance. I read the first book in the series, Remedial Rocket Science, and loved it so much. I'm hoping this one is just as good!
What are you reading this week?