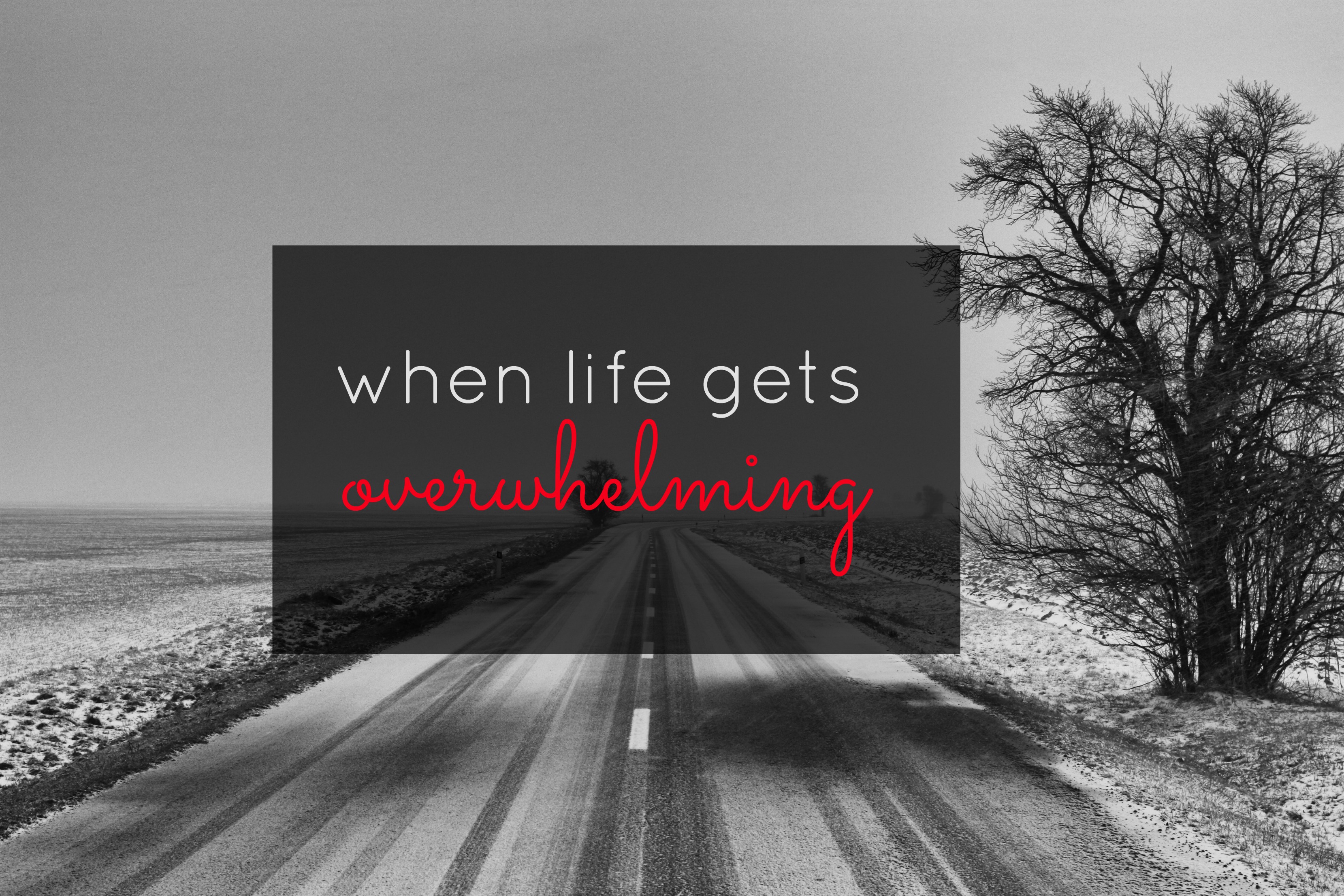 So I took a break from blogging last week. It feels so narcissistic to announce something like that, but well, I have a blog that I use to talk about my crazy exciting (#sarcasm) life. So, I'm already slightly narcissistic anyway. I digress.
I took a break. I took a break because I was feeling incredibly overwhelmed about life. Sometimes, the day-to-day living can be a lot to handle, you know? It seems that there is always something that needs to get done, some way we're not living our full potential. I was feeling… overstimulated, I suppose is a good word for it. Every day seemed to take so much energy just to get through it.
Over the course of the last few weeks, a few not-great things happened in my life. Nothing traumatic or life-changing, and some of it might not have even been a big deal for some people (oh, how I wish I had the "dirt off my shoulders" mentality!), but I tend to make mountains out of molehills, overanalyze every situation, worry about every possible scenario.
I guess this is where I can sense I have a little bit of a perfectionist attitude about life. I want to be the best! at! everything! Between my work and my blog and my personal life… I want to be an all-star at it all. And when I'm not, when it all seems to fall apart or not go the way I imagined it would… it zaps my energy. It steals my joy and clouds my vision. I forget about all the great things in my life and only focus on the parts that aren't where I want them to be.
So I was having a hard time. I felt a bit weary and worn-down. If there's one thing I do right, it's being in tune with my emotions. I was telling a friend the other day that I should have majored in "emotions" in college, because they are honestly my favorite thing. I love talking about them and learning more about emotions and how they affect our lives. So I know when I need a break. I know when to pull back the reins and learn to trust that inner voice that's giving me a tiny nudge that I need to slow down and calm my mind.
So that's what I did last week. I took a break. And while ideally I would have loved to have spent a week in a tropical paradise, sipping a mango daiquiri poolside, away from work and responsibilities and reality, that wasn't possible. (Womp, womp.)
But I still found a few easy ways to soothe the overwhelm, and today, I'd like to share my process (and hopefully help YOU if you're feeling a bit stressed out and overstimulated by life!):
1. Clear out the distractions. For me, this comes in the form of my online presence, most specifically blogging and Twitter. So I took a week off both. I've been consistently churning out 3-5 blog posts a week for months now and I was getting a bit burned out and uninspired by my blog. And since my full-time job involves almost 100% writing and editing, plus I started freelancing, plus my passion project involves writing a novel… it all got to be a bit too much. (That's a lot of writing, yo!) So I stepped away. I cleared my blogging schedule and didn't open WordPress once for an entire week. It felt so good to give myself that break to clear my mind and quiet my thoughts.
And taking a social media break is also so good for clearing out the clutter and distractions. I always notice how much more quiet my mind is when I'm not on Twitter, when I don't have dozens of conversations bouncing around in my brain and feeling a nudge to write profound yet witty tweets multiple times a day.
When you're feeling overwhelmed by life, find simple yet effective ways to clear out the distractions. Maybe it means a TV break for a week, or only checking your email once a day, or not using technology after 6 p.m. Figure out what distractions you can cut out for a short period of time, so you can find your inner peace once again.
2. Rest your mind. At work, I usually spend my lunch breaks at my desk, working on blog posts, responding to personal emails, and reading blogs. Last week, I decided to shake things up so I spent my lunch break reading. While I was still at my desk, I turned away from my computer, and simply focused on enjoying my lunch and enjoying my book. It gave my eyes a break from the computer and my mind a rest. It truly felt as if I were escaping for a short hour into a different world.
Find your own way to rest your mind, even if you don't have an hour to spare every day. Whether that means simply taking five minutes out of your busy day to close your eyes, take deep breaths, and meditate, or slipping into a hot bubble bath at the end of the day, with nothing but the sound of silence to keep you company. Find your bliss and what helps you recharge, even on busy days.
3. Honor your feelings. Honoring your feelings comes easy when they are fun emotions, like happiness, joy, elation, or excitement. But when they're not so great? When those feelings are stress or sadness or grief or worry or anger? It's hard. It's so hard for me not to take those emotions and shove them deep down as far as they can go, and pretend life is sunshine and butterflies. But the truth is – our feelings are there for a reason. I had to look at my life and take apart the emotions I was feeling. Why was I feeling worn out every evening when I left work? Why did I feel so much jealousy when I compared my blog and my life to others? Why did the simple act of grocery shopping make me want to fall to the ground in the parking lot of Publix and bang my head against the pavement?
Oh, feelings.
Feel your feelings. They exist for a reason. Your job is to find out what is causing them. And sometimes, just the simple fact of acknowledging their place and letting them have their moment in your heart is enough. There's no fixing, there's no solution. They are just there and we have to give them their place. And other times, there is a solution. We have to sit down with that emotion, take it apart and discover the cause, and learn to move past it.
4. Take care of yourself. I've never really been a big believer in self-care for myself. For others, absolutely. But for me, and my boring, mundane life? Not really. I mean, I'm not a busy working mom or working two jobs or trying to get a business off the ground. I'm just… me. I have a full-time job, yes, and a vast array of hobbies that require a lot of attention, but self-care? What do I need that for?
Oh, friends. We all need good self-care habits. And that doesn't include reaching for a bottle of wine and some chocolate at the end of a stressy day. For me, it means not using my laptop when I come home from work, going to bed early, morning workouts before I start my day, and silly, trashy romance novels. These are my escapes. These are what make me feel good.
For you, maybe it's journaling or Skyping with good friends who get you or yoga or knitting or whatever makes you feel good, authentic, and present. Find your self-care habits and own them.
Last week was restorative for me. I felt that nudging that I was on the brink of a major breakdown and I put the brakes on for a short while, to slow down, quiet my mind, and recharge. I found my inner peace once again. Be true to you, be true to how you are feeling (even if you feel silly for your hurt feelings or anxious thoughts or sadness!), and take care of yourself. Nobody else is going to do that for you.
I'd love to hear in the comments: what are some of your self-care rituals?